Nick Foles is the unlikely Super Bowl hero as Philadelphia Eagles win first-ever crown against New England Patriots
New England 33 Philadelphia 41: The veteran back-up came up huge in a remarkable finale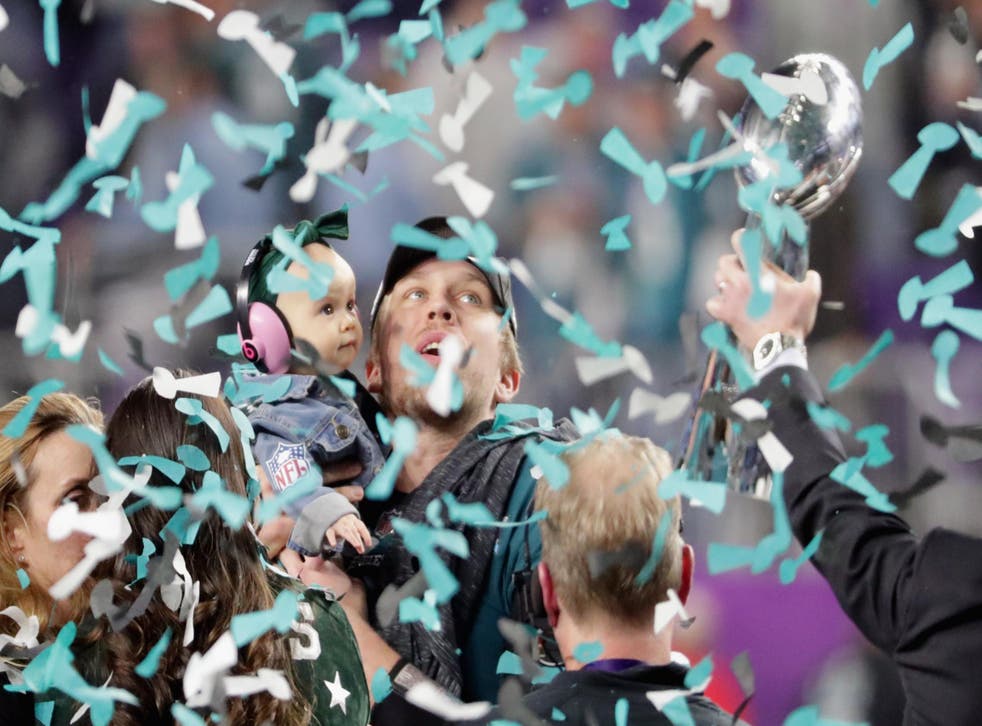 Tom Brady's Hail Mary attempt fell limply to the ground and finally, mathematically, without bending or otherwise breaking the space-time continuum, the New England Patriots were done.
They looked done in the AFC Championship game and they came back to win. They looked done in last year's Super Bowl at 28-3 and they came back to win. They have looked done so many times during Tom Brady and Bill Belichick's incredible run but they never are, they never were. Until the ball was tipped from Rob Gronkowski's reach and tumbled to the Minneapolis turf.
Death, taxes and Tom Brady coming good in the fourth quarter to win a Super Bowl have for so long seemed the only certainties in life, and even eight points behind, with 1:05 to go in the fourth quarter and no timeouts remaining, you still wondered 'what if?'
Wonder no more. The Eagles have won their first-ever Super Bowl.
At 40, Brady is nine years older than Sean McVay, who was crowned the NFL's coach of the year on Saturday night and he has teammates who weren't born when he tossed his first NFL pass.
Yet old age has not affected him. Not negatively, at least. Brady had thrown for over 500 yards in 50 minutes of this Super Bowl without his team having a lead. But when they finally did, Brady finding Gronkowski for the tight end's second touchdown catch, there was a feeling of inevitability about it all. We have seen this before, and not just once. We saw it last year and, you would have to say, we will see it again.
But nobody was prepared for the game's unlikely hero. A man considered only good enough to be a back-up a year ago and who, when he stepped in for the injured Carson Wentz, appeared to be nowhere near the level required to take them through one playoff game, let alone to the biggest of them all.
And yet Nick Foles ended the night showered in green confetti. Foles, a Super Bowl champion after a game where he threw for 373 yards and three touchdowns. It was less than Brady on both counts, but his team amounted to more. And Brady couldn't catch.
Both offenses were so effective, so devastating, that by the third quarter they had already smashed through the yardage record for a Super Bowl. Brady, by that point, had already surpassed 400 passing yards but that comes as no surprise these days. What had shocked the world was that Foles, so poor at the end of the season but so brilliant in the NFC Championship game, had not turned into a pumpkin at midnight. Far from it, Cinderella was very much going to the ball, and he was catching it too - becoming the first-ever QB to throw and catch a TD in the Super Bowl.
Two quarterbacks being dutifully protected by their offensive lines had time to throw all day. They made the most of it, with just one sack all night and one interception - a juggled catch from Jeffrey that amounted to an arm punt and meant the Patriots starting from within the shadow of their own goalposts anyway.
It was the Eagles' only real mistake.
We knew coming into this game that, faced with one of sport's greatest-ever dynasties, they couldn't afford to make errors and they executed perfectly. Doug Pederson could not have called a better game, the Eagles' head coach shrugging off his doubters with the support of general manager Howie Roseman, a man who handed him the best all-round roster in the NFL.
Brady had one final chance at the death but, in the rarest of twists, came up short. Even repeating it doesn't sound right, but a no-pick game wasn't enough. The fourth-quarter strip-sack that was the game's only sack ultimately deprived Brady of those extra few seconds that would likely have made the difference.
For Philadelphia this is huge. The lamp-posts and traffic lights in the green corner of Pennsylvania have been greased to prevent climbers but that might be like trying to stop the tide tonight. Broad Street, the city's favourite party destination, will be humming until sunrise.
By then, Nick Foles likely won't have had any sleep. That is the best way, because it is the only way he will be able to say with certainty that this most improbable, unbelievable of Super Bowl triumphs was not just a dream.
Join our new commenting forum
Join thought-provoking conversations, follow other Independent readers and see their replies