Oakland Raiders move is just the start, so how about a London NFL team?
The NFL is reaching saturation point in its home country and the next step will undoubtedly be a foreign franchise
James Moore
Chief Business Commentator
Tuesday 28 March 2017 20:22 Comments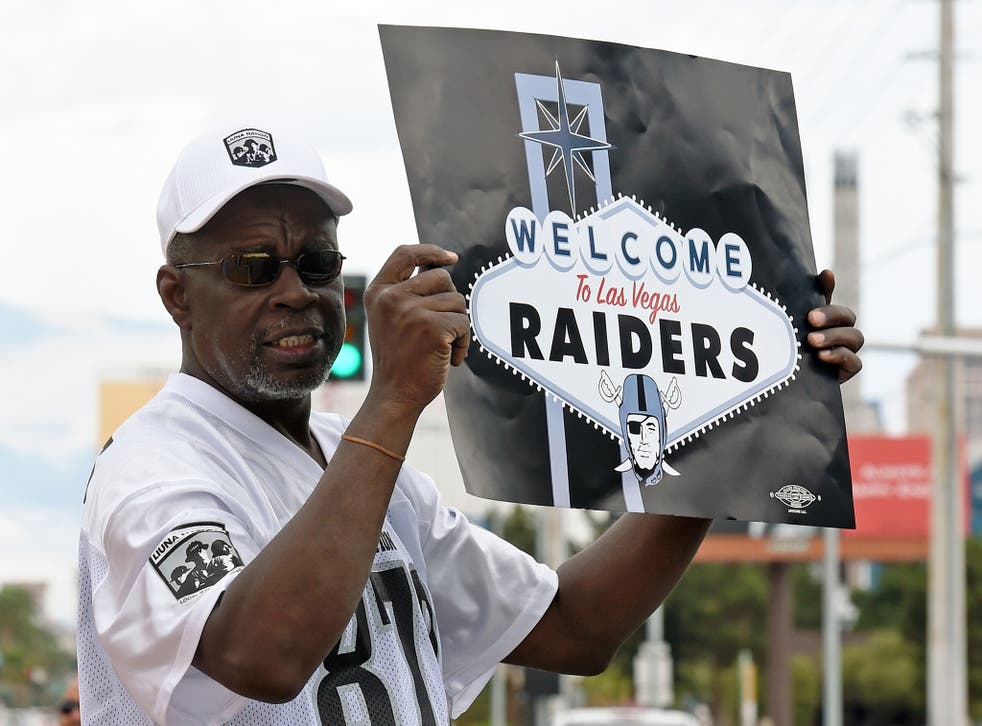 It is the sports fan's unwillingness to truly accept that sports teams and leagues are businesses, and to behave more like customers, that allows those teams and leagues to treat them with a contempt few other enterprises would dream of.
Trust the NFL to take that to its extreme. Imagine, for a moment, a McDonald's threatening to leave town if the local council refuses to pay for a fancy new restaurant. Burger King would be cock-a-hoop, and such would be the PR storm that Maccy D's would be handing out freebies for weeks afterwards to smooth things over.
When the Oakland Raiders did the same, and the NFL backed the franchise moving to Las Vegas after Sin City offered to pay up, lots of writers said it was very sad, but hey, that's business. And Vegas, baby!

What's interesting about this move, more than the Rams and Chargers leaving St Louis and San Diego for LA, is that Vegas represents, if you will, a strategic shift on the part of the NFL.
In part that is because of the league's willingness to accept the placement of a team in the centre for an activity - sports gambling - that it has always fought shy of.
But it's also because Vegas is only America's 40th biggest TV market (Oakland sits within the fourth) with a large population of transient tourists.
If the Raiders can make a success of it, and with a brand that exerts a pull way beyond the Bay Area, way beyond even the US (as I can testify), they stand a better chance than most, then it will prove to this financial juggernaut that it can succeed in non traditional locations.
If the league can take a risk with Vegas and pull it off, then what about taking a still bigger risk by becoming the first major North American sports league to plant a flag outside of North America.
It's no secret that the NFL is approaching saturation point in its home market, and has ambitions to develop new markets by globalising the game. That's what playing regular season games in London (and beyond) is all about.
It is for that reason that the city might stand a better chance of getting an NFL franchise than St Louis, San Diego, and, of course, Oakland, despite their being established football cities with loud and passionate fan bases.
By rights, they ought to be in front of a city where another sort of football is king. But even if they have ambitions to tempt the league back, they may be sacrificed on the altar of globalising the game.
The challenges of basing a team here have been discussed at length. There is the issue of travel (particularly from West Coast). Players might be reluctant to play in London, and not just because of the distance from home. The league might need to introduce some flexibility into its salary cap to take account of the higher taxes here (hey, we get free healthcare. I, for one, am not complaining about that). And then there's Brexit, and all the uncertainty that comes with it.
It might be amusing to see how Londoners feel about public money going towards paying for a stadium (although we got hit with extra on our council taxes for the Olympics so what do I know). But that shouldn't be an issue. I'd imagine a London franchise would share one of the capital's existing facilities, at least for the short to medium term.
None of the problems are insurmountable. Where there's a will, there's a way, and what's striking about American businesses, when compared to British ones, is their willingness to take risks, and do what it takes to enter new markets. And the NFL is one hell of a business venture.
Whether London fans would embrace their own franchise makes for an interesting debate. I'm a Raiders fan of three decades' standing. I know that I really ought to walk away, given the way Oakland has been treated. It's saddening. I'd go as far as saying I'm appalled.
But some habits are hard, even impossible, to break. All the more so now that the team is winning for the first time in more than a decade, with a bona fide quarterback in Derek Carr and Khalil Mack leading the defence.
The brutal impact of the game on them, and other players, in particular the much discussed concussion problem, continually makes me question whether I should still watch American Football.
But while I do (and I was glued to the last season) I'm going to follow the Raiders, not the London Whatevers. Although I would turn out when the Raiders came to town. And I have turned out to watch any number of teams during the run of regular season games that have been played at Wembley as have hundreds of thousands of others.
The NFL will never eclipse soccer here, but there is clearly a large enough fan base to make a London franchise work and there's nothing like a local team to attract new fans, who might be willing to buy TV packages and merchandise and do all the other things those of us who are daft enough to watch sports do.
All the same, there is a lesson in the Raiders moving to Vegas, and the Chargers and Rams moving to LA. If Londoners, and Britons more generally, embrace an NFL franchise on these shores, they would be wise not to get too attached to it.
The London Knights could become the Berlin Brawlers in a heartbeat, especially if the stadium gets a leaky roof. Or they could become the St Louis Storm or the San Diego Sharks. It's business, baby.
Register for free to continue reading
Registration is a free and easy way to support our truly independent journalism
By registering, you will also enjoy limited access to Premium articles, exclusive newsletters, commenting, and virtual events with our leading journalists
Already have an account? sign in
Join our new commenting forum
Join thought-provoking conversations, follow other Independent readers and see their replies