Paul Posluzsny column: It's great to the Jacksonville Jaguars are back in London... I feel like an honorary Brit
EXCLUSIVE COLUMN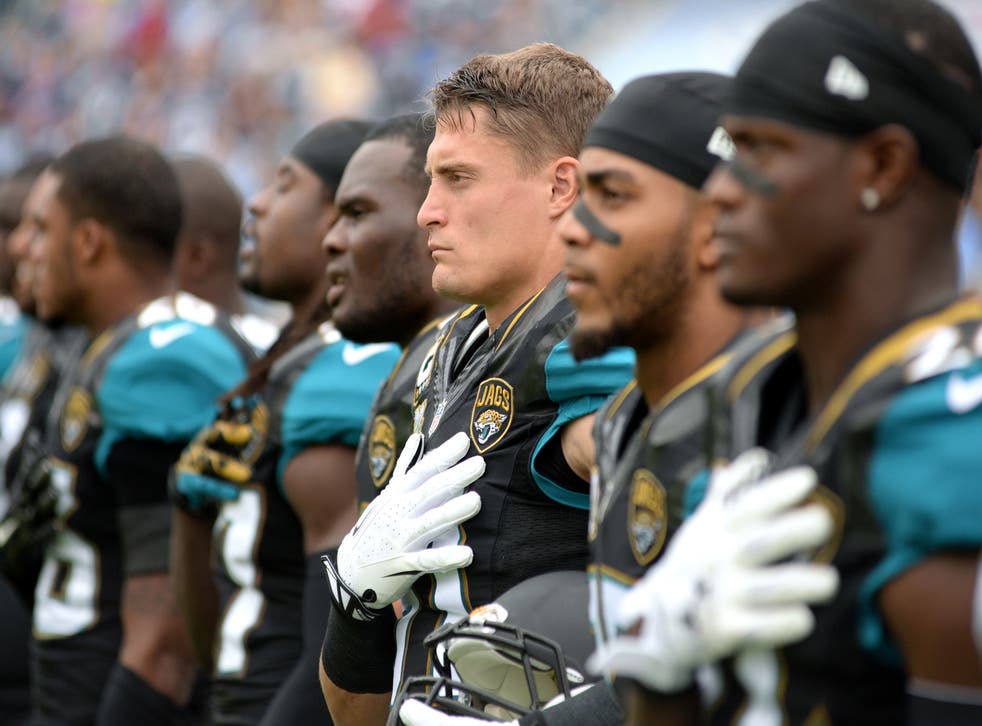 In a special edition of his column for Independent.co.uk, Jacksonville Jaguars defensive captain and former Pro Bowler Paul Posluszny on his team's return to London
It is great to be back in London. The boys always look forward to it every year and it is still unbelievable to come and meet the fans who come along to training sessions and things like that to show their support for us. It is an interesting experience because you get on the flight, you fall asleep, and next thing you know you're in London so that works out quite nicely.
I was disappointed to miss the game last year as I was recovering from injury but I did play in 2013 and that was an amazing experience – sort of like playing in a Super Bowl with the atmosphere and all the ceremony before the game. It was such a live environment in 2013 and it is so exciting to play in such a historic stadium as Wembley. It was an amazing thing to be a part of and I just can't wait to get back there and give our fans in the UK something to cheer about.
I thought the fans were great back in 2013 but it really feels like we're growing a fan base in the UK from seeing the amount of fans coming to our open training sessions and the knowledge they bring with them. They make you feel so welcome in the country, like an honorary Brit!
--
The loss to Houston was really tough for us because we played well as a team, we're up 14-10 going into the final quarter and we were feeling really good about the game. But as can happen in the NFL it just takes a couple of plays that didn't quite go our way for the game's momentum to shift. Houston took advantage of those plays and that completely changed the result of the game which is hard to take.
I was pleased to be back on the field following my ankle injury but I know for sure I can play better than I did against Houston. Missing time is the worst part of my job so it felt great to be playing again, but I did feel a little rusty just because I hadn't been able to practice a lot and I'd missed the game the week before. But now I feel much, much better. The ankle feels a lot better this week than it did the last week so I'm really keen to get out on the field at Wembley on Sunday.
The biggest threat from the Buffalo Bills will be LeSean McCoy, there is no doubt in my mind about that. He is just an unbelievable running back, we played him last year when he was at Philadelphia and he is a very talented player, a very elusive runner. So that is our biggest challenge, playing well against the run when he has the ball. We are going to have to swarm the ball when he gets it, luckily our defensive line is very good at controlling the line of scrimmage, so if they play well it will allow myself and the rest of the linebackers to roam and get to the football before they can make yards to make the tackle. That's the plan.
I honestly think we're close to getting some positive results – we still have four games to play in our division and we were very unlucky to lose to Houston and the Colts [16-13 in overtime]. We need to be able to win in our division as that is our best shot at making a play-off run. We still need to compete and win in our division and we have a lot of opportunities to do that now. We really want to make the most of the rest of our divisional games.
I'm obviously very focused on the game but I'm looking forward to getting out and seeing a bit of the city while I'm here. It is a very unique experience for us to see a city like London – we're talking about a global city so if I get the opportunity to have a walk around I'm going to take that. I actually really want to see Big Ben but if anyone has any recommendations I'm open to suggestions!
The Jacksonville Jaguars have launched a free 'online playbook' to introduce people in the UK to JagTag - a new easy-to-learn version of touch American football. View or download for free at www.jagtag.co.uk
Join our new commenting forum
Join thought-provoking conversations, follow other Independent readers and see their replies