The story behind Skycam - how a foggy day and a computer game may have changed sports broadcasting forever
Through pure chance we might have stumbled across a broadcasting innovation which will change how America's best-loved sport is viewed forever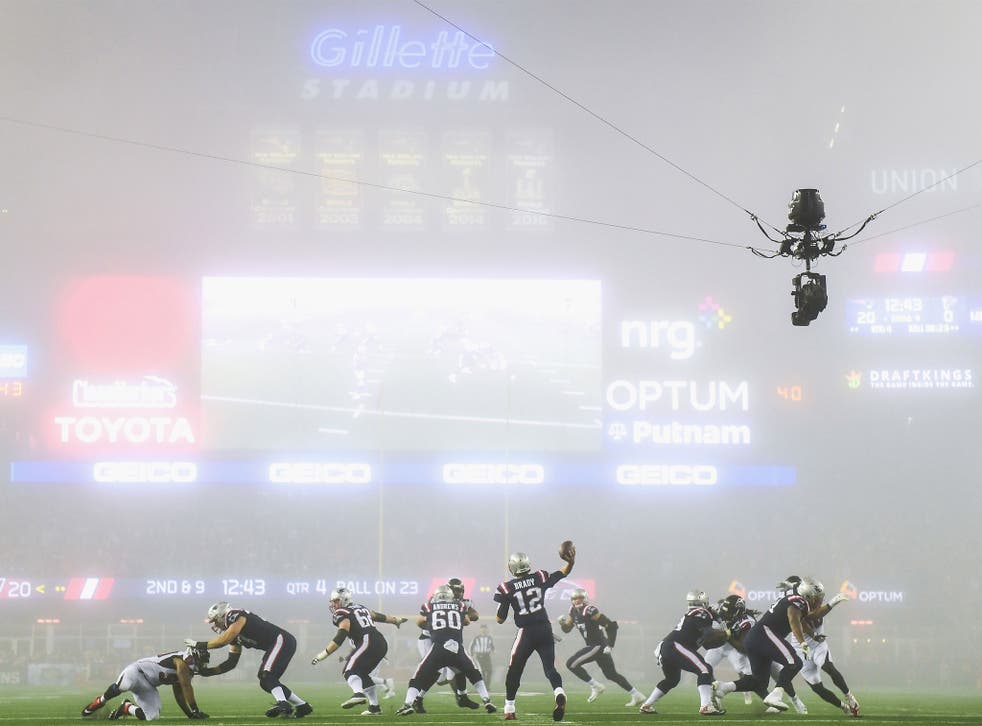 It gets cold on America's eastern seaboard and, on this chilly late-October night in Foxborough, Massachusetts, the fog had started to descend.
For NBC executive producer Fred Gaudelli there was a tough decision to make. As the mist further clogged and thickened it was becoming increasingly hard to watch the New England Patriots and the Atlanta Falcons play out their highly-anticipated rematch of February's Super Bowl. The far side of the field, distant from the traditional side-on camera angle, was lost to the elements with Tom Brady throwing passes into a cloud.
But the Sunday Night Football crew had a joker up their sleeve. A last-ditch tactic that they'd thought out loud about using more anyway, but that would at the very least save them on this occasion – on America's highest-rated television show - with the whole nation watching.
SkyCam is a computer-controlled, stabilised, cable-suspended camera system that is manoeuvred by two operators through the three-dimensional space of a stadium or arena to bring video game-like camera angles to television sports.
In simpler terms, it flies across the field using a system of cables pulled tight in different directions, providing camera angles we could never have dreamed of before. Capable of moving at nearly 30mph, the cameras whizz above the action and capture it all from virtually any angle the director desires. In Foxborough, this would mean any angle that meant viewers could actually see the game through the stiffening mist.
"We've long talked about using SkyCam more in the live play-by-play coverage of the game," Gaudelli would later tell ESPN, before conceding that they had never used it extensively because of "some of the system's limitations".
It had also not been used extensively before because that Sunday happened to mark the first time that NBC had installed two SkyCams for a regular season game but with happenstance came success. This was an opportunity, and the reaction was overwhelmingly positive.
Monday morning's football chat across America buzzed as much with the new angle viewers had been blessed with as the Patriots' monumental blowout of a flawed Falcons team.
And so it was announced in due course that NBC had decided they would trial broadcasting the majority of a game from SkyCam, and they chose this week's Thursday Night Football encounter between the Tennessee Titans and the Pittsburgh Steelers for their first major dip into the SkyCam experience.
Considering this camera system has been used in different ways since 1981, it is not necessarily new to viewers. Particularly as most will have played the best-selling Madden video game franchise which uses this view as its default. While television-watching fans have obviously become accustomed to side-on, as with most sports, the experience of Madden actually played into NBC's hands as the concept wasn't entirely alien to viewers.
Computer games nicely highlight some of SkyCam's limitations too, with EA Sports able to zoom and track the ball in a way that isn't possible in the real world. But the product on display on Thursday night was a resounding success, perhaps highlighting mistakes by quarterbacks and running backs more than the traditional view but equally making their standout plays pop.
There is no position as important in any sport as the quarterback is to American football and so, while this SkyCam angle does seem to focus more on the QB than ever before, it does at least make sense to the narrative of the game. Obviously the stop-start nature of NFL lends itself better to this angle also than it would to, say, soccer, where the constant flying overhead would probably make viewers nauseous. But rugby league or cricket, which already is broadcast from a camera at each end, would make sense in their own ways.
SkyCam's 'full' debut was helped by some stunning early quarterback plays that really showcased its strengths, and never more than when Ben Roethlisberger tossed a 41-yard bomb to Antonio Brown after just two minutes where the ball rocketed in a straight line away from the camera. Audibles were more obvious, the minutiae of quarterback play more apparent but, unfortunately for Marcus Mariota, those interceptions and overthrows were even uglier.
All in all, given the near-universal positive reaction, it seems hard to imagine SkyCam going away. Rather, this will almost certainly be a bigger part of NFL broadcasting and possibly other sports as technology continues to progress. Surely drone cameras and the like are within touching distance for deep-pocketed television companies intent on innovation to keep their viewers?
As with Alexander Fleming and penicillin, some of the great discoveries of our time have happened by accident. On one foggy evening in Massachusetts, thanks to some inspiration from a videogame, we might have stumbled across a broadcasting innovation which will change how America's best-loved sport is viewed forever.
Register for free to continue reading
Registration is a free and easy way to support our truly independent journalism
By registering, you will also enjoy limited access to Premium articles, exclusive newsletters, commenting, and virtual events with our leading journalists
Already have an account? sign in
Register for free to continue reading
Registration is a free and easy way to support our truly independent journalism
By registering, you will also enjoy limited access to Premium articles, exclusive newsletters, commenting, and virtual events with our leading journalists
Already have an account? sign in
Join our new commenting forum
Join thought-provoking conversations, follow other Independent readers and see their replies