Super Bowl 2016 preview: It's all about Cam Newton vs Peyton Manning, not Carolina Panthers vs Denver Broncos
Young contender takes on ageing legend in Super Bowl 50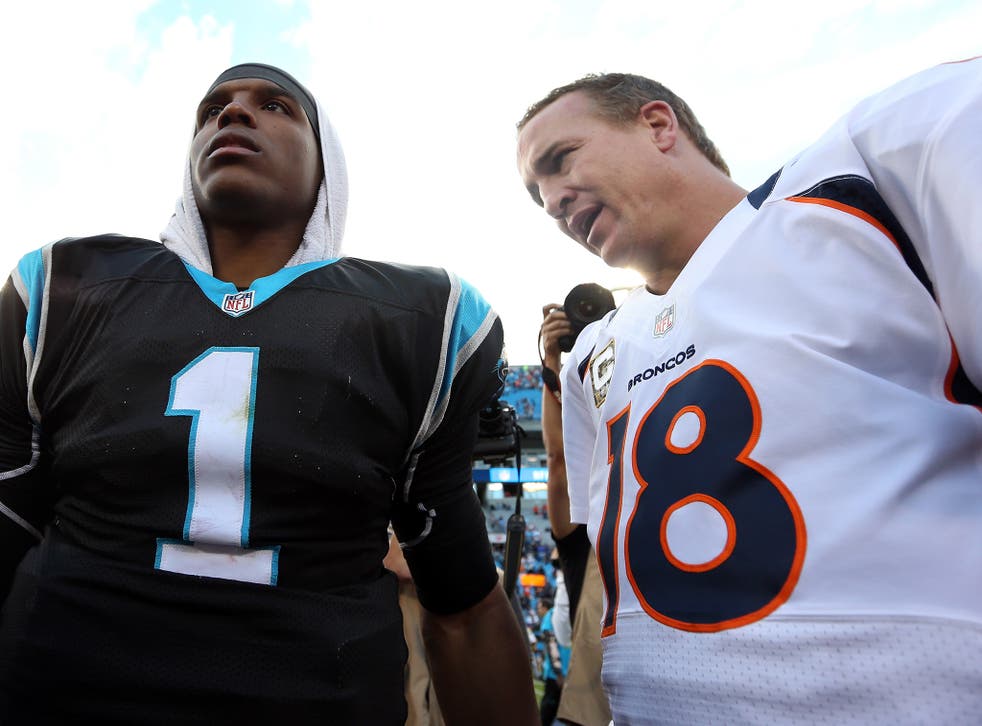 There's only one place to start in San Francisco: the quarterbacks.
True, the signal-callers are nearly always the most important men on the field, but the juxtaposition of Peyton Manning and Cam Newton makes for an even more intriguing match-up.
Even if you've only had a passing interest in the National Football League over the last 20 years you would have heard of Manning.
Now 39 and very likely playing in his final ever game, the Denver Broncos quarterbacks is regarded as one of the best, if not the best, passer ever.
His 17-year career has seen him become the all-time leader in passing yards and touchdowns, while he is second in passes completed and attempted - the 14-time Pro Bowler has been named the league's Most Valuable Player a record five times.
There is but one, rather large, stain on his impeccable CV: his record in the play-offs.
Manning has been so-so in the post-season throughout his career. Some of his failures have been the fault of a poor team, elevated beyond the collective ability by his brilliance, while other exits have been down to him.
He has won only one Super Bowl ring - back in 2006 - and has been defeated on two other occasions, one a shock defeat to the New Orleans Saints and the other a 49-8 demolition by the Seattle Seahawks.
The former Indianapolis Colt is considered a 'choker' by many, especially in comparison to his great rival Tom Brady. The New England Patriots star has four Super Bowl rings has has won 22 of his 31 play-off games compared to just 13 of 26 for Manning.
Even so, plenty will be rooting for the Manning on Sunday. He will start the game after the worst season of his Hall of Fame career, a season in which he threw almost twice as many interceptions (17) as touchdowns (nine), a season where he recorded the worst rating (67.9) of a career where he had averaged more than 100 entering the season.
He was benched earlier in the year for his poor play, before winning his starting place back - he hasn't even played particularly well this post-season, instead relying on a dominant Denver defence.
Manning can't feel his fingertips and can barely move his neck and struggles to generate enough power to throw a ball more than 20 yards.
Win and watch a fairytale ending to a masterful career, lose and it's more fuel to his reputation as a choker.
On the other side of the ball you have the NFL's next biggest star.
Cam Newton has won as many detractors as supporters this season for his brash, energetic approach to the game.
Now in his fifth season in the league, Newton has overcome cries that he was a draft bust to lead the Panthers to arguably their best season ever.
Entering this year he had won just 31 of 65 career games, including two play-off defeats, and had posted just one winning season - Carolina had topped the weak NFC South a year ago despite winning just seven games, two of those in Newton's absence.
But this season the Panthers won 15 of their 16 regular season games and posted two dominant play-off victories against the Seattle Seahawks and Arizona Cardinals.
The 6ft 6in, 17-stone Adonis was always a gifted runner, he now has 45 career rushing touchdowns, but this season managed to throw a career high in touchdowns - 35 after never throwing more than 24 - and a career low in interceptions.
In short, his play on the field has been spectacular.
However, he has not been short of critics. His model good looks and massive grin do not help, nor has his 'dabbin'' his touchdown celebration that has become a phenomenon Stateside and can now be seen in the Premier League.
Players find his over-celebration disrespectful, while fans have even written letters to complain that he is setting a bad example to kids because he shows a lack of sportsmanship - some of the complaints come off as racially charged.
What we will see Sunday is an old-school, pocket-passing great far removed from the peak of his powers against a dual-threat leader of the new school entering his prime.
The defences, coaches and other players will all play a part, but ultimately, Super Bowl 50 will only be about Cam Newton vs Peyton Manning.
Join our new commenting forum
Join thought-provoking conversations, follow other Independent readers and see their replies