Super Bowl 50: Aqib Talib slips head over heels during interview after Denver Broncos win
The 29-year-old's Broncos beat the Carolina Panthers 24-10 to claim the Vince Lombardi Trophy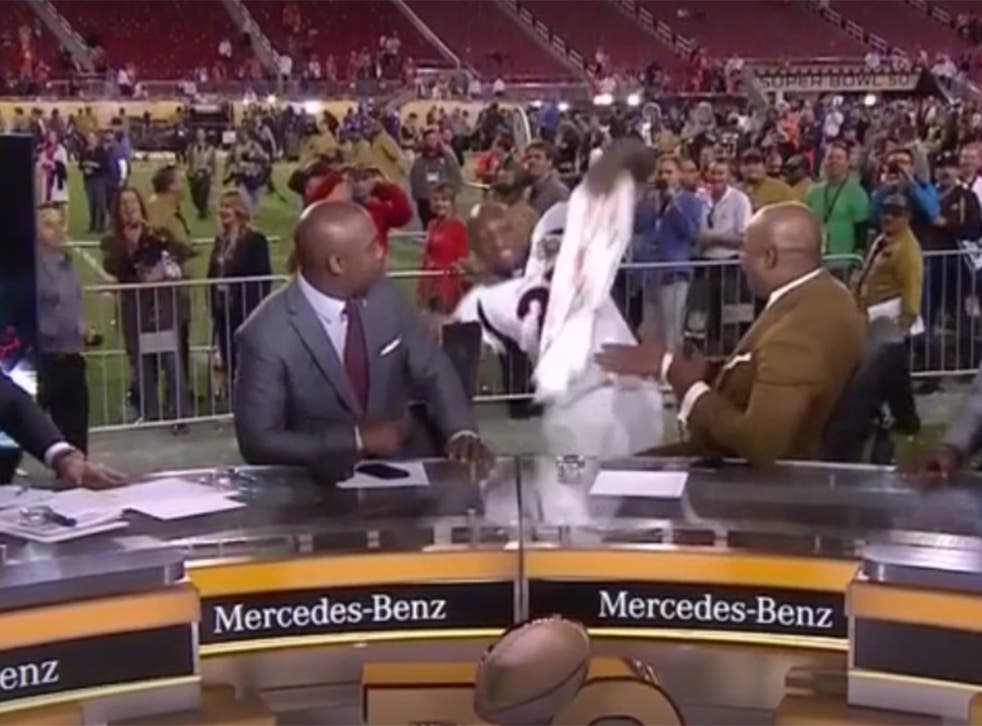 Denver Broncos cornerback Aqib Talib was head over heels with his side's 24-10 win over the Carolina Panthers at Super Bowl 50 - literally.
As the 29-year-old went over to join the NFL Network's panel for a post-game interview, he slipped on the crew's platform and wiped himself out.
Members of the panel promptly tried to help Talib up but he did not need much of a hand, bouncing directly up onto his feet having seen the funny side of his fall.
The Broncos cornerback even recovered to provide some insightful analysis of the slip.
Talib, one of the sport's more volatile characters, had an eventful afternoon at the Levi's Stadium in Santa Clara.
The 29-year-old was charged with two personal fouls within the first 20 minutes of the game, first for taunting Panthers wideout Corey Brown and the second for pulling Brown out of bounds by his facemask to prevent a touchdown.
Talib admitted after the game that the second offence had been deliberate, but questioned the first decision.
"It was B.S. flags. One was on our sidelines — the guy was talking on our sideline. One I just did on purpose, and I just had to show him. It's probably going to be a fine, but hey, we're world champs."
"My teammates knew what it was," he said. "He was on the 3-yard line. (With) a personal foul, he was on the 1 1/2-yard line, so it is what it is."
The Panthers subsequently scored their only touchdown of the game on the ensuing play, with running back Jonathan Stewart leaping over the line to score.
Join our new commenting forum
Join thought-provoking conversations, follow other Independent readers and see their replies