SuperBowl 50: Superman Cam Newton loves flying in face of convention
Flamboyant Panthers quarterback can dance to greatness at Super Bowl 50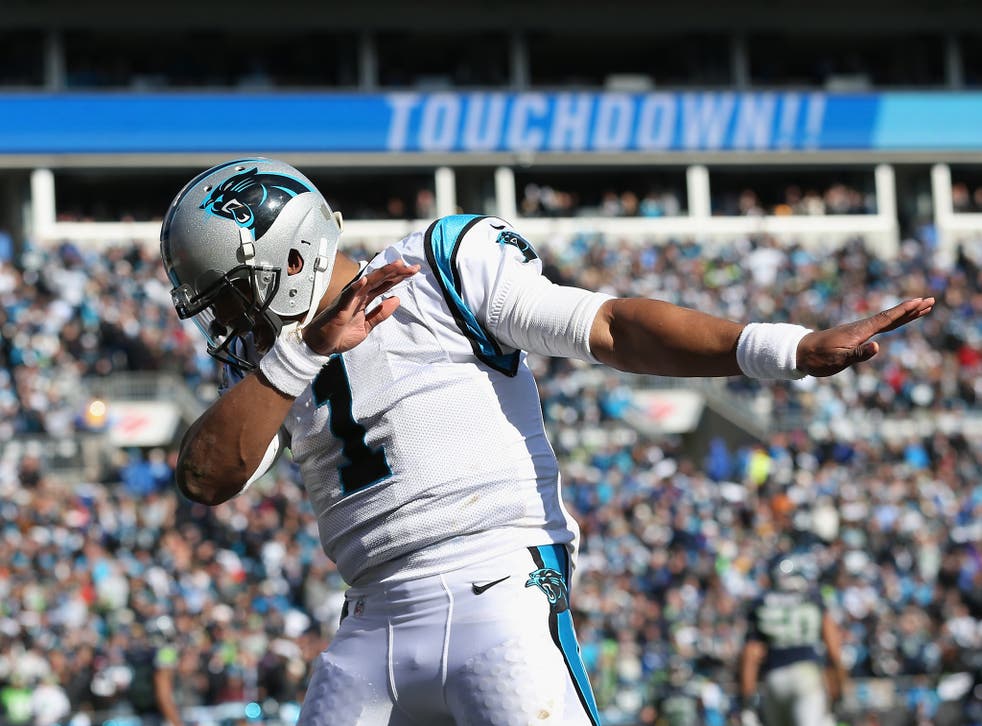 It was the signature moment of the NFC Championship Game: Cam Newton swallow-diving over a thicket of opposing linemen to complete a 12-yard rushing touchdown that effectively sealed Carolina Panthers' 49-15 rout of much fancied Arizona Cardinals.
The quarterback strutted and preened, indulged in a little of his trademark dab dance and made to open the front of his No 1 jersey (what other number would do?), which on occasion has covered an S-for-Superman T-shirt. Then he pointed west, in the direction of distant Santa Clara in California, where the 50th Super Bowl will be played tomorrow.
It was Newton's moment, just as it has been his season in the National Football League, leading the Panthers to an almost perfect 15-1 record, before disposing of the Seattle Seahawks and then the Cardinals in the play-offs. And only fools would bet against him taking the Panthers all the way. In midweek, Las Vegas oddsmakers had Carolina as six-point favourites to beat the Denver Broncos – a massive margin for a single game.
There are a few notable differences this year at America's most bloated sporting pageant. For one, Roman numerals not being used. This should have been Super Bowl L, but for 2016 Arabic numerals are back, and it's now Super Bowl 50. "L", after all, stands for loser – which the planet's richest sports league most certainly is not.
For another, this is one of the comparatively rare occasions when the top seeds from each conference meet in the season finale. Carolina, as noted, lost just once, while Denver edged out their perennial rivals the New England Patriots, albeit with a largely unremarkable 12-4 record.
And as rarely in an age when offense has taken over the NFL, this could be a Super Bowl where defenses dominate. Denver's is the best in the land (as they proved when they steamrollered Tom Brady in the AFC title game, sacking the Patriots' marquee quarterback four times and forcing him to throw two interceptions), while Carolina are ranked sixth.
But American football is all about quarterbacks, and tomorrow's match-up is one that may bookend NFL eras.
Leading the Broncos is Peyton Manning, along with Brady regarded as the king of his generation. But Manning is close to 40 and coming off a disappointing season, ravaged by injury. Super Bowl 50 could well be his last hurrah.
At which point, if the storyline holds true, the crown prince takes over. Newton, just 26, is not only the best right now of a crop of superlative young NFL quarterbacks that includes the Seahawks' Russell Wilson and Andrew Luck of the Indianapolis Colts. He's rewriting the way in which the most important individual position in all of team sport is played.
As few before him, Newton can both throw and rush (10 of his 45 regular season touchdowns were rushing). In 2011, he became the first rookie to throw for 4,000 yards in the regular season. But his massive physique – 6ft 5in and almost 18st – makes him a running nightmare for opposing defenses, as the Cardinals in the NFC championship game were not the first to discover.
And then there are the Newton trappings: the posing and celebratory dancing that accompany his every touchdown, not to mention the odd first down. Some hate the routine, many more love it, but even in as brash a sport as football it offends the powers that be.
Race surely is a factor, but not the only one. The last four Super Bowls have featured an African-American quarterback, two of them in the person of Wilson. This season, seven were starters in the position among the 32 NFL teams – not great for a sport 70 per cent of whose players are black, but a big improvement on 1968, before which an African-American quarterback had never featured.
Newton handles questions on the subject with Ali-esque panache. "It's not an issue," he told reporters this week, "because I think this game is bigger than black, white or even green." But, he added, "I've said this since day one: I'm an African-American quarterback that scares people because they haven't seen nothing that they can compare me to."
True enough, especially when it comes to the celebrations that expose the NFL's schizophrenia. In this most macho of sports, some Rambo-style chest-thumping is OK. But not where quarterbacks are concerned. They are the (mostly white) gents of their business, its best-known and most admired ambassadors. Manning and Brady wouldn't be seen dead doing an end-zone dance – which is one reason why they lock up millions in wholesome commercial endorsements. Newton, all flash and brash, shatters this mould.
Even when he was drafted, a football writer complained that "he always knows where the cameras are and plays to them". He had "an enormous ego with a sense of entitlement that continually invites trouble and makes him believe he is above the law, and does not command respect from team-mates." He was, the critic witheringly concluded, "only a one-year producer".
That verdict could not have been further from the truth. But the earlier judgement still resonates, even among opponents on the field. In a regular season game that ended in a 27-10 Carolina win, some Tennessee Titans players went after Newton when he did his dab dance number after a rushing touchdown. To which he replied: "If you don't like it, then don't let me in the end zone."The Broncos have been warned.
Join our new commenting forum
Join thought-provoking conversations, follow other Independent readers and see their replies