Tottenham defender Jan Vertonghen would 'love' to have an NFL team in London as Bills prepare to play Jaguars at Wembley
Defender admits he used to play american football in Holland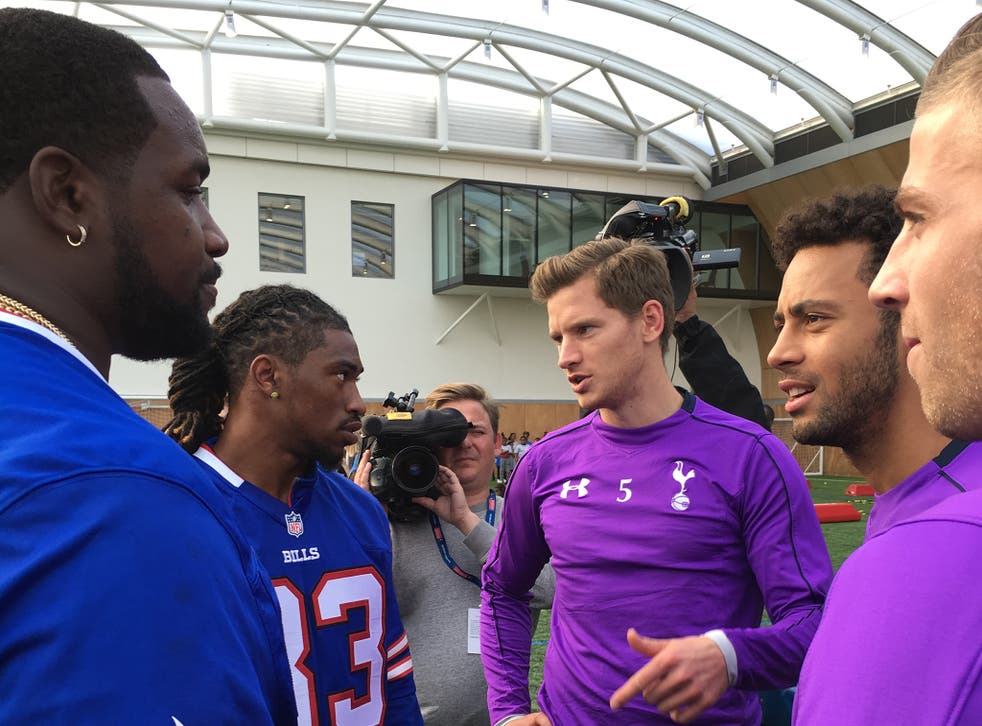 Jan Vertonghen hopes the NFL will launch a London-based team.
The Tottenham and Belgium defender, who admitted he used to play American football when he lived in Holland, was speaking at the NFL's Play 60 event on Tuesday.
"I'd love to have a team here," Vertonghen said. "In London there's lots of potential. It's maybe the biggest city in Europe and if they have to start somewhere it would be here."
Sunday's game will the be the 13th NFL game staged at Wembley since 2007 and talk is mounting that the league will relocate one of its teams to London on a permanent basis.
American football still has some growth to do in the United Kingdom before the NFL will consider moving a team here. Other sports, including rugby and cricket, remain more popular.
Rugby is receiving extensive media coverage in England thanks to the World Cup but Vertonghen believes American football could surpass rugby in terms of popularity with the help of the International Series.
"These games that will be played at Wembley, and hopefully in Tottenham Hotspur's ground in a couple of years, will help to grow and maybe beat rugby one day, you never know."
Vertonghen was full of admiration for Buffalo Bills players Marcell Dareus and Ron Brooks, whom he spoke at length with at the event. The Bills are in London ahead of Sunday's game against the Jacksonville Jaguars at Wembley.
"I think between all athletes there's always lots of mutual respect and it's good," the Belgium international said. "They tell us about their experiences, especially the six months off-season. I was so jealous, but then they say they have to be in at six in the morning.
"It's like, well OK, I'll leave the six months to you then!"
Join our new commenting forum
Join thought-provoking conversations, follow other Independent readers and see their replies