NBA Christmas Day preview: Former coach Neal Meyer runs through the five games
Former NBA coach and current Senior Director for the NBA's Basketball Operations across Europe, Middle East and Africa, Neal Meyer, looks at the five games taking place on Christmas Day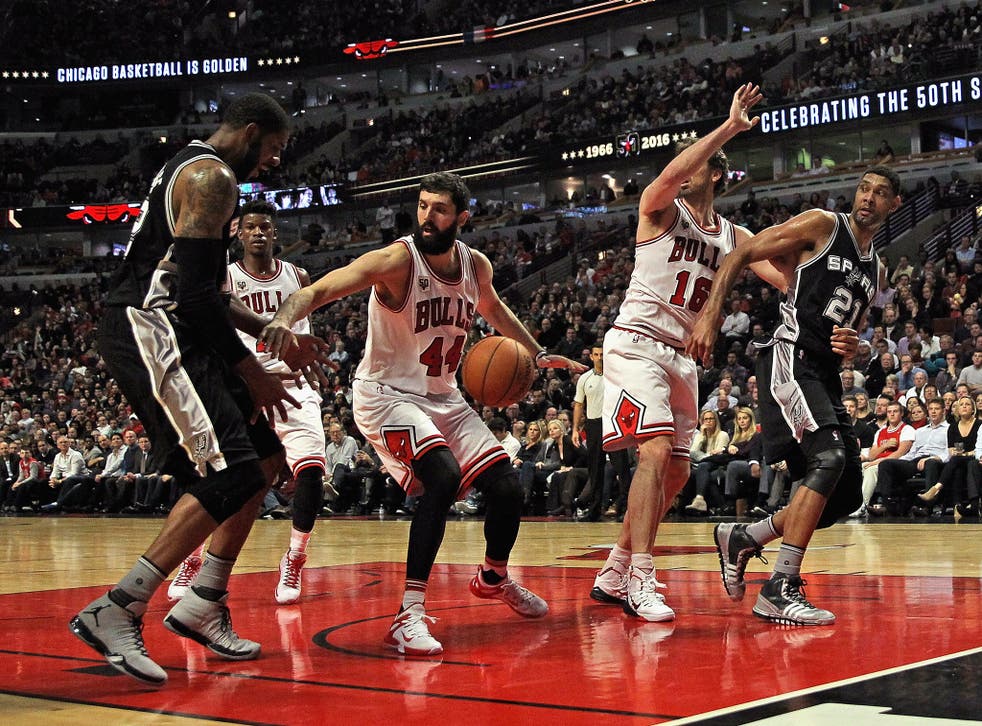 The two best basketball players in the world go head-to-head on Christmas Day in a day of mouth-watering match-ups. While many sports stars around the world are tucking into their Christmas turkey, LeBron James and his Cleveland Cavaliers will be going head-to-head with league MVP Stephen Curry and the 2015 NBA Champion Golden State Warriors in a re-match of the 2015 NBA Finals.
Here are a few things to watch out for in the Christmas Day games:
New Orleans Pelicans @ Miami Heat (5pm, also free on League Pass)
- In The Brow, Anthony Davis, the Pelicans have maybe the best young all around player in the league. They've been plagued by injuries and have struggled this year and will be hoping to turn things around on Christmas Day
- The Heat have a star-studded starting five including British forward Luol Deng, former NBA Finals MVP Dwyane Wade and the talented young center Hassan Whiteside whose height and athleticism makes him a formidable defender
Chicago Bulls @ Oklahoma City Thunder (7.30pm)
- Spanish center Pau Gasol has been impressive again this season and will be hoping for support for his superstar teammates Derrick Rose and Jimmy Butler if they are to dampen the Thunder
- Kevin Durant is a former MVP and scoring champ and his side kick Russell Westbrook is arguably the most explosive player in the league. The Thunder are a must-watch and this will be a fascinating encounter
Cleveland Cavaliers @ Golden State Warriors (10pm)
- LeBron James is a joy to watch; one of the best to ever play the game, a great passer with supreme athleticism. After losing to the Warriors in the 2015 NBA Finals, LeBron and the Cavs will be looking for some Christmas Day revenge
- The Warriors have only lost one game all season and boast a formidable roster led by Steph Curry who is playing as well as anyone now. People are getting to game 90 minutes early just to watch him warm-up! In a re-match of the 2015 NBA Finals this one is all about bragging rights!
San Antonio Spurs @ Houston Rockets (1am)
- The San Antonio Spurs are quietly going about their business and have yet to lose a game at home. After their exit from the first round of the NBA Playoffs in a 7-game thriller against the Los Angeles Clippers last season, the 2014 NBA Champs have started this season in destructive form. Young forward Kawhi Leonard has become one of the league's elite players at both ends of the floor. Together with newcomer LaMarcus Aldridge and a bunch of savy veterans including Tim Duncan, Tony Parker and Manu Ginobili, the Spurs are a great team to watch.
- The Rockets made the Western Conference Finals last season but have struggled to hit those heights this year. James Harden, The Beard, is still one of the league's best scorers but will have his work cut out for him going against Leonard
Los Angeles Clippers @ Lose Angeles Lakers (3.30am)
- Having lost a few games in the run up to Christmas, the Clippers will be hoping to secure a Christmas Day win to get their season back on track. In Blake Griffin they have one of the best forwards in the game – he's athletic and an incredible dunker
- Kobe Bryant has played more Christmas Day games (15) than any other NBA player in history. After announcing his retirement last month, this will be his last Christmas Day game and the legendary shooting guard will be looking to go out with a bang
NBA CHRISTMAS DAY IN NUMBERS
383 Bryant, one of six Kia NBA MVP winners preparing to play on Friday, is the NBA's all-time Christmas Day leader with 383 points. Among active players, the Miami Heat's Dwyane Wade is second to Bryant in games played (10) and scoring (258) on Christmas Day.
351 Los Angeles Clippers center DeAndre Jordan has played in 351 consecutive games, the NBA's longest-active streak.
81.8 Miami has won 81.8 percent of its Christmas Day games (9-2 record), the second-best mark among active teams behind the Portland Trail Blazers' 82.4 percent (14-3). With a victory over the New Orleans Pelicans on Friday, the Heat would pass Portland for the best winning percentage on Christmas Day and notch a Christmas win for the seventh year in a row.
42 Bryant's highest-scoring game on Christmas Day was a 42-point performance in the Lakers' 104-102 overtime loss to Shaquille O'Neal and the Heat in 2004.
38 Kia NBA Sixth Man Award winners Manu Ginobili of the San Antonio Spurs and Jason Terry of the Houston Rockets remain valuable contributors at 38. Ginobili and Terry are two of 10 active players drafted in the 1990s (both were selected in 1999), a list that includes the Lakers' Bryant and Metta World Peace, the Spurs' Tim Duncan and the Clippers' Paul Pierce.
33 Thirty-three players from outside the U.S. representing 19 countries are on the rosters of teams playing Christmas Day. The Cavaliers and Spurs have the most international players (six each), while Australia is the country represented by the most players (five).
31.8 The Oklahoma City Thunder's Kevin Durant is averaging 31.8 points in five games on Christmas Day, second to Jerry West (32.2 ppg) among players who have played at least five times.
17 Seventeen players who were NBA All-Stars last season are scheduled to be in action on Christmas Day, including 2015 All-Star Game MVP Russell Westbrook of Oklahoma City and reigning Kia NBA MVP Stephen Curry of Golden State.
13 Thirteen of the 15 players selected to the 2014-15 All-NBA Teams are set to suit up on Dec. 25.
8 For the eighth consecutive year, the NBA will play five games on Christmas Day.
7 Warriors-Cavaliers (10pm, UK time) marks the seventh time that the teams from the previous season's Finals are meeting on Christmas Day the following season. The first time Finals foes met on the next Christmas Day was 20 years ago, 1995, when the Magic beat the Rockets 92-90.
6 ABC's Mike Breen, Jeff Van Gundy and Mark Jackson will work their sixth Christmas Day game together when they call Warriors-Cavaliers.
4 Clippers coach Doc Rivers and Lakers coach Byron Scott each appeared in four Christmas Day games as players. Scott's final Christmas Day game came with the Lakers in 1996, when he played alongside rookie Kobe Bryant.
3 The Warriors' Curry has hit 131 three-pointers this season, 48 more than any other player. Curry, who broke his own NBA record with 286 triples last season, is on pace to make 397 this season.
2 Two forwards rank in the NBA's top 12 in assists: Golden State's Draymond Green (7.1 apg) and Cleveland's LeBron James (6.4 apg). Green is on pace to join Larry Bird, Grant Hill and James as the only forwards to average at least seven assists for a season since the NBA/ABA merger.
1 The New Orleans Pelicans' Anthony Davis, a 2014-15 All-NBA First Team selection, is playing his first Christmas Day game. Davis is the only player who ranks in the NBA's top 10 in scoring, rebounding and blocked shots this season.
Catch all five NBA Christmas Day games from 5pm live on BT Sport and via NBA LEAGUE PASS at www.nba.tv
Join our new commenting forum
Join thought-provoking conversations, follow other Independent readers and see their replies