Growing gender gap in university admissions already present at age 13, says Sutton Trust report
Report comes weeks after Ucas head warns gap between rich and poor 'will be eclipsed' by gender gap within just 10 years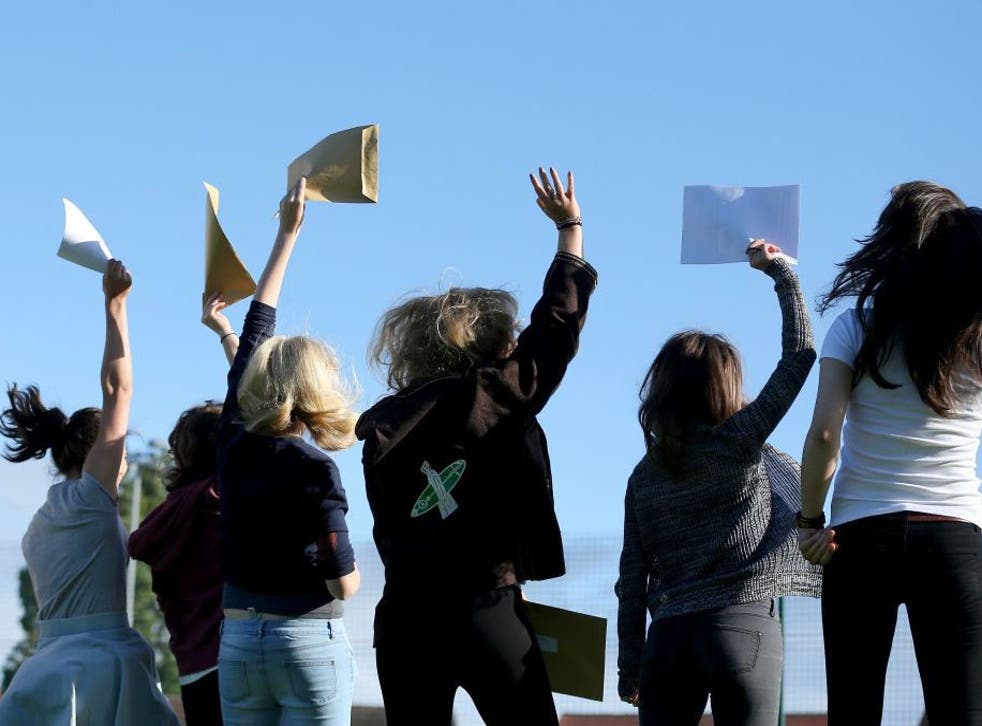 The growing gender gap in university admissions is present in pupils as young as 13 with girls more likely than boys to see going into higher education (HE) as being important, a new report has found.
The majority of girls in Year 9 have more positive attitudes towards HE than their male counterparts, with almost 65 per cent thinking it "very important" to go to university, compared with just 58 per cent of boys.
Over half of all Year 9s (61 per cent) think it "very important" to get a degree, compared with only 13 per cent who say it is of "little or very little importance." Around one in ten girls feel it is "not important" to get a degree, but, among boys, the proportion declaring university of "little importance" is at a startling 15 per cent.
The gap between rich and poor in education is also continuing to grow with 15 and 16-year-olds with similar GCSE results twice as likely to go on to do three A-levels if they see university as a likely goal for them.
Poorer students, however, are less likely to think they will go on to university than their wealthier peers, with only 27 per cent having high aspirations, compared with 39 per cent of their better-off peers.
A number of factors have emerged as being important in shaping pupils' aspirations and their own belief in their abilities, including attending a more academically-effective primary school, a well-resourced secondary school, and being encouraged to spend time on homework.
The report, Believing in Better, has been published by social mobility charity, the Sutton Trust, which teamed-up with Oxford University researchers to explore how a young person's aspirations and attitudes towards university affects their academic outcomes after GCSEs.
The report draws on data from more than 3,000 young people who have been tracked through school since the age of three for the Government's Effective Pre-School, Primary, and Secondary Education (EPPSE) project.
Other key findings to have been highlighted include university entry data from the Higher Education Statistics Agency (Hesa) which shows only 19 per cent of students from the poorest fifth of areas enter HE, compared with 45 per cent of those from the richest fifth of neighbourhoods. Overall, 46 per cent of girls enter HE, compared with just 36 per cent of boys.
Sir Peter Lampl, chairman of the Sutton Trust, said the report shows how important it is to "raise the aspirations and self-belief" of pupils from poorer homes, particularly boys.
The 20 hardest universities to get into
He added: " We need to offer more support to disadvantaged young people throughout their education so they are in a position to fulfil their potential after GCSE.Crucially, it shows both aspirations and attainment matter for pupils, so it is vital schools support both, particularly for their poorer pupils."
His comments come as the report calls for more support for students from poorer homes, including opportunities for them to attend the best-performing schools and pre-schools.
The Sutton Trust's findings have been highlighted just weeks after a similar report from the Higher Education Policy Institute (Hepi) found that, by the main Ucas deadline in January 2016, over 94,000 fewer men had applied for university, making them a minority among undergraduates, postgraduates, and full and part-time students.
Head of Ucas, Mary Curnock Cook, described how "the situation is getting worse" as boys - particularly white and from poorer backgrounds - continue perform worse than girls across primary, secondary, and HE, as well as in apprenticeships.
She warned of Hepi's findings: "On current trends, the gap between rich and poor will be eclipsed by the gap between males and females within a decade."
Join our new commenting forum
Join thought-provoking conversations, follow other Independent readers and see their replies