Independent student living starts at home
Some parents buy property for their kids, but halls could be perfect, says Helena Pozniak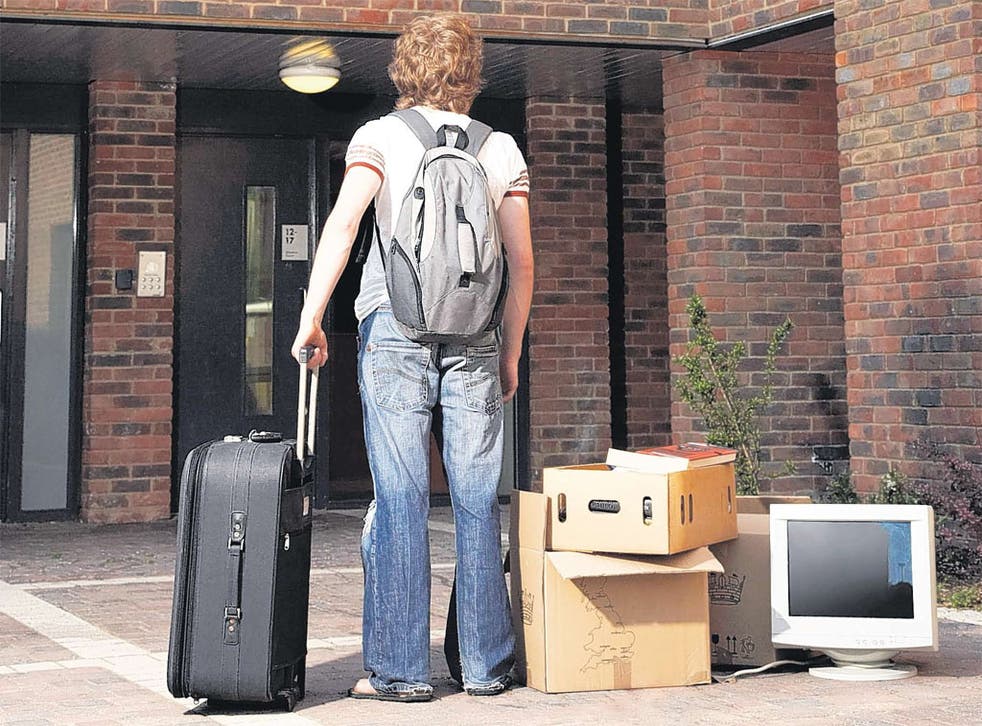 One fresher packed his mum back home as soon as she'd made up his student bed "to avoid all the waterworks", but even in the face of wannabe independence it's important to remember that parents can still play a helpful, if discreet, role in settling their child at university. And some advice from veteran parents is comfortingly simple. "I made my daughter a large chocolate cake," says Glynis Kozma, mother of two and author of Leaving Home. "She could share it with the other students in halls – it was a real ice breaker."
But parents can also find themselves stumping up for hefty deposits, wrangling with landlords or even buying a property for their children. Some universities such as Queen Mary University of London (QMUL) positively encourage families to get involved when their child embarks upon a degree. "Our moving-in weekend is as much for the parents as for the new students," says Tracey Paradise, residential support officer. "We always encourage parents to get to know the campus and halls where their child may be staying."
Overriding advice from universities and parents who've already waved off student children is to opt for university halls during the first year. While they're not always the cheapest option, they offer structure, cleanliness, potential friends on tap and, crucially, they spare students from exploitation by suspect landlords. Most applicants who get the A-levels they need automatically receive a place in halls. But if students come through Clearing, all the places may have already been snapped up.
Rooms in halls are usually offered on a first-come, first-served basis, and first-year student Scott McGreal was determined to leave nothing to chance. Confident of getting the grades required to study television production at Bournemouth University, he signed up for a place in private halls in the spring before he arrived and pays £101 a week inclusive of bills for a 42-week term, with an option to extend his let. "I'm a very sociable person," he says at the end of his first year spent in a building housing some 580 other students. "You're not out on a limb at the start. We have our own cleaning rota, and we all have ensuites. It really works."
Halls tend to be self-catered, and those offering meals included – common in collegiate universities – can be costly. "My experience is that students end up buying their own food as they don't like what's on the menu – it can cost substantially more," says Kozma. Catered accommodation can cost more than £200 a week, whereas the cheapest halls can be less than £60, though London is obviously pricier, especially at privately run halls. And when housing is in short supply, as it is in the capital and cities such as Bristol, students are often obliged to share rooms, with mixed results. "My room-mate was a complete geek – a computer scientist who couldn't talk," says one disgruntled London student who eventually moved out.
Some universities do their best to offer places according to student preferences – sociable or noisy, for instance. If and when it goes wrong, most provide support. "We offer emergency out-of-hours support system as well as live-in [student] residential assistants," says Paradise. A mediation service for flat-shares-gone-sour has also proved popular at QMUL. If students are really unhappy, universities might allow them to swap halls – as does Bournemouth.
"We can't make guarantees, but if by November students want to move around, we try and arrange it," says Jon Powell, a student recruitment officer at Bournemouth University.
If first years have no option but to rent privately, they should make the dedicated accommodation site their first port of call. Universities often have long-standing deals with private landlords or manage housing themselves and can shield students from being cheated. Flatmates tend to advertise on university forums, though students are better off sharing within year groups – partying freshers and final-year students don't tend to mix well. Better to visit all properties in person, and not feel rushed into signing up on the spot, say accommodation officers. A word of warning too: be vigilant of scams, warns Barbara Ashcroft, QMUL's housing services manager. "Never transfer holding deposits via Western Union or Moneygram for properties only seen on a website," she says, and if in doubt, refer back to the university. And avoid shared contracts with the landlord, advises Kozma. "Otherwise you might be evicted for a flatmate not paying his or her rent."
A dearth of housing in some areas has seen a growing number of parents actually buying property for their student children. When making this decision, property advisors recommend weighing supply and demand. Student-aged populations are forecast to fall substantially in the next few years, and some institutions say private housing is already plentiful. "The Olympic building boom locally [in east London] will ensure even fiercer competition for landlords and more favourable rent," says Ashford. However, estate agents Savills say London, with nearly 290,000 full-time students and just 60,000 purpose-built student spaces, still has a pronounced shortage of housing and guaranteed long-term rental demand. Housing for Oxbridge universities is also a wise investment, though hard to come by, and cities such as Bristol and Brighton are a safe bet as rental demand is high outside of the student community.
"Don't panic, and don't sign on the spot," says the National Union Of Students, whose website offers advice for students looking into private lets. "Most cities have an over-supply, even if you don't find somewhere in the first day or two."
Join our new commenting forum
Join thought-provoking conversations, follow other Independent readers and see their replies