Student accommodation: Dingy student digs are a thing of the past for today's undergraduates
Modern campus accommodation is a far cry from your memories of rented rooms – but it comes at a cost, says Liz Lightfoot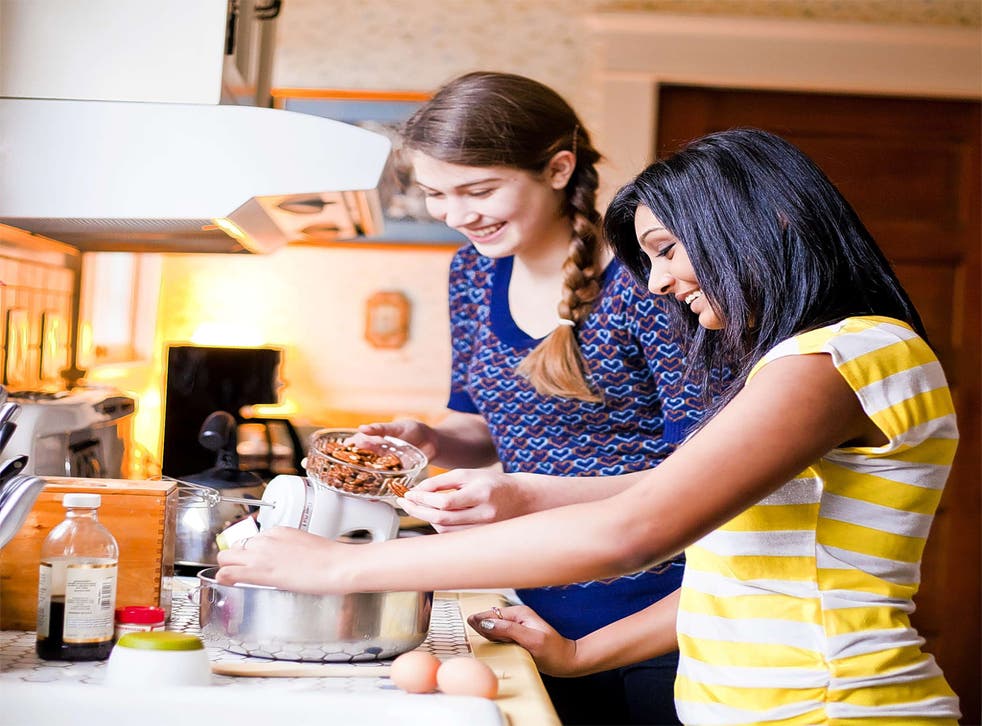 Choosing accommodation should be the nice part of applying to university – but the many factors to consider can make it as stressful as selecting the course in the first place. Students overwhelmingly want to live in university halls of residence with other freshers to make friends and socialise. Halls also appeal to parents as they almost always offer a secure environment with swipe card entry systems and wardens.
Some are university owned, some are owned and run by property companies on behalf of the university and others are private and open to a wider clientele. The instinct is to choose the rooms that look the nicest and they are usually the most expensive. Students may pore over the photos, but when they get there it's more likely the amount of money left in their pockets will be of greater importance.
Most universities guarantee accommodation for all first-year undergraduates though it often does not apply to late entrants coming in through the Clearing system that matches applicants with unfilled places. Rooms are often allocated on a first come, first served basis, so ensure the application goes in as soon as possible.
If your son or daughter is heading off to university in September, the chances are that you will have seen at least one hall of residence on an Open Day visit – and been surprised. Overall, the standard of today's accommodation is a revelation to those who remember the old days of communal showers, shared rooms, peeling paint and draughty windows. Now faux leather sofas and plasma TVs are not uncommon. Also, 55 per cent of student rooms have en suite bathrooms, according to the latest Accommodation Costs Survey by the NUS and Unipol Student Homes.
But it comes at a cost. The survey found the average 2012/13 rent to be £3,980 for a basic room. Some are much higher – Bristol charged between £4,623 and £6,360 for catered accommodation in 2012/13, Durham charged £5,673 and St Andrew's charged up to £5,603 for rooms with shared bathrooms and up to £6,761 for en suite.
However, most places do have budget options for students prepared to compromise, perhaps sharing a room or living further away from the campus. The University of Newcastle's St Mary's College, just over two miles out, charges £2,883, for example. Sheffield Hallam has a city centre residence at £3,300.
Colum McGuire, the NUS vice president for welfare, says the research found rents had doubled over the last decade. Universities and private companies had concentrated on building high-end accommodation, leaving fewer and fewer reasonably priced options.
"Rent setting continues to show little or no relationship to financial support levels and we have yet to see evidence that students value ensuites and plasma TVs over being able to afford food," he says.
Once you're over the shock of the cost of living at university for around 31 weeks of the year, there are several factors to consider. The first is catered or self-catered accommodation.
Universities have been closing catered halls through lack of demand and they now make up only 15 per cent of rooms provided, according to the NUS survey. Most universities insist that catered students eat at set times but some offer them smartcards to use across the campus food outlets. Usually they provide cooking facilities for them to prepare food between meal times, ranging from a full kitchen to a microwave and fridge-freezer.
"Catered halls are more sociable. You are exposed to lots of people in the dinner hall," says Nottingham engineering student Matt Born. "The downside is missing meals you have paid for if you have commitments such as morning and evening sports team training," he says.
Self-catered accommodation is more likely to be arranged as flats of four to eight students sharing a kitchen and bathrooms with a communal sitting room, if they are lucky.
The University of Reading has 4,300 rooms ranging from £99 to £149 a week and says its new townhouses are proving very popular. Each house has 12 study bedrooms arranged over three floors with shared home-from home kitchens and diners on the ground floor.
As long as you are able to cook for yourself, self-catered allows you to eat more healthily and gives you much greater choice, says Samuel Yamuah, a modern languages student at the University of Birmingham.
"I liked being able to cook with others and try new food from around the world with the international students," he said.
Proximity to the campus or town centre is the most important factor cited by students and they are prepared to pay more for it, says Simon Thompson, managing director of accommodationforstudents.com, an online property finding and advice service. London students cited proximity to public transport as also being a significant issue.
Online maps or satnavs will come in handy to establish exact distances and any obstacles in the way, such as a large road, park, river or underpass to be negotiated.
The price of public transport and shared taxis late at night should also be factored in to the total cost of accommodation.
Rebekah Lomax, 19, a history student at the University of Nottingham, agrees that location is a key concern. She paid £4,235 this year for a study bedroom in Broadgate Park, a privately run, self-catered hall next to the university campus – only slightly less than the £4,729 charged for a single room in catered accommodation.
However, Rebekah's rent covered 44 weeks, which meant she did not have to move her possessions out of the room at Christmas and Easter and immediately after summer exams, unlike those in the University Park catered halls, let on a 31 week contract.
"It's important to be close to campus – commuting is a waste of time and money," she says. Though she enjoyed living at Broadgate Park, the rent consumed her student loan and she relied on a weekly allowance from her parents.
The University of Newcastle has some halls very close to campus and others several miles away.
"Looking back, I made a mistake by asking for en suite because I ended up with a washbasin I hardly used in a hall further out," said John Smith, a Newcastle student. "There was a free bus in the morning but you had to get there early to queue for a place and if it was full, you either had to walk in the snow or wait for infrequent local buses."
Thompson says the second most important consideration for students was a fast, reliable internet connection.
Some halls have wi-fi, especially if they are privately built and run, but others rely on cable connections to the university network. In these cases, students have to use 3G to access the web through their smartphones and tablets.
Sheffield Hallam guarantees accommodation for all its first-years, working in partnership with private companies and landlords. "We have 5,000 bed places with a broad range or rents, from £75 a week to £116 and all within a 20 minute walk to the university," says Karen Burke, the university's Accommodation Services Manager. She advises students and their parents to work out what they can afford and not get carried away with emails and glossy leaflets from private providers.
"The 'bathroom experience' is one of the major things about moving away from home," Burke says. "Students worry about sharing with someone who is not their close family. Students often say they want en suite because they don't want to share a bathroom and then they don't have any problem sharing with people in the second year," she says.
Nottingham medical student Ligori Malcolm agrees. "I think en suite is a rip-off and unnecessary," she says. "Our hall had two bathrooms for five people and one was always vacant,' she says.
Sociable students are often happier in the less expensive halls than the luxury, privately-owned and privately- run blocks that are marketed to postgraduates and overseas students who tend to be less keen on the party scene.
It helps to approach university websites and brochures with a healthy scepticism – the picture angle may make the place look roomier than it is, for example. This is an important consideration if the student wants to take along a large musical instrument, sports equipment or their favourite office chair.
There is also little indication of the surrounding area, whether it is safe to walk home at night, for example, or the location of the nearest corner shop and supermarket.
This is where social media can help. Who better to tell prospective students about accommodation than current students? Twice as many students (and their parents) visit The Student Room in August than visit the website of the Universities and Colleges Admissions Service (Ucas) says Chris McNair, the site's engagement manager.
"There is a lot of discussion around the different halls, such as this one is super-strict with guests and blocks Xbox Live. This one's a dump, but cheap – there's a party atmosphere and flatmates make a total mess when they're drunk," he said.
Students who apply direct to private halls will have their accommodation confirmed early in the process. Most will apply through the university's central accommodation service that will allocate rooms according to the choices made on the application form. Not all will get their first or even their second choice, however.
Within a couple of weeks of A-level results in mid-August, universities will let students know where they will be living and they will be able to find others in the same hall through social media. If they fail to get into a hall or are late applying – due to finding a place through the Clearing system – then they must find bed and breakfast with a family or a place in private rented accommodation.
University accommodation services hold lists of approved landlords and should be able to help. Bed and breakfast, though an unpopular option, can be a smart move because students will be able to move quickly if a space becomes vacant in a hall – a surprising number of students do pack their bags and leave university in the first month. It also gives them time to find their way around and consider rental options.
However hard you try, some students will end up in accommodation that doesn't suit them, but they will learn to make the best of it. By the second year they will be starting a whole new phase, happily sharing rented flats and houses with the friends they have made.
Hall checklist
How far from campus?
How far from the city centre?
How good is the public transport network?
Will there be enough seats on university buses?
Is the price within budget?
Is there a cable network internet connection or wi-fi?
Who lives there? Is it first-year students or postgraduates?
Are you absolutely sure you will need an en suite bathroom?
Are you likely to make catered meal times?
Do you have to move out of halls during vacation time?
The renting alternative: buy your child a flat or house
The student housing market has boomed over the last few years and parents have been getting on board.
Buying a house or flat for your student son or daughter can make financial sense, especially if they share with other students who pay rent to help cover the mortgage.
The downside is that the student never really becomes independent and may be put in a difficult position, collecting rent from their friends and making sure they look after the property.
Choose the right part of a popular university town, however, and it can prove a good long-term investment, says Simon Thompson, managing director of accommodation for students.com, an online property finding and advice service. That said, the drop in the number of applications to university last year affected the market and some landlords did not meet full occupancy of their property, he says. "Student housing is regarded as a good investment but it should be in the best student area and at a university that's likely to remain popular, not one struggling to fill its courses," says Thompson, author of Student Letting, the landlords' guide to successfully letting out student property.
The summer 2013 report by estate agents Savills ranks nine university towns as top of the list for investors: Bath, Brighton, Bristol, Cambridge, Cardiff, Edinburgh, London, Oxford and St Andrews.
Another option is to buy into new student halls being built in the private sector, though Thompson detects "a little bit of scepticism" in the market since the collapse of 13 companies owned by student housing giant Opal Property Group earlier this year.
Join our new commenting forum
Join thought-provoking conversations, follow other Independent readers and see their replies