A-level results 2016: Record 424,000 students accepted into UK universities and colleges
Number of EU students placed increases by 11% - the highest number ever recorded - despite fears they were being put off coming to the UK post-Brexit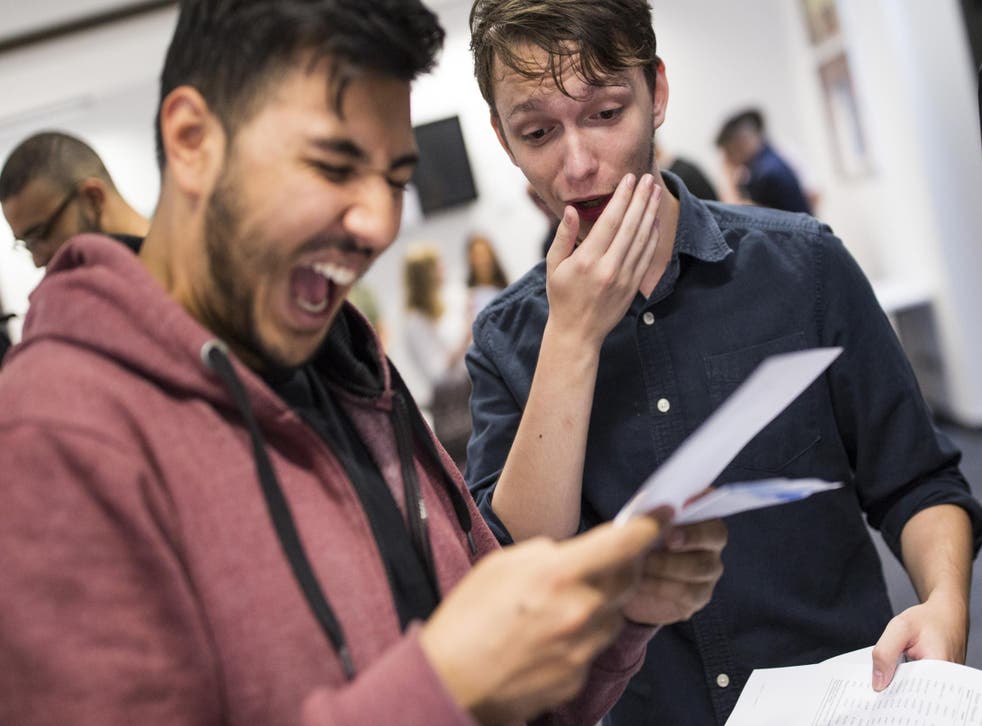 A record 424,000 students have been accepted into UK universities and colleges so far, up three per cent on last year, and the highest ever recorded on A-level results day.
According to Ucas figures, as of midnight, 201,000 18-year-old applicants were placed into further and higher education, up two per cent on 2015, despite the population falling by 2.3 per cent. Young people from the UK are four per cent more likely to have been placed than last year, said the admissions service.
The figures have come on the day there has been a slight fall in top grades compared to exam results day last year; the proportion of A* and A grades was 25.8 per cent, down by 0.1 per cent on 2015. The pass rate of 98.1 per cent has remained the same.
Surprisingly, the number of EU students placed at a UK university has increased to 26,800, up 11 per cent, and the highest number ever recorded for this group. This comes despite fears EU students were being put off coming to the UK in the post-Brexit climate. Overall, international acceptances have stayed around the same level as 2015 at 29,300.
Young people from the poorest backgrounds are seven per cent more likely to be placed than last year. However, 18-year-olds those from wealthier backgrounds are still 2.5 times more likely to be accepted into university, something which will come as a blow to the Government's widening participation plans.
There are also more acceptances from older age groups, with acceptances for those aged 25 and over up eight per cent, as more students from each of the four UK countries have been placed in higher education than at this point last year; 307,200 in England, while Scotland has seen 31,900, Wales 16,600, and Northern Ireland 12,000.
Looking at the gender breakdown, over 27,400 more young women than men have already been placed at university, but this gap is slightly narrower than in 2015 with three per cent more men placed in 2016, and two per cent more women.
Mary Curnock Cook, Ucas chief executive, congratulated the hundreds of thousands of young people who have chosen to begin their adult life with university, and said she was "particularly pleased" to see the first small signs of improvement for young men. However, she added: "They are still too far behind."
Also responding to the numbers, chief executive of Universities UK, Nicola Dandridge, praised the record figures for 18-year-olds in particular. She also acknowledged how, while university is not the right choice for all, the benefits of getting a degree "are clear."
She said: "Official data shows skilled graduates are still in a substantially better position to obtain a job and, on average, earn substantially more than non-graduates over a working lifetime.
"Success in higher education, however, should not simply be measured by how much graduates go on to earn. A degree also helps students develop a range of other important life skills, from the ability to think critically, to analysing and presenting evidence. Higher education is also about making life-long friendships with people from all parts of the world and developing as an individual."
Turning her attention to those students who will now be competing for a place through Clearing, Sally Hunt, general secretary of the University and College Union (UCU), said the UCU hopes students will be able to look beyond some of the "unusual pitches, freebies, and gimmicks" universities are offering in order to fill places this year by spending plenty of time researching their options.
Hunt said: "Deciding whether or not to study, and where, is a life-altering decision and universities must not put undue pressure on students. Students are in a strong position this year and should not be rushed.
The 20 hardest universities to get into
"For too long, university funding policy has been based on looking for new ways to squeeze more out of students. Higher education is at a crossroads at the moment as the sector grapples with the Brexit fallout and government plans to further increase fees. What is really needed is a proper debate about how to fund our universities and our students."
Last year, a record 64,300 students used Clearing to find the right course for them, one in eight of all students placed into university. This year, it is expected there will be even more courses on offer and similar numbers finding places by the end of September when Ucas removes all published Clearing vacancies from its search tool.
Join our new commenting forum
Join thought-provoking conversations, follow other Independent readers and see their replies