Student maintenance grants: Support emerges both for and against George Osborne's 2015 Budget announcement
While some say turning the grant into a loan 'unjust', others have said the move is 'fair'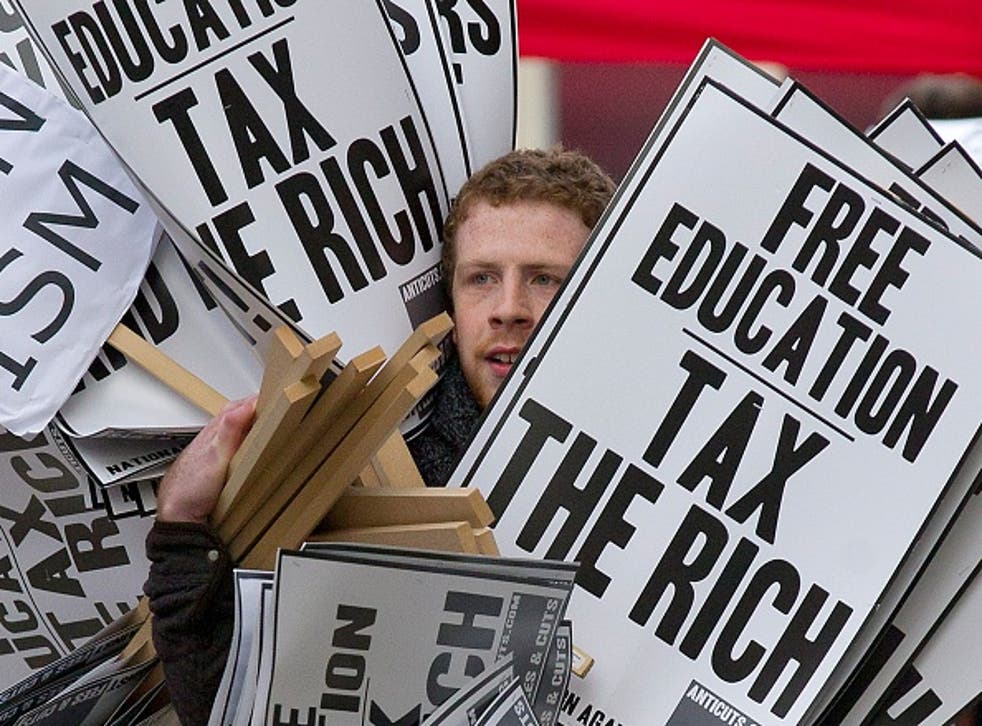 A good old university education is the best way to carve out a better future for yourself, right?
Well, now that Chancellor George Osborne has announced maintenance grants for university students from low-income families will be scrapped and converted into loans, some students feel they can no longer afford to go.
Osborne's latest Budget will hit the country's poorest students hard. But what do students themselves actually make of the Tories scrapping maintenance grants? Will this affect their decision to go to university? From students who are already enrolled in university to those questioning whether a degree is even worth considering anymore, opinion on the matter is mixed.
Saffron, who is about to start her third year of university, said life without financial aid would make life at university very difficult for her: "It's unfair, unjust and upsetting that the Tory government lack the compassion to think about how this policy will be affecting the working class and those who earn a low income.
"Yes, we would be entitled to more maintenance and more money. But that mountain of debt that hangs over us when we graduate will only be bigger and less manageable. We're more likely to have bad credit ratings and may be inclined to take out more potentially dangerous loans.
"Financially, things would be extremely difficult and limiting if I attended university without any support from a grant or bursary. I most likely wouldn't be able to attend – or if I did, I'd have to choose a university close to home, as I'd be unable to afford university halls. I'd have to take up part-time work with demanding hours to ensure all my living costs are covered, and I'd also probably have to utilise the hardship fund made available to those only in dire need of assistance.
"All in all, day-to-day life would be a more trying, challenging experience."
Amy, who is at secondary school, said scrapping the maintenance grant would prove challenging for her parents, who would have to support both Amy and her sister at university at the same time: "I'll be at university at the same time as my sibling. With no maintenance grant, this means we will have to rely on our parents to support both of us at the same time and we will have to work part-time in order to pay for bills and accommodation, which is not ideal while studying."
Max*, who is about to begin his third year of university, said he agrees with turning the grant into a loan, as he believes doing so would stop people 'cheating the system' to get grants: "I hate the Conservative party, but I don't think scrapping maintenance grants is that wrong. I think turning the grant into a loan is fair. People go to university to better their chances of getting a good job, so they'll be able to pay it back anyway.
"I actually know a lot of people who get a maintenance grant who don't even need it. For example, my cousin's parents are divorced, and even though her dad is wealthy, they put her mum's lower income on the forms to get the grant. If the grant was a loan instead, people would stop doing this."
Daniela, who is at secondary school, said it would be difficult to live away from home without a maintenance grant: "I would definitely consider living at home and going to the most local university purely for financial reasons. Without a maintenance grant, the only way I can see myself moving away from home to go to university is if I get a part-time job."
Will, who is about to start his third year of university, said: "Cameron is stripping-back the security or support framework of welfare and encouraging people to 'take responsibility.'
"By encouraging the public to take responsibility for themselves, he is off-loading the responsibilities of the benevolent leader. But what does he mean by suggesting that higher education is the luxury of the selfish individual, instead of, say, a generation of young adults fulfilling a very important responsibility for the sake of the economy?"
George Osborne – who claims expenses, gets a free house and now a 10 per cent pay rise too – says the poorest students in the country can't have a government grant to help get them through university. Instead, poorer students will now have to settle for taking out another loan, netting themselves even more debt.
Judging from the general opinion in this article, the maintenance grant is clearly of huge importance in offering stability and helping cash-strapped young people to simply get through higher education.
The maintenance grant not only helps young people survive on their own away from home, but also helps them stay afloat when they're undertaking essential internships – many of which are unpaid.
It could be argued, of course, that students still get an increased maintenance loan to get them through, but why should students have to settle for more debt? Why should they have to deal yet another barrier to bettering their future prospects? Why does George Osborne force austerity on young people so much?
What is surprising is that the number of full-time undergraduates has actually increased since tuition fees were raised to £9,000. But now, with the scrapping of maintenance grants, could this change? It's almost as if the Tories are saying: 'Ha, try going to university now!'
Hannah Maundrell, leading personal finance expert and editor-in-chief of comparison site, money.co.uk, was right when she told The Independent: "Although the cut seems fierce, if you've got big career aspirations that require a degree, then footing the extra cash after you start earning is still likely to be worth your while."
A university degree is still of huge value, but with the prospect of fees continuing to rise in the future, the years to come look set to be more challenging than we could possibly have imagined.
*Some names in this article have been changed
Twitter: @lucasfothergill
Join our new commenting forum
Join thought-provoking conversations, follow other Independent readers and see their replies