Boys will be boys: Gender divide is growing fast at A-levels
Girls shy away from maths and science and fewer boys opt for English and creative subjects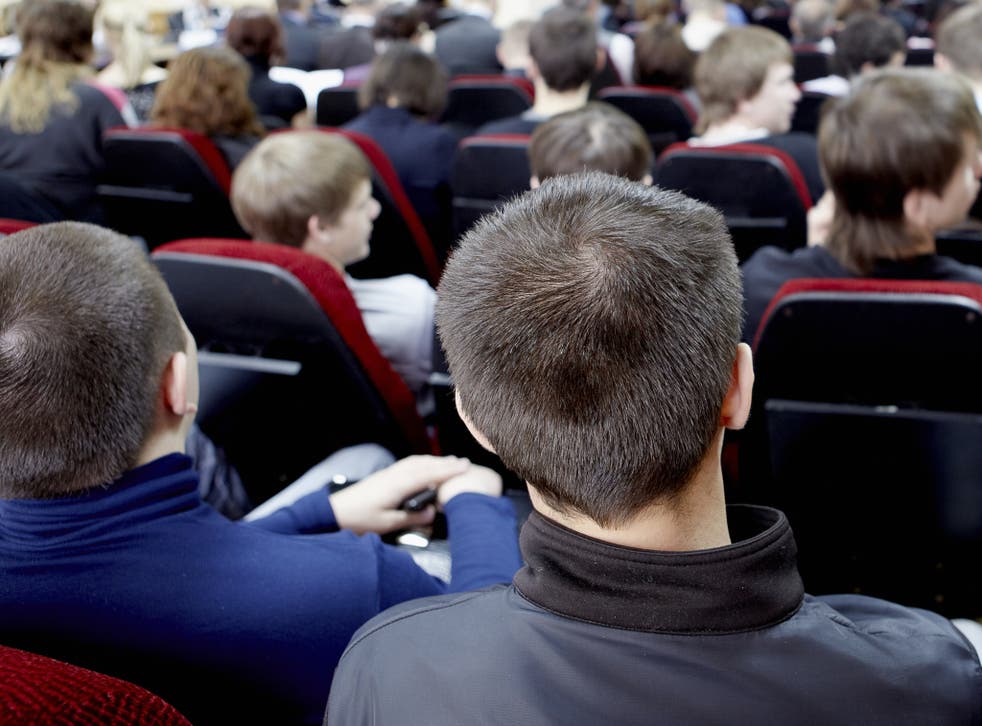 A growing gender divide is opening up in schools with girls shying away from maths and science A-levels and fewer boys opting for English and creative subjects.
Figures show four out of five (79.3 per cent) physics entries were from boys - up 3.8 percentage points from last year -- while nearly three-quarters of those speaking English (71.8 per cent) were from girls - 2.3 percentage points up on 2012. In maths, 60.1 per cent of the entries were from boys - up 3.9 percentage points on last year.
The increasing divide - which coincides with boys increasing their lead over girls in the number of A* grades awarded - should be of concern to ministers, according to headteachers and teachers' leaders.
Brian Lightman, general secretary of the Association of School and College Leaders, said: "I think teachers are only too well aware that this stereotyping exists. We need to see role models of people who are doing different things in schools.
"We need very good female role models of engineers and scientists to go and talk to students - and we need those who have made a success out of English to go and talk to boys."
Chris Keates, general secretary of the NASUWT teachers' union, added: "This is an issue that the Government cannot ignore as it could have serious ramifications for the future education and employment options for boys and girls."
Concern over the subject gender divide coincided ith boys surging to a record lead in the number of A* grades awarded yesterday - the day nearly = 300,000 teenagers received their A-level results.
They increased the lead they had established over girls for the first time last year - with 7.9 per cent of their papers being awarded the top grade pass compared to 7.4 per cent for girls.
Professor Alan Smithers, director of the Centre for Education and Employment Studies at Buckingham University, said the boys' lead in top grade passes had only emerged after the introduction of the A* at A-level three years ago.
"Boys' performance tends to spread more widely - more boys tend to get to the very highest levels whereas girls' results tend to bunch more about the average."
Yesterday's overall results showed a slight dip in performance at A* grade for the second year running - thought by academics to be caused by the increase in candidates opting for maths and science subjects and shunning courses like media studies and PE.
The percentage of A* and A grade passes fell by 0.3 percentage points to 26.3 per cent - although the overall pass rate went up by 0.1 percentage points to 98.1 per cent.
The numbers taking maths and science subjects soared, the results showed. This year science accounted for 17.8 per cent of all entries compared with 17 per cent in 2012 and maths rose from 11.5 per cent to 12 per cent. The numbers opting to take the extended project (an essay-style paper credited with developing pupils' creative writing and thinking skills) has also soared from just over 5,000 when it first introduced five years ago to 30,000.
Mark Dawe, chief executive of the OCR exam board, said: "Students are becoming more and more savvy about what they need at A-level for the career they want."
Neil Bentley, deputy director general of the CBI, added: "It's clear students are being savvier in the face of higher degree costs and a tougher labour market by taking subjects that maximise their future job chances."
Academics said the shift in emphasis was also explained by the decision by the Russell Group of universities, representing 24 of the most selective higher education institutions in the country, to publish a list of "facilitating subjects" which would help students gain a place on one of their degree courses.
Yesterday's results also showed a surge of interest in economics as a subject - with entries increasing by 50 per cent since the economic squeeze began in 2008.
They also revealed that the percentage of A* to B grade passes had increased from 52.6 per cent to 52.9 per cent - a move put down to the fact universities have been told they can increase student numbers provided they recruit students with at least an A and two B grade passes.
Andrew Hall, chief executive of the AQA exam board, said the B grade was taking on a new importance for students as a result of the changes.
Mr Lightman added: "I'm worried about seeing people with B grades or less being labelled as failures."
However, Universities Secretary David Willetts said the Government's student recruitment reforms only accounted for around 120,000 university places. Two-thirds of places were still open to students with three B's at A-level and below.
Case studies
Budding music star opts for a year out
Among the teenagers to be awarded grades allowing them to attend university was Gem O'Reilly but the talented student has instead decided to take a year out to concentrate on songwriting and performing instead – after hitting number seven in the download country music charts with her debut EP, 'Teenager', earlier this year.
The 18-year-old scored A grades in English literature and English language and a D in Spanish but is passing up the chance to study for an English degree.
Ms O'Reilly, from Middleton in Greater Manchester, played and recorded her own country-pop style music in her bedroom in between writing her essays, attracting fans on website YouTube.
She said: "I've had to take quite a risky decision. I'm taking a year out to explore this very hard industry. I want to make a living out of making and performing music."
Among those headed to university was Kate Prescott, below, who was celebrating getting six A*s in her A-levels and will now go to Cambridge to study natural sciences.
The 18-year-old, from Swanmore in Hampshire, attended state-run Peter Symonds' College in Winchester. "I did work really hard – I didn't have much spare time, but I have achieved what I wanted," she said.
Sophie sails through A-level exams ahead of ocean race
An 18-year-old sailor has scored an A-grade in A-level geography, weeks before setting off on the world's longest ocean race.
Sophie Hetherton, from York, will be the youngest female participant of the Clipper Round the World Yacht Race when she takes to the seas on 1 September.
The 40,000-mile voyage takes 11 months and will take the teenager across six continents and destinations including Rio de Janeiro and Singapore before returning to London in July next year.
Ms Hetherton said: "Sailing round the world and learning about the oceans, geography, nature and different countries we visit will be the perfect way to cement what I have learnt and inspire me for my future endeavours."
She also scored Bs in art and English and has been accepted at the University of Warwick where she will study history of art when she returns from her gap year at sea.
PA
Girl overcomes adversity to get to Cambridge
A teenager from Devon is heading to Cambridge University even though she has problems writing due to dyslexia and dyspraxia.
Penny Banks, who gained three A*s in maths, economics and physics to win a place at Girton College, will read land economy. The 17-year-old, from Honiton, has handwriting issues along with suffering from the two conditions.
Penny, an academic scholar at Queen's College in Taunton, said: "I can't think in a straight line and find it really difficult to write fluidly but the support at school has really made a difference. I cannot wait to get stuck into my course."
Acid attack girls make the grade
The two London girls attacked with acid in Zanzibar both achieved good enough grades to win places at their chosen universities.
Katie Gee, 18, will head to the University of Nottingham to read sociology, while Kirstie Trup will study history at Bristol University, her family said. Kirstie, also 18, received the good news moments before heading into Chelsea and Westminster hospital for a skin graft operation. Her friend is still receiving treatment after suffering more serious burns during the horrifying attack in the tropical island's capital city last Wednesday.
Join our new commenting forum
Join thought-provoking conversations, follow other Independent readers and see their replies