Goldsmiths rent strike: Private company accused of trying to 'break strike' by requesting early payment
Protesters claim conditions in many of Goldsmith's halls are 'unacceptable'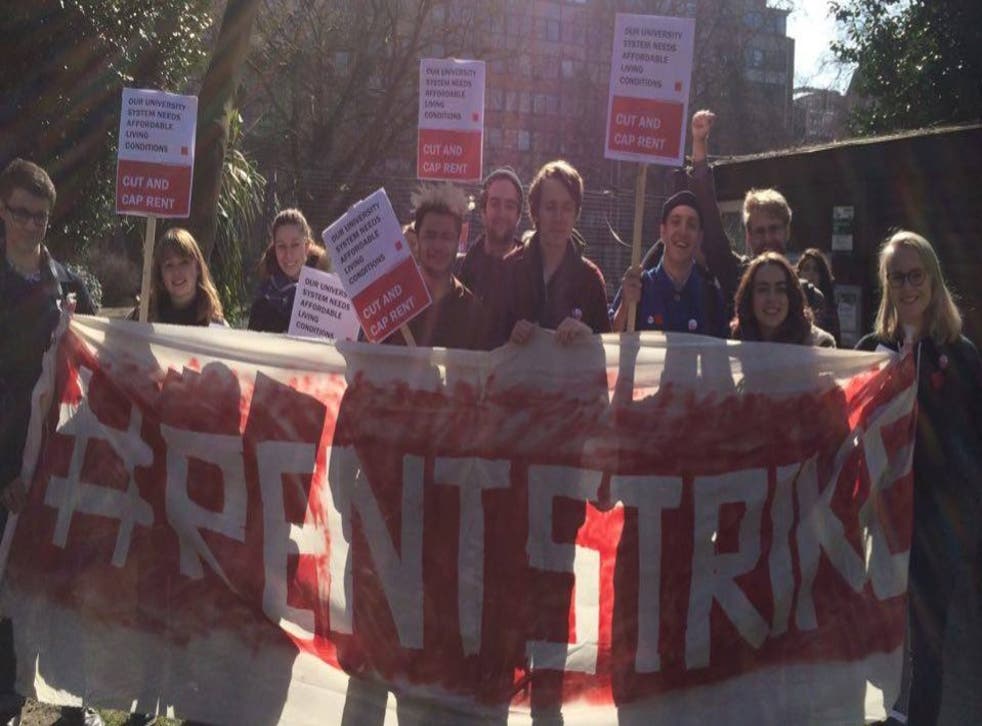 University students who launched a rent strike in protest at "exploitative" conditions in accommodation have said they have been instructed to pay their rent seven days early.
More than 200 students at Goldsmiths University have said they plan to collectively withhold over £200,000 until their rent was cut to £100.20 a week.
After the strike was announced, Campus Living Village (CLV), the private company that collects the rent, sent students an email asking them to pay rent on 25 April - one week earlier than the final payment date of 2 May stated on students' initial accommodation contract.
If students fail to pay their rent, they face a £30 fine.
A spokesperson for Goldsmiths, Cut the Rent group (GCTR) said: "The email sent by CLV represents sabotage to the rent strike.
"Both landlords and tenants have to stick by the terms of contract, and this includes rental payment dates. CLV does not have the authority to unilaterally change the rental payment date."
"Neither can CLV threaten to fine students for late rent payment when there is absolutely no provision for this in the contract or accommodation terms.
The top 10 universities in the UK

Show all 10
GCTR has claimed the conditions in many of the Goldsmith's halls are "unacceptable," with no hot water, broken kitchen equipment, pipes leaking sewage, and aggressive responses from hall's management when students request things to be fixed.
Rachel, a student at Goldsmiths, told the Independent: "I was shocked when I got the email from CLV because I had personally asked them a month or so ago when the next rent payment was due and had been told it was 2 May, so I was aware straight away they had moved it forward."
"I have had complications with my loan payments before which means I could not have the money until after the date they have specified. All other rent payments have been due significantly after the start of term, giving students time to sort out their loan payments.
"It seems, at least, very insensitive to students who will have problems with payments like this."
A spokesperson for Goldsmiths, University of London said the email sent to students "contained an incorrect date by mistake," and added: "A corrected email will shortly be sent to all those who received the first message"
A CLV spokesperson echoed the university comment, and said: "We'd like to apologise to all residents for this mistake. We'll shortly be in touch with residents to let them know the correct payment date."
The strikes at Goldsmiths follow an ongoing rent strike involving some 500 students at UCL.
Join our new commenting forum
Join thought-provoking conversations, follow other Independent readers and see their replies