Green Party vows to 'campaign furiously' against Osborne's decision to axe student maintenance grant as online petition nears 40,000 signatures
Party member says he's never 'felt so disconnected with those who are meant to represent us' and urges people to keep signing the petition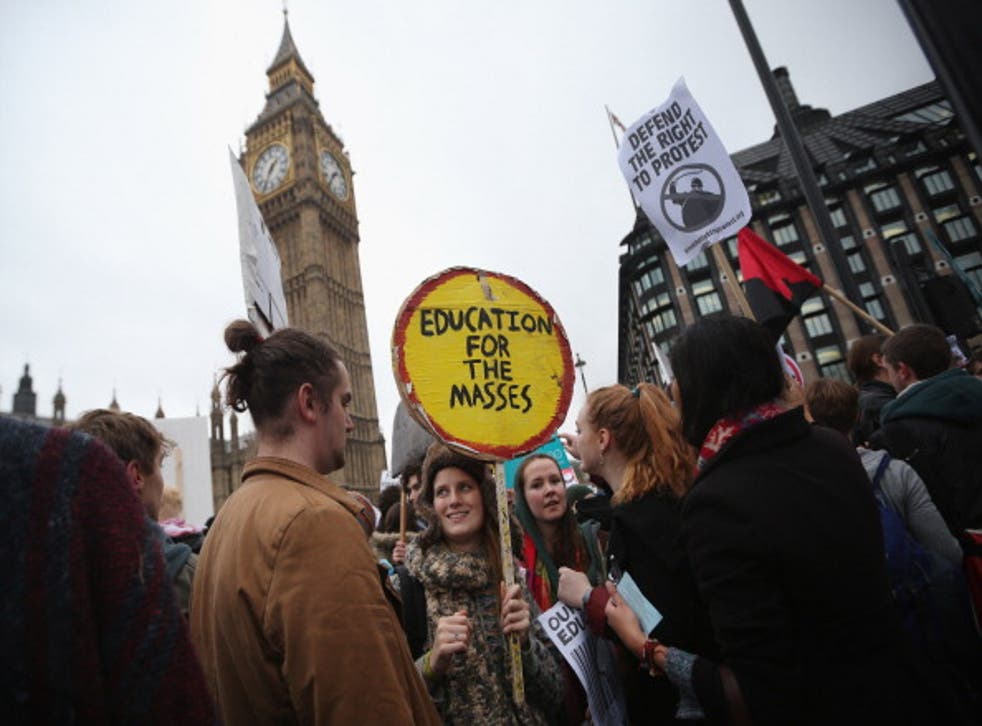 The Conservatives had better prepare themselves for a national demonstration, action days, a 'debt-in', debates, and petitions after the Green Party vowed to charge-on ahead with its campaign against the maintenance grant cut.
With their online petition having gathered over 40,000 signatures, Green Party spokesperson for higher and further education, Dave Cocozza, and Jan Pearson, a concerned parent whose child's hopes of university may be in jeopardy, say they hope to build upon the support already gathered to show the Government 'how wrong the decision to scrap grants is'.
In a statement on the 38 Degrees webpage – which is one of the UK's biggest campaigning communities – the pair urged students not to give up on the cause, adding: "Collectively, with our combined strong voices, we can make a real difference."
Chancellor George Osborne incurred the wrath of students across England after axing the popular student maintenance grant, in his latest Budget announcement, for low-income students after saying they had become "unaffordable."
Days later, the Independent Parliamentary Standards Authority confirmed MPs were to be given a ten per cent pay rise – from £67,060 to £74,000.
Describing how the pay-rise has come at "a bad time," Mr Cocozza said: "Considering the pay freeze in the public sector and the continued austerity measures affecting young people, I'm glad many politicians – including our Green MP Caroline Lucas – are donating their increase to charitable causes at a time when one million people have relied on food banks in the past year.
"Frankly, I don't think I've ever felt so disconnected with those who are meant to represent us."
Although the Green Party says over 500,000 low-income students rely on the grant in order to get through university, Mr Osborne said the grant is worth £1.57bn to the taxpayer every year and added: "If we don't tackle this problem, then universities will become under-funded and our students won't get places – and I'm not prepared to let that happen."
Now, however, Mr Cocozza – who said he relied on the grant to get through university – described how he was "incredibly disheartened" with the new plans and warned: "I intend to campaign furiously against them, alongside other leading student campaigners and voices, in Parliament."
In a report released by the Institute of Fiscal Studies yesterday, the think-tank highlighted how student debt post-graduation will be over £53,000-per-student after Mr Osborne's reforms come into place from September 2016. Before his reforms, this figure sat at £40,700 – an increase of just over £12,500.
Describing how the Tory Government has 'little understanding of the difficulties faced by ordinary people', Mr Cocozza added the report's findings prove how the chancellor has revealed "that we are not all in this together."
He added: "Greens have argued that the costs of a free higher education could be met by increasing corporation tax for larger companies to the level paid in other G7 countries, but the chancellor is intent on lowering the tax even further."
Once the 38 Degrees petition reaches its 100,000-signature target, Ms Pearson plans to present it to Secretary of State for Education Nicky Morgan, Secretary of State for Business, Innovation and Skills Sajid Javid, Prime Minister David Cameron, and to the shadow education secretaries of all opposing political parties.
Along with their supporters, the Green Party said it also intends to continue to lobby Parliament to oppose the decision and that an Early Day Motion submitted by Labour leader hopeful, Jeremy Corbyn, has now gathered over 50 MP's signatures.
Mr Cocozza added: "Over the summer recess, we will be planning action days, with students, in a national protest outside the Conservative Party HQ."
The group also intends to stage a 'debt-in' with leading student campaign groups towards the end of this year.
Mr Cocozza told The Independent that Ms Pearson met with former Labour Party leader Ed Miliband – "who is a strong supporter of the campaign" – and hopes to call a debate in Parliament after the summer.
Join our new commenting forum
Join thought-provoking conversations, follow other Independent readers and see their replies