The Independent's journalism is supported by our readers. When you purchase through links on our site, we may earn commission.
Kansas high school students cover bathroom mirrors with inspirational messages to promote positive body image
Senior says the move hopes to encourage younger students to find beauty, not in a mirror, but in other ways instead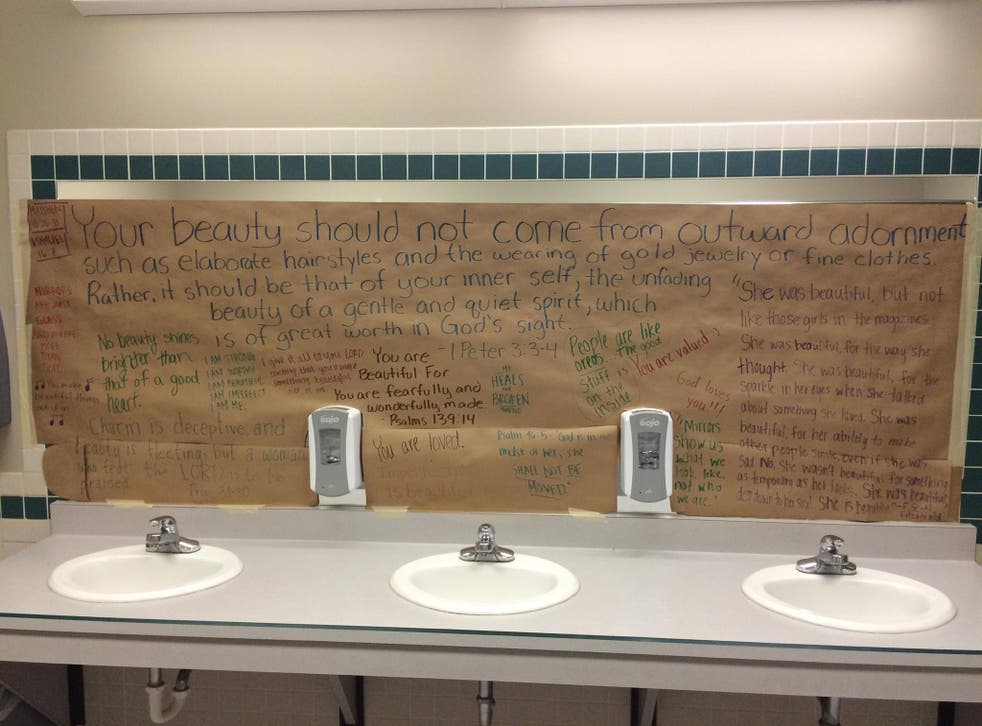 The mirror can be more foe than friend for us all on some days, and one group of young pupils has been racking-up support after covering up the mirrors in their high school bathroom – and adorning them with positive body-image messages instead.
In a move to promote and encourage self-love and inward beauty, seniors from the Trinity Academy in Kansas, US, have been penning the coverings with powerful mantras in their effort to make younger students feel better about themselves.
One of the quotes, from American writer F. Scott Fitzgerald, reads:
She was beautiful, but not like those girls in the magazines. She was beautiful, for the way she thought. She was beautiful, for the sparkle in her eyes when she talked about something she loved. She was beautiful, for her ability to make other people smile, even if she was sad. No, she wasn't beautiful for something as temporary as her looks. She was beautiful, deep down to her soul. She is beautiful.
As a Christian high school, the pupils have also taken some inspiration from the Bible:
Your beauty should not come from outward adornment, such as elaborate hairstyles and the wearing of gold jewelry or fine clothes. 4 Rather, it should be that of your inner self, the unfading beauty of a gentle and quiet spirit, which is of great worth in God's sight – 1 Peter 3:3-4
The move has taken Facebook by storm as people from around the world praised the pupils for being inspirational:
Speaking with local CBS station KWCH, one of the young women described how the group really wanted to make a difference in the younger students' daily lives. She added: "We want them to find their identity in God and in Christ and not in a mirror and not what their outward appearance looks like."
While the students' move has been generally well-received, others are saying the initiative is counterproductive and actually 'shaming' women for their bodies.
One writer told the feminist blog Jezebel: "It feels to me like they're papering over the mirror because they can't go all out and ask the girls to wear paper bags themselves."
Regardless of mixed opinion, at the end of the day, a little inspiration never hurt anybody.
Join our new commenting forum
Join thought-provoking conversations, follow other Independent readers and see their replies