The Independent's journalism is supported by our readers. When you purchase through links on our site, we may earn commission.
Multiple arrests as hundreds of student protesters clash with police in central London
36 students arrested at protest about student arrests
Dulcie Lee
,
Ben Jackson
Friday 06 December 2013 13:22 Comments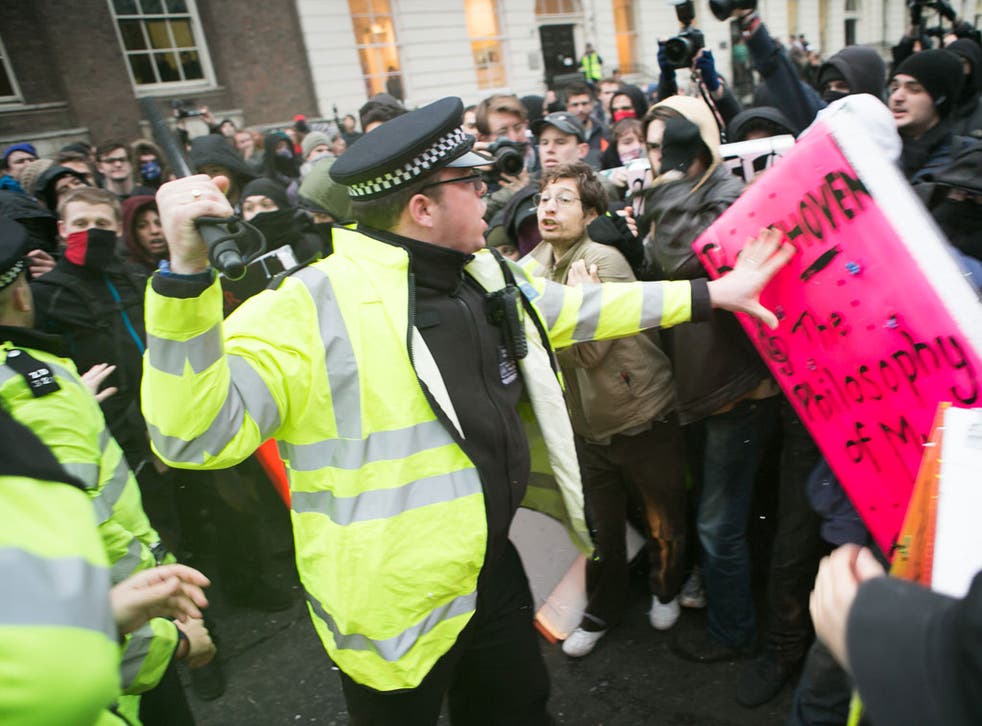 Thirty-six student protesters were arrested in London last night, with many more kettled, during a 'Cops off Campus' demonstration over police presence on university campuses.
Between 200 and 300 students gathered outside the University of London Union to protest over alleged police brutality on Wednesday, which included video footage appearing to show a policeman punching a student.
Two of those arrested were held on suspicion of assaulting a police officer and 34 people for suspected breach of the peace and affray, all of whom were taken to stations across south London.
Many protesters split up or went home due to bad weather. Others were diverted towards Euston Square station where they were kettled by officers from more than 20 police vans.
Three officers suffered minor injuries during the demonstration which saw protesters travelling from as far as Coventry.
ULU president Michael Chessum told the Independent: "The atmosphere has been angry, it's been vibrant.
"I think there's a new movement building. I think there's a spark in the student movement I haven't seen since 2011. I think that people are just going to keep coming back."
A spokesperson for the police said they had received no official complaints about the behaviour of officers at Wednesday's demonstration, but encouraged people to come forward.
Bo Franklin, a 20-year-old onlooker, said: "It all sort of reached a head when they started kettling people. I think [Wednesday's protest] got a lot more people to realise what was happening.
"The police were almost just looking for a fight after last night; they're all pretty het up about it."
The National Union of Journalists, meanwhile, has come out in support of London Student editor Oscar Webb, who was arrested while reporting the protest.
Roy Minoff, a legal officer at the NUJ, said: "Journalists have a right to investigate and report, and the public has a right to be informed. The NUJ will do all it can to ensure this right is upheld."
A spokesman for the police confirmed the arrests, but said he couldn't "discuss the identity of who has been arrested". Three officers suffered minor injuries, he said, but did not require hospital treatment.
Another similar protest has been arranged for this afternoon.
A larger day of action has been planned by the National Campaign Against Fees and Cuts on 11 December, with more than 700 people attending the Facebook event.
Video: Students get arrested at ULU protest
By default player size is set to 420 x 315px. But you can resize player width and height once you get the player code using player params.
Register for free to continue reading
Registration is a free and easy way to support our truly independent journalism
By registering, you will also enjoy limited access to Premium articles, exclusive newsletters, commenting, and virtual events with our leading journalists
Already have an account? sign in
Join our new commenting forum
Join thought-provoking conversations, follow other Independent readers and see their replies