The Independent's journalism is supported by our readers. When you purchase through links on our site, we may earn commission.
Newcastle University student Melanie Hartshorn graduates on a stretcher due to debilitating condition
Finally a degree-holder, graduate says latest obstacle of raising £150,000 to fund lifesaving surgery 'has been the most difficult'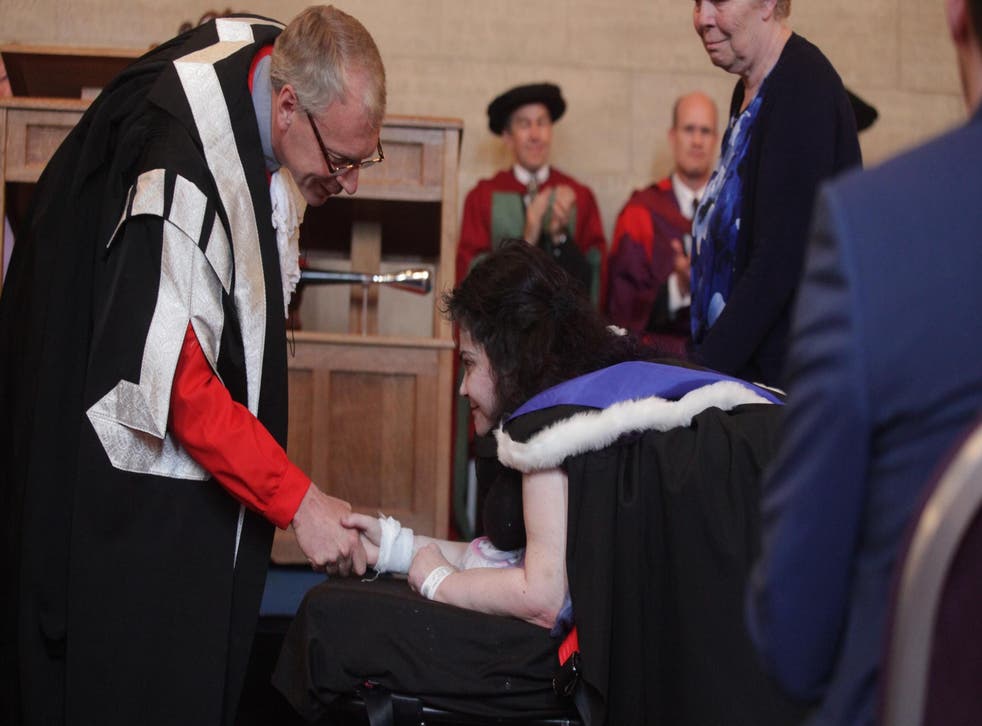 A Newcastle University student has proven to be an inspiration for all after joining thousands of other new graduates from across the country to collect her degree - only doing so on a stretcher.
Melanie Hartshorn, 26, suffers from a rare disease, Ehlers-Danlos Syndrome (EDS), a genetic condition that causes her joints to dislocate, which has left her bed-bound and in constant pain.
However, she hasn't let that stop her from completing an honors in biology and, this week, proudly joined her peers at the university's graduation ceremony after completing her final year from home.
Ms Hartshorn said the day was "brilliant" and took time out to thank all who supported her. She said: "As my condition worsened, I needed multiple operations which prevented me from graduating with my colleagues. I had to take time off and I had to spread my final year over two years. It also meant I had to sit my exams on a stretcher and to work on assignments from home."
The university, she said, provided "fantastic support" from visiting day onwards, as she relished in reaching her goal to graduate achievable, despite the extreme medical obstacles she has had to tackle. "The latest has been the most difficult - to raise over £150,000 to fund my lifesaving surgery," she explained.
The grad's conditions means her skull and brain are sinking onto her spine for which she needs immediate neck surgery to fuse her skull to her spine. Ms Hartshorn says she also needs to have a cyst in her brain removed and for trapped fluid to be drained from her brain, the build-up of which has caused her face to become disfigured at times.
To help the graduate fund her surgery, please visit her GoFundMe page and also visit her Facebook page for more information.
Heartwarming news stories from around the world

Show all 30
Graduation season in recent times gone by has shown the lengths students, both at home and abroad, have gone to in order to pick up their certificates.
Micah McDade, from Okmulgee High School in the US, became a social media hit in May after defying all the odds to shock his family, peers, and school staff by rising from his wheelchair and walking - for the first time - to collect his diploma.
Chris Norton, from Iowa, was paralysed in 2010 while playing football and was given a three per cent chance to ever move again below his neck, yet managed to walk on stage to collect his business management diploma with his fiancée by his side.
Weeks later, Aly Bonville earned herself an army of fans after she finally reached her goal to help her severely autistic twin brother, Anders, across the stage at their high school graduation in Alabama.
Then, in Virginia, Parker Haller, who became paralysed after a diving accident three years earlier, shocked his classmates, staff, and family when he rose from his wheelchair on-stage to collect his qualification.
Join our new commenting forum
Join thought-provoking conversations, follow other Independent readers and see their replies