Nick Clegg braves ghosts of the past with election pledge to keep tuition fees
Decision to raise university fees to a maximum £9,000 a year provoked biggest crisis as Lib Dem leader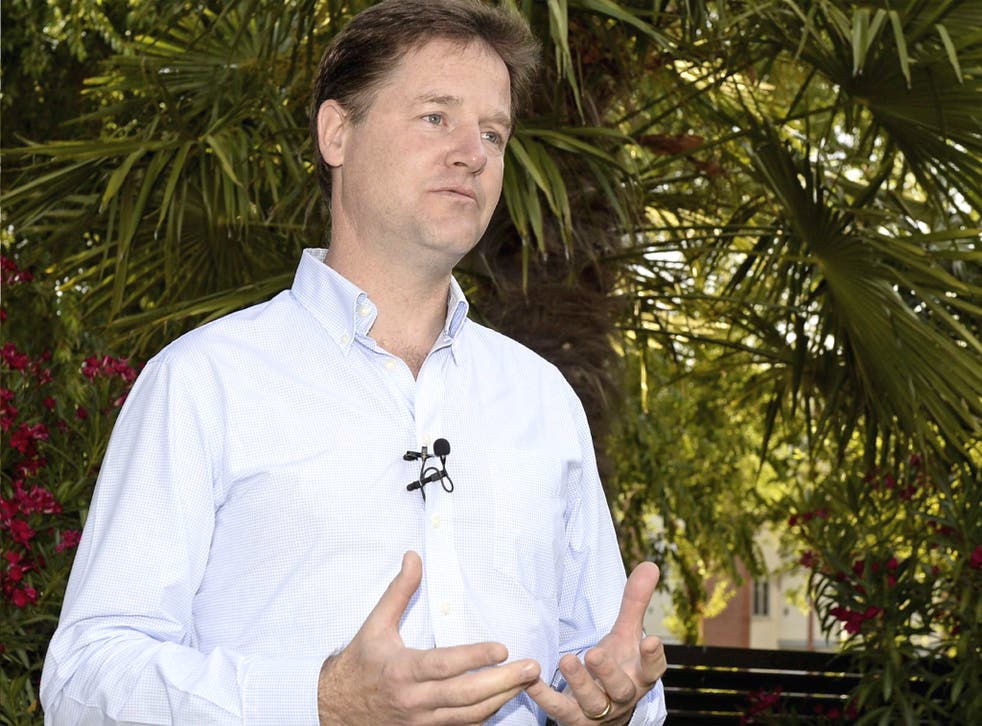 Nick Clegg plans to fight the next election on a pledge to stick to the Coalition's controversial decision to raise university tuition fees to a maximum £9,000 a year.
A Liberal Democrat policy paper, seen by The Independent, rejects calls by some of the party's activists for fees to be cut to a maximum £6,000 a year or replaced by a graduate tax. The report by a Lib Dem working group proposes that the £9,000 limit be retained but reviewed by the next government.
The plan will be put to a vote at the Lib Dems' annual conference in Glasgow in September, which has the final say on policy. It will be seen as a test of whether Mr Clegg can persuade the Lib Dems to take the tough decisions facing a party of government.
The Coalition's hike in fees provoked Mr Clegg's biggest crisis as Lib Dem leader. He signed a pledge to abolish fees at the 2010 election and the party manifesto promised to phase them out. He later apologised for his broken promise and now wants to avoid a repeat in 2015. At the same time, he will reject any Conservative proposals for the £9,000 limit to be raised or to reduce the income level at which graduates start to repay their loans from £21,000 to £18,000 a year.
A senior Lib Dem source said yesterday: "We know that we must not go into the election making unrealistic promises that we won't be able to keep. Everyone from grassroots activists to government ministers has taken flak on this and we all emerged from that experience bruised, so we are determined not to repeat the mistake. That experience has taught us all the importance of realistic, costed policies that we can be confident could be delivered in government. That's why we have thoroughly examined the current system and the alternatives – a graduate tax and lowering fees – and concluded that we should stick with the current system and review it once it has been given a proper chance to bed in."
The policy paper, Learning for Life, says: "We believe there is no one alternative funding mechanism that combines both progressive support for graduates on low incomes, affordability for the state and support for those from less affluent backgrounds to participate. We therefore propose sticking with the current system, but commit to a review within the next Parliament, in particular on its impact on access, participation and quality."
"This should consider both the pressure on the Public Sector Borrowing Requirement from unpaid loans and progress made on widening participation."
Join our new commenting forum
Join thought-provoking conversations, follow other Independent readers and see their replies