Nick Clegg pleads with students to trust the Lib Dems again in an another attempt to put the tuition fee farrago behind him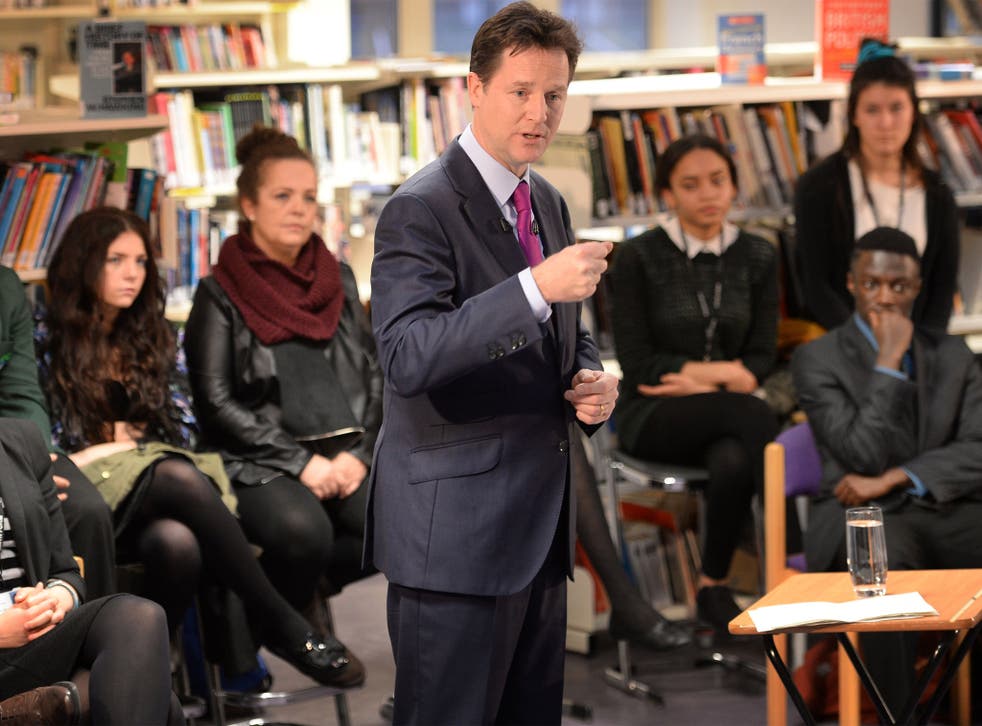 Nick Clegg has made a fresh attempt to put his party's debacle over tuition fees behind it by insisting that the £9,000-a-year maximum charge has not deterred young people from going to university.
The Deputy Prime Minister today launched a drive to tackle what he called the "myths" about the impact of the Coalition's controversial policy. The Liberal Democrats admit privately that their decision to break their 2010 election campaign pledge to abolish fees is still damaging the party in the eyes of some voters.
In the first of a series of speeches to parents and students, Mr Clegg trumpeted figures showing that more young men and women are going to university full-time than ever before and that 18-year-olds from disadvantaged homes are 70 per cent more likely to enter higher education than they were 10 years ago.
Speaking at Bishop Challoner Catholic School in East London, Mr Clegg admitted: "The Liberal Democrats made a pledge before the election not to increase fees, we couldn't deliver it. Not a policy that expensive at a time when there's less money to go around, and especially not in coalition when compromises have to be made."
Mr Clegg, whose 2012 apology for the broken promise became an unlikely Internet hit when it was turned into a spoof video, said: "I've said I'm sorry for that, and I meant it. But what matters to me now is that you know you can still afford to go to university - and that you don't let the myths that have emerged crowd out the facts." He is worried that many students and parents he has met do not fully understand the policy.
He told the students in his audience not to "lower your sights," and their parents that they could still achieve their goal of seeing their children go to university. He said: "University may not be for everyone, but it is open to everyone. Getting a degree depends on ability, not ability to pay."
The Lib Dem leader argued that his party fought hard inside the Coalition to prevent the Conservatives turning a degree into "a luxury for the very rich" – for example, by ensuring that student do not pay a penny in fees upfront and do not start repaying them until they earn at least £21,000 a year.
He insisted: "I made sure that your repayments depend on your salary – so, if you earn less, you pay back less every month. I made sure that, if you don't earn enough to pay it back, eventually the money you owe is written off. I made sure it's actually easier than before for disadvantaged young people to get a degree by increasing the grants and support that's available and by forcing universities to open up their doors and attract more students from lower income homes."
Although critics claim the fear of piling up £27,000 of debt is deterring some students from going to university, Mr Clegg said "wild predictions" about the impact of higher fees had not materialised as applications reached their highest level ever.
The Lib Dem leader said students and parents should "forget the myths" and "be led by facts - the highest ever application rates; more people doing full-time courses than ever before; a higher proportion of young men and women from disadvantaged backgrounds going; higher grants to help the poorest students; no one paying back a penny until they're earning a decent wage. And, if they can't afford it, no one paying a penny back at all."
Lib Dem MPs admit privately that the hike in fees is still an issue raised with them on the doorsteps and at their constituency surgeries. They are worried that it will continue to haunt the party at next year's general election, especially among young voters and in university towns and cities. The Lib Dem manifesto will accept the £9,000 fees cap and the party has rejected the idea of trying to cut the maximum annual fee to £6,000.
Join our new commenting forum
Join thought-provoking conversations, follow other Independent readers and see their replies