NUS delegates criticised by MPs after arguing against Holocaust Memorial Day commemoration
Labour MP announces plans to convene a rally in Parliament against racism within NUS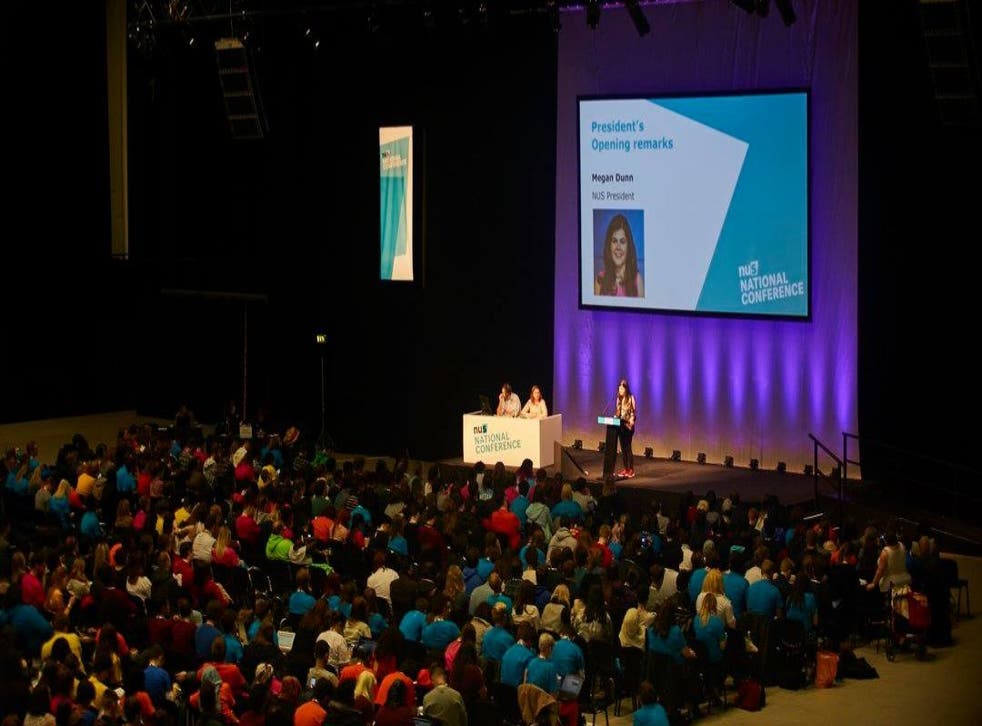 Politicians have criticised a National Union of Students (NUS) debate on anti-Semitism after it heard arguments against commemorating the Holocaust.
Labour MP for Bassetlaw, John Mann, described how some delegates' comments - and their reception - were "inappropriate, offensive, and point to a disturbing wider ignorance about anti-Semitism" within the NUS.
Reports also emerged after Wednesday's debate that some NUS delegates were "applauding speeches" opposing the commemoration of the Holocaust.
Around 1,000 delegates and students' union representatives have descended on Brighton for a three-day long national conference which aims to set out student policy for the academic year ahead.
The motion for commemorating Holocaust Memorial Day was presented by students from the University of Birmingham, and described how evidence of racism and fascism is still evident on campuses throughout the UK.
The motion said this had resulted in hate crimes, including a poster which recently appeared on the institution's campus, displaying a picture of Adolf Hitler with the words 'Hitler was right'.
To combat this, the motion argued that Holocaust education is vital, adding: "Especially in a time when Holocaust trivialisation and revisionism is happening in society."
The top 10 universities in the UK

Show all 10
Darta Kaleja, from Chester University, was one of the students to have spoken out against commemorating the Holocaust. She said: "I am against the NUS ignoring and forgetting other mass genocides and prioritising others."
This, she said, suggested that "some lives are more important than others."
She continued: "When, during my education, was I taught about the genocides in Tibet or Rwanda? It is important to commemorate all of them."
Although the motion was passed, Mr Mann - who is also chair of the All-Party Parliamentary Group Against Anti-Semitism - hit out at the NUS for "not doing enough to combat anti-Jewish hatred," something, he said, shows a "failure" in its responsibilities to its members.
He said in a statement: "The fact that delegates applauded these comments, and failed to recognise the attacks on Holocaust Memorial Day for what they were, underlines just how important an improved and far-reaching Holocaust educational effort in the NUS is."
His comments came on the same day the NUS elected Malia Bouattia as its new national president for the next academic year.
Ms Bouattia's appointment received a mixed response after allegations of "anti-Semitism" surfaced just last week when over 300 heads of student Jewish societies and protesters issued her with an open letter after a 2011 article she co-authored came to their attention.
Watch Malia Bouattia's winning speech:
In the article, Ms Bouattia referred to the University of Birmingham as being "something of a Zionist outpost in British higher education."
Mr Mann continued: "I am aghast at the new president's previous response to the concerns raised by Jewish students and expect her to meet their representatives and to build confidence that tackling anti-Semitism in NUS will be a priority."
Mr Mann's comments came as he announced plans to convene a rally in Parliament against racism within NUS with former presidents of the Union.
Conservative MP, Sir Eric Pickles, also voiced his concern over some views expressed at the debate and, taking to social media, said it was "unbelieveable."
He added: "There are some within the NUS who feel that Holocaust Memorial Day should not be remembered because it is not inclusive enough.
"There are some within the NUS who would turn their backs on the murder of six million Jews."
He also said certain figures within the national student campaign group "allow anti-Semitism [to] flourish within their organisation."
In a statement post-election, Ms Bouattia, who is due to begin her new post on 1 July, said: "I supported and voted for the motion passed at National Conference today, which sets down an organisational commitment to tackling anti-Semitism on campuses.
"Jews have faced horrendous persecution over thousands of years, and Jewish students on campuses and elsewhere continue to face anti-Semitism. Our movement knows this, and will stand alongside them."
Join our new commenting forum
Join thought-provoking conversations, follow other Independent readers and see their replies