Occupy Birmingham students defy injunction after university pursues them in court
Protesters demand fairer pay for staff, more representation with the university and lower tuition fees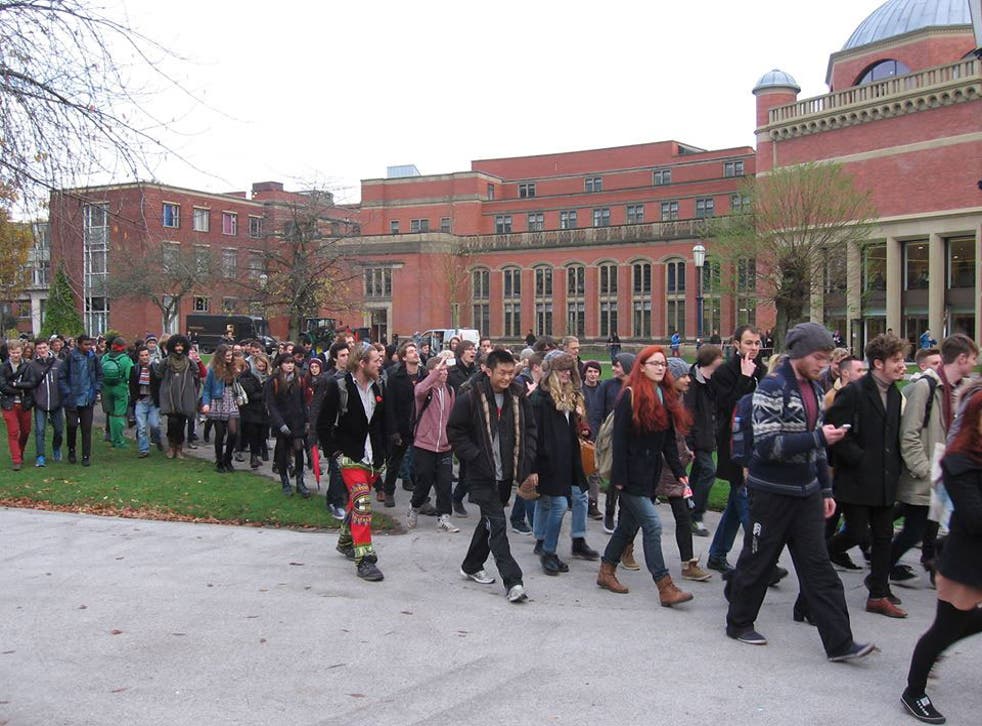 Students occupying university facilities in Birmingham have sworn not to end their protest, in violation of a court order banning "occupational style protest" on campus for a year.
A group called "Defend Education Birmingham" has been occupying rooms at the University of Birmingham since Wednesday, and were ordered by court injunction yesterday afternoon to vacate the premises by 5pm.
The injunction makes it illegal for "persons unknown" - those involved in this occupation - and two named defendants to undertake occupational protest action on the university campus for 12 months.
The university had applied to recover its legal costs from the two named students, Hattie Craig and Simon Furse, up to a maximum of £25,000 each, but this was later dropped in court, on the proviso that they adhered to the terms of the injunction.
In response to the court's order, some students held a protest outside the occupation yesterday afternoon, and reinforcements managed to break past campus security into the occupation in the Senate Chamber in the Aston Webb building. With the barricades still up, Defend Education has announced that around 40 students have "decided to stay past the deadline in defiance of the injunction" and "have voted to stay for the foreseeable future, resisting aggressive intimidation tactics by university management and instead waiting to be removed by force".
The protesters are calling for more democracy and student representation at their university, greater pay for staff, and for their senior management to "take back their position that fees should be increased".
Ms Craig, who is the vice president of education at Birmingham's Guild of Students said universities should "take dissent seriously and negotiate with their students".
"This process has shown how unfit [vice-chancellor] David Eastwood and the rest of senior management are to be running a university. Despite the fact a very similar injunction was condemned by amnesty international and liberty two years ago, they have used the same tactic this time. Universities should be democratic and could be run far better by staff and students themselves."
A spokesperson for the university said: "Those in occupation of the Aston Webb building have chosen not to engage in these processes and are not acting on behalf of the student body."
"The occupiers' action is aggravated trespass and the police would have ordinarily been involved from the outset, however the university took the decision not to ask the police to intervene immediately and sought to secure a resolution."
Join our new commenting forum
Join thought-provoking conversations, follow other Independent readers and see their replies