Mass student demonstration against 'marketisation of education' confirmed to take place in central London
Action to come as the Government decides to allow universities to further increase tuition fees beyond £9,000 a year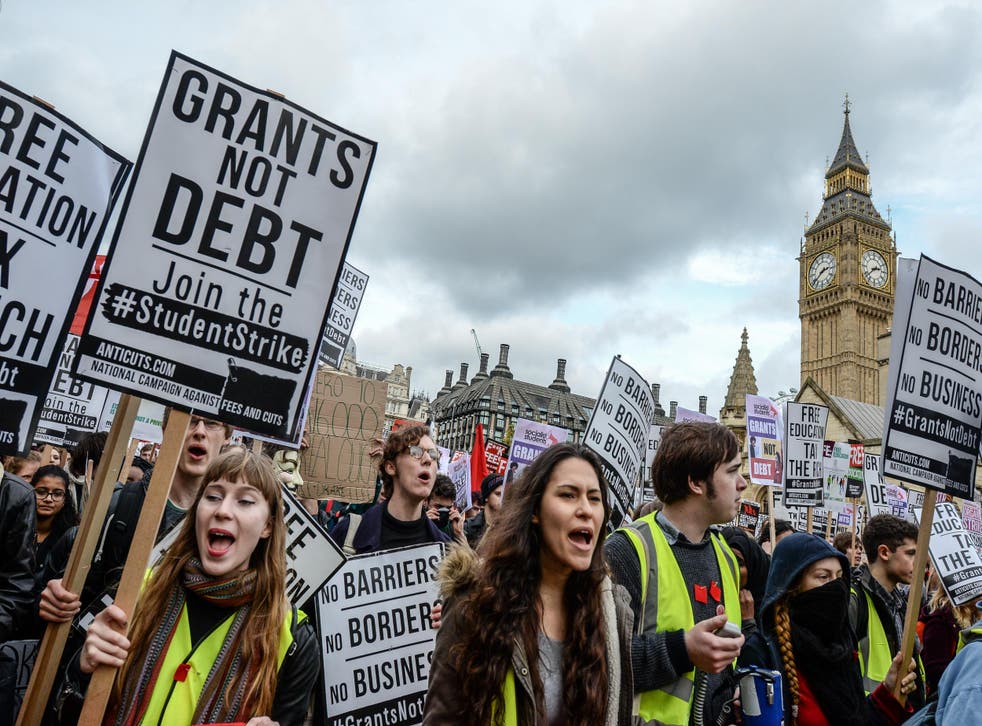 A mass demonstration in central London is hoping to attract tens of thousands of students and higher education staff to rally and call for free, accessible, and quality further and higher education across the country.
The National Union of Students (NUS) and the University and College Union (UCU) have confirmed the November demo will also demand an end to "the marketisation of university and college education."
Along with other coordinated education action due to take place in countries around the world, the demo will also represent a call for international solidarity and opposition to "all forms of racism and xenophobia." Students and lecturers in the UK, in particular, will be calling for the Tories to ensure universities and colleges "remain open and inclusive" following the Brexit vote.
The announcement has come following the second reading of the controversial Higher Education and Research Bill in Parliament in which MPs voted to charge on ahead with plans to increase university fees beyond £9,000 a year, making it easier for for-profit education providers to operate in the UK.
NUS National President, Malia Bouattia, described how the Government is "running at pace" with a "deeply risky ideologically-led market experiment." She said: "Students and lecturers will suffer most as a result, and this can't be allowed to happen. The Bill proposes opening up higher education to for-profit institutions, much like Trump University, and opens the door for universities to raise their fees ever higher."
Bouattia also criticised universities for upping their tuition fee costs beyond £9,000 before the Bill was properly debated, or passed, adding: "The attack on education does not end there. The further education college review process risks college closures across the country, having a particular impact on the most disadvantaged students. We simply cannot put up with this.
"Students are clear that enough is enough, and will be marching for a positive alternative, 'United For Education'."
Student protest turns violent
Sally Hunt, UCU general secretary, echoed Bouattia's comments and said staff and students are "united in their defence of high-quality education" over which they will be taking their message to the streets of the capital. Hunt continued: "Increased university fees and the green light for all sorts of profit-driven colleges to enter UK higher education do not represent a good deal for students or staff. The Government is pursuing a restructure in our further education colleges that risks narrowing choice for students and merging colleges around the country.
"At a time when we need to show the post-Brexit world that Britain remains open and welcoming to international students, we are delighted our event is happening alongside events around the world."
Barbara Ntumy, deputy president of London Met University Students' Union and NUS National Executive member, said: "The Tories' attacks on students and education have been relentless. We are graduating with more than £40,000 worth of debt, all grants and financial support have been scrapped, and we have seen cuts on a massive scale. The Government's plans to increase tuition fees and their plans to impose huge cuts to our colleges and universities are completely unacceptable and must be defeated.
"We will be mobilising to the demo and look forward to joining tens of thousands from all over Britain."
A similar protest which took place in London last November turned violent as thousands of students protested against the Government's then plans to axe maintenance grants amid rising tuition fees across England and Wales.
Organisers of that march, the National Campaign Against Fees and Cuts (NCAFC), however, blamed "heavy-handed policing" after the peaceful march descended into chaos which saw the Metropolitan Police make a spate of arrests. Overall, though, the NCAFC said that protest had "witnessed one of the biggest and most vibrant student demonstrations in recent years."
The 'United for Education' demonstration is set for Saturday 19 November
Join our new commenting forum
Join thought-provoking conversations, follow other Independent readers and see their replies