Students evacuated from seafront Aberystwyth University accommodation after storms batter Welsh coast
Exams had been due to start today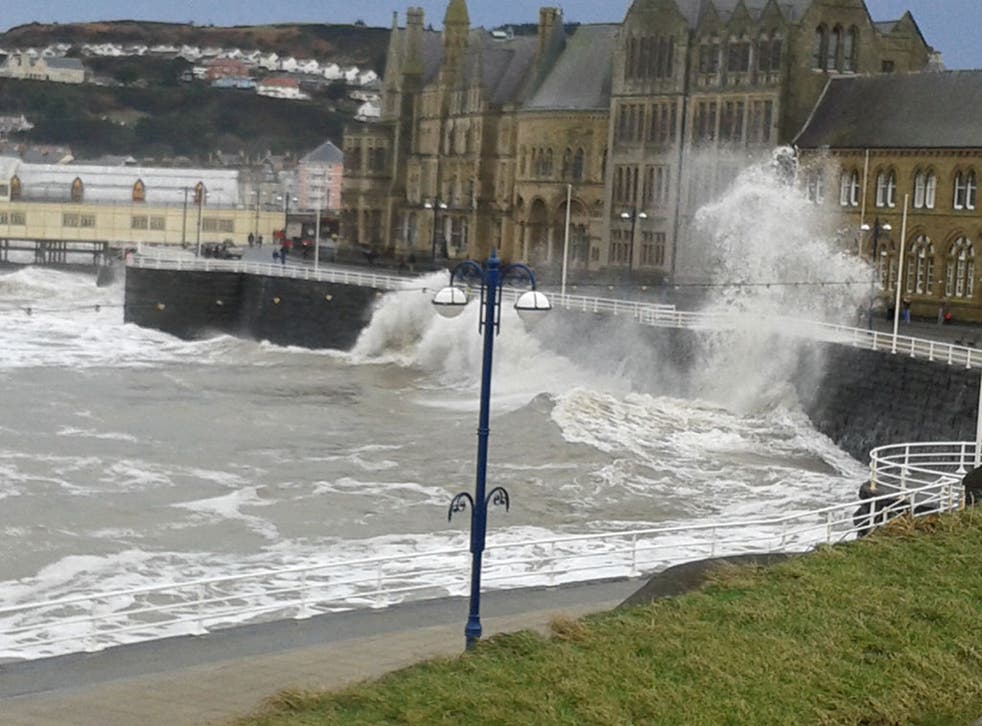 250 students at Aberystwyth University have been evacuated from their seafront student accommodation after serious storms hit the area.
In a YouTube video this morning, the university stated that it was implementing "a full evacuation of all our seafront residencies following advice from Ceredigion Council and Natural Resources Wales".
Students were also advised in an email to "prepare an overnight bag NOW and be prepared to leave within a few minutes. We are not sure if you will be able to re-enter your accommodation after the storm surge until tomorrow."
Ceredigion Council, meanwhile, warned residents on Twitter that "very high tides with exceptional wave swell" were predicted at 11:10 this morning in Aberystwyth.
Sion Llewellyn, 38, is studying a Masters degree in Scriptwriting at Aberystwyth. He has been helping fellow students with the evacuation as a student volunteer.
Describing the scenes, he said: "The high tide has come in and is being blown over onto the road and the promenade. The promenade is wrecked and big bits of it have been ripped up. All the railings have gone and most of the beach is now on the road. Some of the pebbles that have been washed in by the tide are the size of rugby balls and there's concern that these could go through people's windows. Most of the properties are boarded up and are sandbagged. Once it's all over it's going to be a massive clear-up."
Exams had been due to start today, but the university advised students to "postpone their return to the town until the middle of next week".
Students are currently being sent to the student union in minibuses, where volunteers are taking names and contacting parents.
Mr Llewellyn added: "Students and staff have been advised not to travel and the university has pushed the exams back a week to give people time to get back and prepare. Other than that it is business as usual."
"The students have all been brilliant, and there are a lot of volunteers helping. It is a reminder of what 'students union' actually means. There has also been a tremendous response from the local community and emergency services."
Adam Jones, 20, also studies the university, and is in his final year of Welsh and Celtic Languages. He lives in private accommodation and received evacuation notices on Friday and Saturday.
He explained that he and his housemates "had to move all our valuable items upstairs and stay at a friend's house for the evening".
He added: "The storm couldn't have come at a worse time really. It has caused great havoc with the promenade damaged severely and many of the student halls of residences flooded. The University has postponed the exams for a week amid fears that students would be unable to arrive in time."
"However, the university has acted swiftly and must be commended for their efforts to ensure student safety. Hopefully we've seen the worst of this now."
Rebecca Davies, pro vice-chancellor for student and staff services at Aberystwyth, said: "Even though the pictures are dramatic, and the sea has washed away sections of the promenade, our buildings are secure and safe."
It is thought that almost 500 students live in seafront accomodation, and it is not known when they will be able to return.
All buildings on the campus remain open and it is "business as usual" otherwise.
Join our new commenting forum
Join thought-provoking conversations, follow other Independent readers and see their replies