Sussex University unions consider industrial action over outsourcing, though strike ballot has not been agreed
Duncan Hopwood
Friday 05 April 2013 16:57 Comments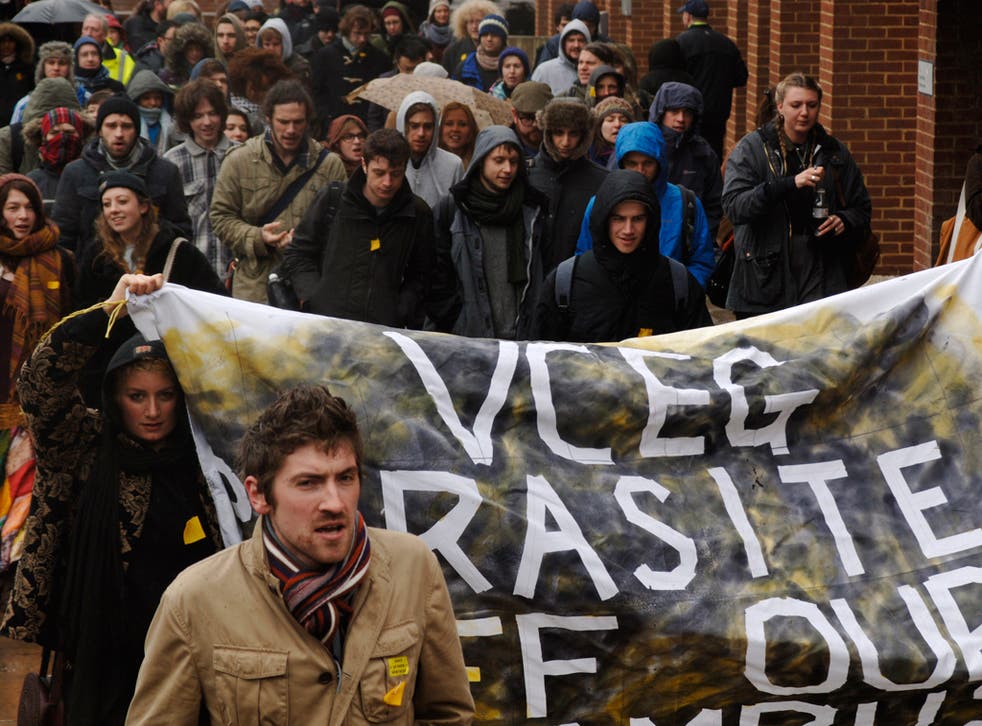 The first steps towards industrial action at the University of Sussex are being discussed by the branches of three unions represented at the south coast campus.
The Sussex branches of the UCU, Unison, and Unite have been discussing plans to hold a 'joint consultation' to ask members if they would be prepared to embark upon industrial action.
Negotiations are still ongoing between the three, though contrary to earlier media reports today, any moves to ballot for strikes or other industrial action have yet to be agreed.
This movement comes in response to plans by heads of Sussex University to outsource its estates management and catering services, a move that threatens 235 jobs, and follows the eviction of Occupy Sussex's student protesters earlier this week.
Since the end of the occupation, the campaign has begun collecting strong statements of support from many of the university's faculties. So far, the departments of Anthropology, International Relations, English, Gender Studies, Media, Film and Music, and the Social Political Thought Centre, have all moved to officially condemn the University's plans. Petitions have gathered more than 10,000 signatures, while 25 MPs have signed an EDM in opposition.
The student-run Occupy Sussex movement has been protesting the university's privatisation measures since June last year. Professors and senior lecturers working at the occupied university building Bramber House have called the protests "peaceful", "dignified", and "well-organised", The behaviour of protestors and underlying democracy of the movement has been called "exemplary throughout" by one tutor at the university, whilst their 'pop-up union' during the occupation has been observed to have been "closely coordinated with staff affected by outsourcing" by one lecturer.
Many complaints from staff have come from the way in which the university managed the outsourcing, with allegations that managerial heads were making decisions with no concern for consultation or approval from the rest of the workforce.
Rob French, vice-president of Sussex UCU and one of the 235 who will be affected by the outsourcing, has cried out against the 'lack of meaningful consultation' over the outsourcing. He believes that the University "has exploited a unique position, claiming to be non-public sector, as most funding is no longer directly from central government, yet not answerable to shareholders as a genuine private sector organisation would be, or anyone else."
Register for free to continue reading
Registration is a free and easy way to support our truly independent journalism
By registering, you will also enjoy limited access to Premium articles, exclusive newsletters, commenting, and virtual events with our leading journalists
Already have an account? sign in
Join our new commenting forum
Join thought-provoking conversations, follow other Independent readers and see their replies