University of Birmingham suspends two students for nine months after protest
Institution defends 'robust action' and says 900 students were affected and staff kept away from their place of work for a week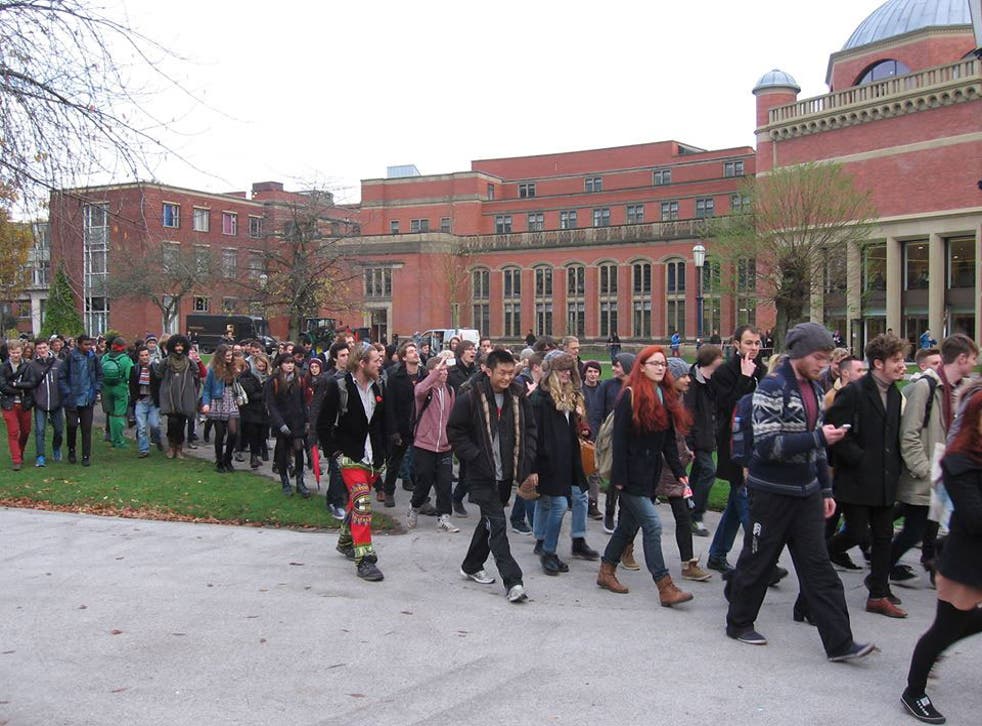 The University of Birmingham has suspended two students for their involvement in a protest at the university last year.
Simon Furse and Kelly Rogers were among students who occupied rooms at the university as part of the Defend Education Birmingham campaign, calling for more democracy and student representation at their university, greater pay for staff, and for their senior management to "take back their position that fees should be increased", among other demands.
The university defended its 'robust action', saying the protest caused significant disruption, with some staff prevented from attending their place of work for a week. Disabled and fire access routes were blocked and nearly 900 students were affected.
Furse and Rogers, both 22, have been suspended from their courses for nine months, and will not be allowed to return to their studies until March 2015. A third student, Hattie Craig, 21, was also handed a formal reprimand and a de facto "suspended sentence". She also faces immediate suspension should she breach any university regulation.
The students were informed of the university's decision on Tuesday, although a three-day hearing is said to have taken place in June, the culmination of a seven-month disciplinary period. According to Defend Education Birmingham, university management issued a recommendation to the disciplinary panel that Furse be permanently expelled.
In a statement published by Defend Education Birmingham earlier today, Furse said: "I have been suspended from the university despite the fact that the only evidence against me is a 20-second video of me telling other protesters that they can go into a peaceful occupation.
"University management have clearly decided that they don't want any more protests against their policies, and have decided to victimise us to try and deter others from voicing dissent."
The students and their supporters believe they have been treated unfairly throughout the disciplinary period, citing as an example their claim that they were denied the right to legal representation.
Rogers has told Defend Education Birmingham that she is "shocked" at the announcement: "We protested peacefully to call for a better education for ourselves and future students, and for better working conditions for staff at the University. As a result, we have been punished for expressing our right to freedom of protest and freedom of speech. These rulings are vastly disproportionate."
In a statement, the university said: "Universities are places of free speech and we respect the rights of students and staff to protest peacefully and within the law. This is clearly outlined in our Freedom of Speech Code of Practice.
Indeed, the University helps to facilitate a number of safe and lawful protests and demonstrations on campus each year, addressing a wide range of issues. Participation in a protest is not a disciplinary offence and the University does not invoke disciplinary procedures lightly.
However, following the events that occurred in November 2013, significant disruption was caused to students and staff: nearly 900 students had their teaching and learning disrupted or displaced, members of staff were prevented from attending their place of work for a week, and disabled and fire access routes were blocked.
The University has a duty of care to its staff and student community and will not tolerate behaviour that causes harm to individuals, damage to property or significant disruption to our university community.
We have therefore taken robust action to uphold our responsibilities in this regard. The University cannot comment on matters relating to individual cases."
*This article was updated on 23 July after a longer statement was released by the University of Birmingham.