University College London Union officer Asad Khan bans Macer Gifford from giving students Isis speech
Organiser of the UCLU Kurdish Society event, Kavar Kurda, claims he was told 'one man's freedom fighter is another man's terrorist'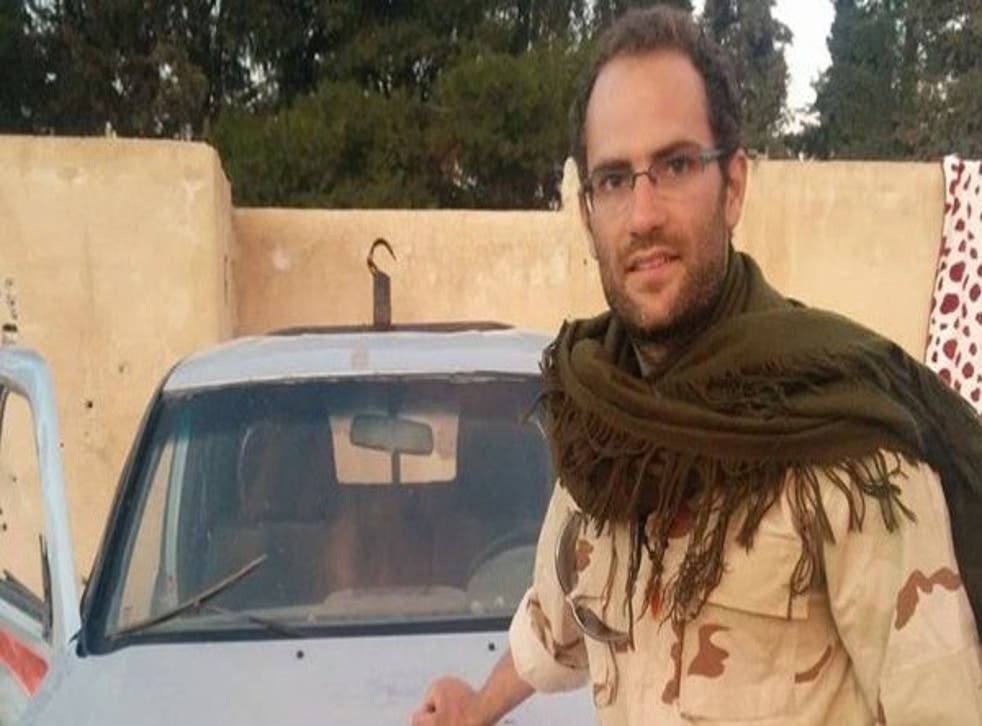 A university and its students' union have been accused of displaying 'horrible prejudice against the Kurdish cause, human rights and the freedom of speech' after an officer banned a former student from speaking about his experiences fighting Isis in the Middle East.
Head of the Kurdish Society at University College London (UCL), Kavar Kurda, issued a statement online saying he was 'angered' and 'deeply offended and disgusted' after University College London Union's (UCLU) activities and events officer, Asad Khan, blocked Macer Gifford from speaking at an event which was being organised by Kurda.
Speaking with online student publication The Tab, Kurda claimed he was told 'one man's freedom fighter is another man's terrorist' and that Khan further defended his decision by saying there were concerns an event with a person speaking about their experiences fighting in Syria 'could lead to others going and fighting in the conflict'.
The event as it was originally advertised:
Describing Khan's defence as 'nonsense', Kurda said in his statement Gifford was still denied, despite Kurda telling the union he would set provisions for the ex-student's speech.
The news did not go down well with some who took to Twitter to hit out at the UCLU's move:
Gifford, not his real name, first made headlines earlier this year when it was reported he had told his parents he was travelling to Turkey for a holiday - but instead headed for Syria to join in the fight against Isis.
The 28-year-old, who once stood as a Tory councillor, originally called on David Cameron to 'do the right thing' by taking a tougher stance against the terrorist group.
This week, however, after five months spent fighting Isis, Gifford was due to share his experiences as part of the Kurdish group Yekîneyên Parastina Gel (YPG) - or Kurdish People's Protection Units - with students at a UCL event.
Read Kavar Kurda's full statement, courtesy of the UCLU Kurdish Society:
UCL recently banned Macer Gifford from talking at a Kurdish Society event. The [Tab] article shows a great balanced understanding of the altercation which occurred between I and the activities officer, Asad Khan.
However unfortunately, in this incident UCLU proved their unwillingness to take a stance against ISIS and to support the Kurdish cause.
Macer Gifford is an excellent example of someone laying his life on the line in order to champion human rights, and to deny a man who has spoken at the BBC, Portcullis House and an ex-UCL student is absolutely outrageous.
They first claimed he would encourage individuals to go fight in Syria which was nonsense. Having told them I would set provisions for his speech, they still continued to deny him.
Their focus then fell on to YPG, one of the most democratic units in the Middle East and the most effective fighting force against ISIS in the region who receive praise and support from the western coalition.
They placed the YPG in the same brackets as Hamas and Hezbollah, even though they are far from terrorist groups. They ignored the thousands of articles supporting and praising YPG and instead focused on three factors; Turkish news sources, an amnesty report and a UN report.
Firstly, anyone with an understanding of Kurdish-Turkish relations will realise the animosity which exists within the groups, and with Turkey indirectly supporting ISIS, it's no surprise they would be at the forefront of YPG libel. I specifically warned them to not take this as a source, yet they did not listen.
With regards to the biased Amnesty report which has been retorted as utter rubbish by numerous outlets and groups, they once again focused on Turkish news sources to be their fountain of enlightenment.
Lastly, the great human rights abuse which they accuse the YPG of committing was the enlistment of individuals under the age of 18. Not only have YPG signed a declaration to prevent this from occurring, but in the scope of 'human rights' I would hardly consider the enlistment of say a 17 year old the crime of the century.
All in all, UCL and Asad Khan displayed horrible prejudice against the Kurdish cause, human rights and the freedom of speech. From the beginning they were intent on preventing Macer from speaking. Furthermore, adding insult to injury, they broke their 10 day policy for approving speakers and made me wait 15 days, which subsequently meant that due to the former policy, I could not find a replacement and as such had to cancel my event.
Asad concluded that UCLU are not willing to take sides in this conflict. By taking a neutral ground, you are implicitly supporting ISIS.
Not only am I angered by this decision but I am deeply offended and disgusted.
So please, if you stand for human rights, for freedom of speech and for eradicating ISIS, please share this message and let the world know of this injustice and biased agenda.
Thank you.
According to The Tab, Khan - who became embroiled in an alleged election fraud scandal earlier this year - said in an email: "In every conflict there are two sides, and at UCLU we want to avoid taking sides in conflicts."
Kurda also told the site he had arranged a meeting with Khan in order to secure a definite spot for Gifford's speech, but claimed Khan told him he 'doesn't agree with western definitions of groups'.
Kurda accused Khan of going down 'the same route' as CAGE and 'other questionable organisations by appealing to white middle class stereotypes', and added: "He told me the only reason Macer wasn't arrested was because he is 'white and middle class'."
Kurda described how he found it 'astounding' that an institution like UCL was 'unwilling to take a side in this conflict' and said: "If you don't support Kurds and the YPG, only Isis are left. Where's the freedom of speech? What about human rights?"
The Tab reported how Khan 'expressed concerns' to Kurda about YPG's human rights record by citing UN reports which detailed how the group had 'carried out recruitment of child soldiers'. Kurda, however, argued that Khan's sources were 'random' and that the union officer had worked overtime to 'find anything remotely negative against the group', all the while failing to recognise the good the group has provided.
In retaliation, Khan told The Tab the Syrian crisis is 'a very contentious topic' and that the situation is 'far too complex to understand in black and white'.
He said it was important to bear in mind that the rooms 'these activities' take place in belong to UCL rather than UCLU, and added: "We liaised with UCL who, in turn, wanted to seek advice from the police.
"When they didn't get a reply, to stay on the side of caution, UCL also leant towards not providing a platform."
A UCL spokesperson told The Independent that, although the university recommended the event be postponed, it would be happy to approve rescheduling considering police do not deem it to be 'a risk'.
Full statement from UCL:
Both UCL and UCLU have a code of practice governing the participation of external speakers at events held at UCL. It is clearly stated in UCL's code of practice that the premises will not be denied to any individual on any ground connected with their beliefs. The code also requires speakers to behave lawfully and avoid any action or language which is offensive, provocative or a clear incitement to violence. We are required to vet and approve speakers when concerns that this code may be breached are raised.
On the case in question, the speaker was referred to UCL by UCLU for our consideration regarding a potential breach. Again , in line with the policy, we referred this to the Metropolitan Police for advice. Pending receipt of that advice we recommended the event be postponed, but we would of course be happy to approve rescheduling if the police advise that they do not deem the event in question to be a risk.
UCL's code of practice on freedom of speech can be read here:
Although the UCLU said it considers freedom of speech on university campuses to be 'of vital importance', it added how it was 'not deemed appropriate for UCLU to provide a platform for speakers from militia groups that have been accused of human rights abuses'.
Asking The Independent to divert attention onto UCLU's reaction - as well as Khan's own statement - the UCLU outlined the full email it sent to Kurda upon rejection of Gifford's appearance which read:
Unfortunately on this occasion your speaker has not been approved by UCLU. After consultation with UCL, the UCLU Activities and Events Officer and UCLU Chief Executive Officer, UCLU has decided not to approve your speaker because there are concerns that an event with a person speaking about their experiences fighting in Syria could lead to others going and fighting in the conflict, UCLU feels this is not an appropriate message to be given on a University Campus at this time. In the absence of advice from the Police (who were contacted to advise us on any issues with the speaker request, but have not responded to date) it is difficult for UCLU to approve this speaker being given a platform on the campus.
Khan also added in a statement of his own:
When the president of the Kurdish Society came to discuss the denial of speaker approval and appeal that decision with me, I went into further detail about some of the reasons that UCLU had made the decision. I drew a similarity between Hamas, Hezbollah and YPG to illustrate that they are all militias rather than internationally recognised armies, which was a concern to UCLU and the university.
Read the UCLU's full reaction on its website by clicking here.
Join our new commenting forum
Join thought-provoking conversations, follow other Independent readers and see their replies