University of Missouri: Christian preacher Jesse Morrell 'punched in mouth' for speaking out about Michael Brown
The preacher tells The Indepedent he will be returning to the campus to speak again today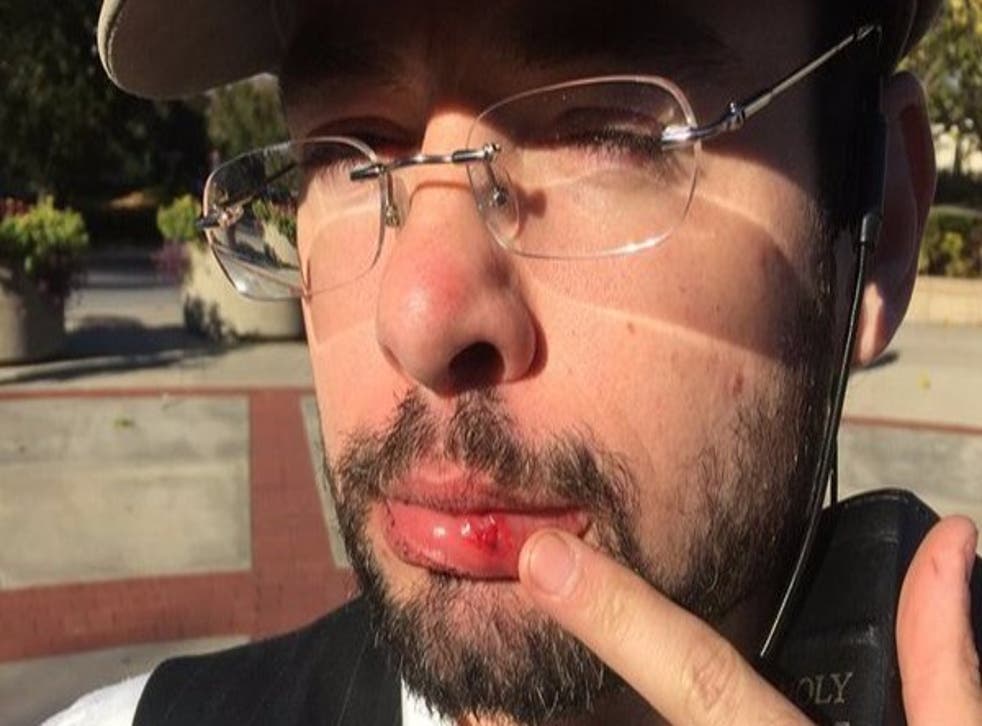 A Christian preacher has claimed he was punched in the mouth by anti-racism activists at the recently-troubled University of Missouri (Mizzou) after he voiced opinions on the 2014 shooting of Michael Brown.
As part of his coverage of the ongoing race row protests at the university, reporter and anchor with the Mizzou-owned KOMU News, Mark Kim, took to Twitter to post a series of photos and videos of open-air preacher Jesse Morrell speaking out about African-American issues at a spot known at Speaker's Circle.
Speaking of the fatal shooting of Brown in Ferguson - also in Missouri - in August last year, Morrell told Kim he was assaulted because he said Michael Brown died for 'disrespecting the police'. He added: " I got popped in the mouth a few times. Other students kind of pulled this guy away. He was, you know, a guy with dreadlocks, a black guy."
A user of Periscope - the live video streaming site - Jeff Rakestraw, also uploaded a video allegedly filmed after the incident which shows Morrell speaking his message on one side of Speaker's Circle - including against 'homo sex' - while another group shout about 'violence and rapes against black and brown people'.
Morrell also told Kim: "He [the attacker] kept trying to come at me., He threw a few more punches but he missed because they were holding him back. And then he took off, and I'm still here preaching, despite the attack."
A series of race-related protests at Mizzou in recent months came to a head this week which saw the president of the University of Missouri System, and the chancellor of the flagship Columbia campus, Tim Wolfe, resign.
Morrell is part of a programme called Open Air Outreach which 'takes the Gospel where it belongs'. The Outreach's mission statement says it aims to 'take the Gospel of Jesus Christ to sinners through open air preaching calling them to forsake their sins and trust in Christ, and to train up other believers and to do likewise'.
The preacher told The Independent he will be returning to the campus today and has a video of the attack which he will be posting onto YouTube. He added: "The police requested the video and will see it today."
Join our new commenting forum
Join thought-provoking conversations, follow other Independent readers and see their replies