Oxford student latest to receive Twitter bomb threat
An Oxford University student is among the female journalists to receive a bomb threat on the social networking site
Rose Troup Buchanan
Thursday 01 August 2013 14:10 Comments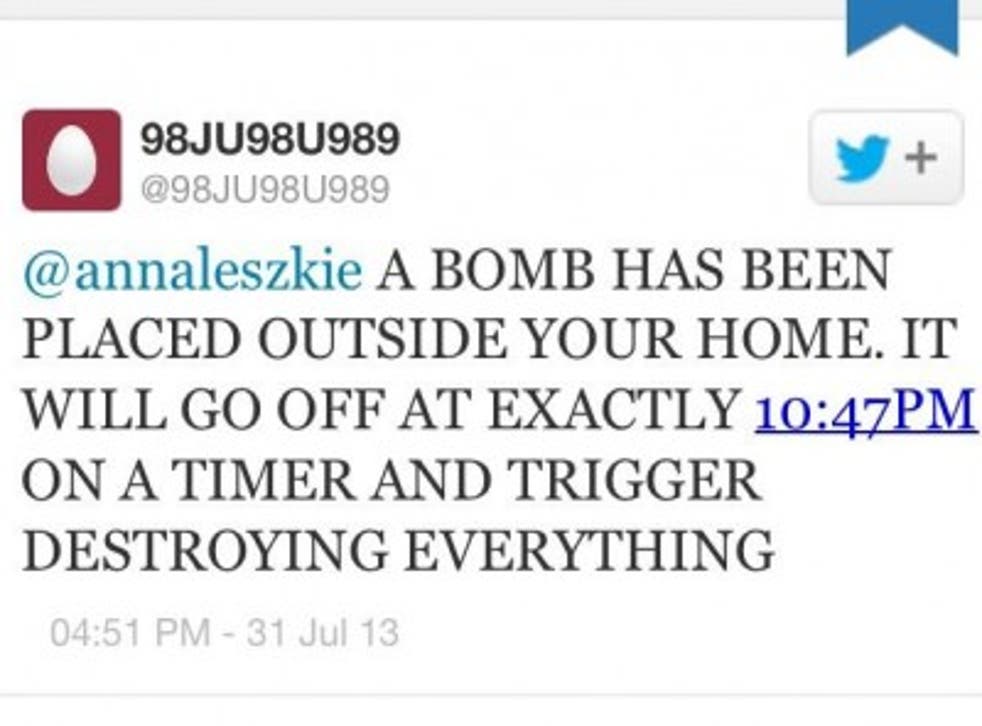 In a continuation of the escalating Twitter hate campaign, Anna Leszkiewicz, a female student journalist at Oxford paper Cherwell, has been targeted by an anonymous Twitter account, which stated:
"A BOMB HAS BEEN PLACED OUTSIDE YOUR HOME. IT WILL GO OFF AT EXACTLY 10.47PM ON A TIMER AND TRIGGER DESTROYING EVERYTHING".
Speaking to Oxford's Cherwell, Leszkiewicz said: "[I] didn't take the threat seriously, but it was still quite a jarring message to read."
"I really have no idea at all why I was targeted. The user seems to be targeting female journalists." Leszkiewicz said today.
Leszkiewicz reported the tweet after she realised the anonymous user was also targeting other female journalists.
Identical tweets were sent to Independent columnist Grace Dent, Guardian columnist Hadley Freeman and the Europe editor of Time Catherine Mayer.
The Metropolitan Police confirmed they had received allegations of bomb threats against a number of females on Twitter. However, there have been no arrests yet.
Yesterday, after receiving the threat, Leszkiewicz tweeted: "so the police are on their way over to make sure my family home's not actually being bombed".
The threatening account has subsequently been deleted.
Twitter has come under strident criticism recently following a series of threats made against feminist campaigner Caroline Criado-Perez and Labour MP Stella Creasy. Criado-Perez and Creasy received tweets threatening rape.
Criado-Perez reported the incidents to the police. A 25 year-old man arrested on suspicion of harassment has been released on bail.
The abuse has prompted an online petition calling for Twitter to instate an 'abuse button.' The petition currently has just over 110, 000 signatures.
Register for free to continue reading
Registration is a free and easy way to support our truly independent journalism
By registering, you will also enjoy limited access to Premium articles, exclusive newsletters, commenting, and virtual events with our leading journalists
Already have an account? sign in
Join our new commenting forum
Join thought-provoking conversations, follow other Independent readers and see their replies