School leaver: The benefits of practical training
Who needs expensive qualifications when you could undertake a Btec, an NVQ or a foundation degree while you work? Glynis Kozma weighs up the options available for those who are ready to dive into the job market after GCSEs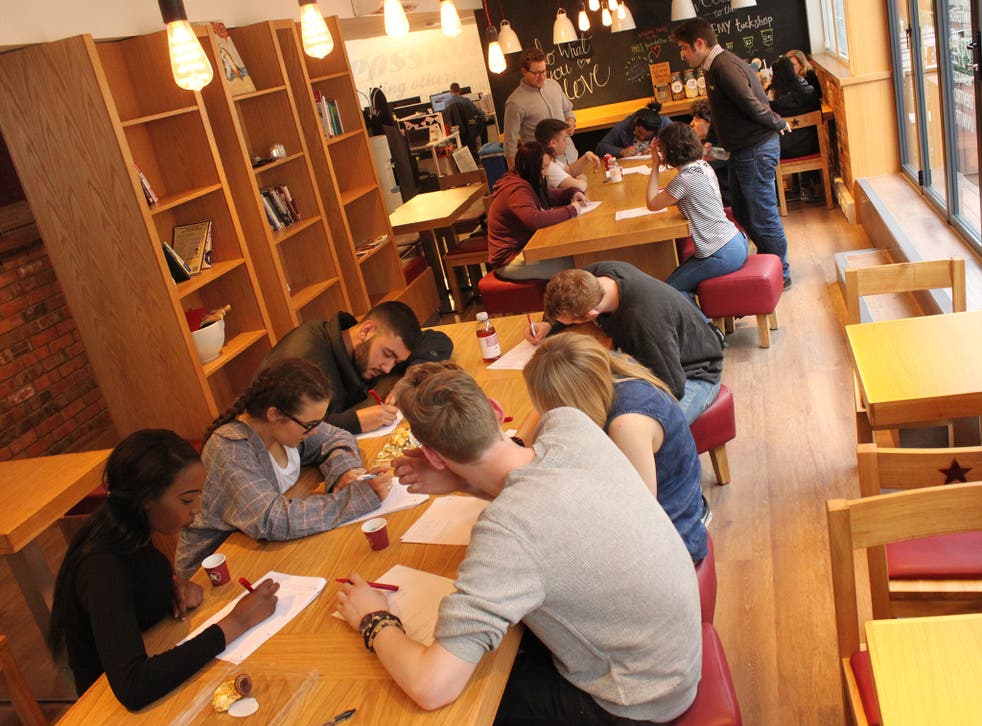 If A-levels aren't for you, what else is on offer after GCSEs? Options include apprenticeships, NVQs, Btec and foundation degrees. All these options focus on practical training. Benefits include being paid while you learn and the opportunity to study at higher levels in the future.
A National Vocational Qualification (NVQ) is available from Level 1 to 5, with Level 3 the equivalent to A-level and Level 5 being senior management. NVQs are competence-based qualifications which can be studied for alongside employment, including apprenticeships. This type of qualification is ideal for anyone who has struggled with written exams and prefers ongoing assessment linked to demonstrable workplace competency. NVQs are designed to be practical and to supplement on-the-job training. Courses include health and social care, teaching, catering, construction, plumbing and management.
The advantage of an NVQ is that it can be achieved while working. Studying for Levels 1 and 2 takes around a year and two years for Level 3, although there are no set time limits. Assessment is usually on-going. Achieving an NVQ at Level 3 or higher can be the pathway to higher education such as HNC, HND or degree courses. Information on NVQs and providers can be found on nvqcourse.co.uk
Offering a wider and higher level of qualifications are Btecs, which have seven levels. First Btec courses can lead to apprenticeships, be studied alongside apprenticeships or be a pathway to further study; Level 3 can equate to A-levels and Level 5 (also known as Higher Nationals) can lead to a degree with one year's further study. Universities will accept certain Btec qualifications instead of A-levels, depending on the grade awarded.
Btecs cover a wide range of subjects, including at the first level: agriculture, animal care, construction, creative media, engineering, IT, sport and music. Firsts are divided into mandatory and specialist modules. The teaching team has flexibility to choose course modules to suit learners' needs. Assessment is ongoing and learning is applied to real life situations, although in the future some firsts will include a 25 per cent assessment that is not solely on-going. Grades - pass, merit and distinction - are awarded and at Higher Level. These will equate to Ucas points: there are 120 points for an overall merit, the equivalent of an A Grade for A-level.
Progression from a first to a national level will enable students to study a wider range of subjects which could include aeronautical engineering, applied law, countryside management, engineering and vehicle tech-nology. Apprenticeships are available at several levels: intermediate (Level 2), advanced (Level 3) and higher (Level 4). For Level 3 you usually need 5 GCSE s (grades A*-C) but if you don't have these then Level 2 apprenticeships are available. ITEC North East is an organisation working with local employers and young people up to the age of 23. The apprenticeships on offer at Levels 2 and 3 include business administration, IT specialists, customer service, sales, supporting teaching and learning.
One current Level 2 apprenticeship available is with HSS Hire which includes training at its academy in Reading. Level 2 salaries vary, but are around £7,000 per annum. Most apprenticeship training involves completing an NVQ and at Level 3 this can lead to further study such as an advance or higher apprenticeship, or a foundation degree.
Koey Huckerby is a Level 2 apprentice with Starbucks. "After A-levels I didn't want to go to university. I found this apprenticeship through unisnotforme.co.uk. I'm being trained in customer service and will progress to Level 3 in leadership and management. In a few years I could be a store manager. I'm paid the same as other baristas but am gaining qualifications too." Starbucks offer intermediate apprenticeships to school leavers, post-GCSEs and select by interview. They are looking at the possibility of introducing Level 5 apprenticeships, the equivalent to a foundation degree.
Pret a Manger offers a year-long school leaver programme, starting every September so there is a cohort of apprentices. Training includes Level 3 apprenticeships, and food is free.
Ucas offers foundation degree courses to applicants either with A-levels of equivalent qualifications including BTEC. Most foundation degrees are for two years or longer if part-time. They are the equivalent to two-thirds of an honours degree. Courses are often practical and benefit both employers, who see the course as an investment in their staff, and the employee who can proceed to a full degree or who can choose a different option for further study. Employers who offer foundation degrees include: Rolls Royce, National Rail, Tesco, RAF, Specsavers and BMW.
Leavers' lives: Macauley Underwood - "I've met lots of people, gained qualifications and been offered further training"
Macauley Underwood, 19, from Sedgefield near Durham, has recently completed his Level 2 apprenticeship in business administration while working at Mobile Mini, a company allied to the construction industry which provides portable accommodation and storage solutions across the UK.
"At school I knew that I didn't want to study for A-levels. I wanted ultimately to work with racing cars and started training as a mechanic at my local college but the course ran into problems due to funding. I ended up in a dead-end job cleaning up a yard at a road repair depot. I became depressed with the monotony and lack of prospects but, encouraged by my father, I started looking at apprenticeship schemes. I heard about ITEC North East on local radio, contacted them and within a few weeks had completed my application and was offered five options: I chose Mobile Mini.
My training over 18 months has included customer services, visiting sites across the UK, driving, overseeing deliveries and administration. I am now the company's account manager for Travis Perkins and Dewson.
I would recommend an apprenticeship to anyone. I've met lots of new people, gained qualifications, been offered further training at Level 3, and been paid while training. My income wasn't huge while training – around £500 a month – but I valued the training I was being given. Assessment has been practical apart from some maths and ICT which I did online. A friend has recently been offered an apprenticeship with Barclays so there are plenty of opportunities out there if A-levels aren't for you."
Join our new commenting forum
Join thought-provoking conversations, follow other Independent readers and see their replies