The Independent's journalism is supported by our readers. When you purchase through links on our site, we may earn commission.
Student accommodation: 10 cheap ways to decorate your room at university
A former student gives her advice on the best and most affordable ways to make your room feel like home this academic year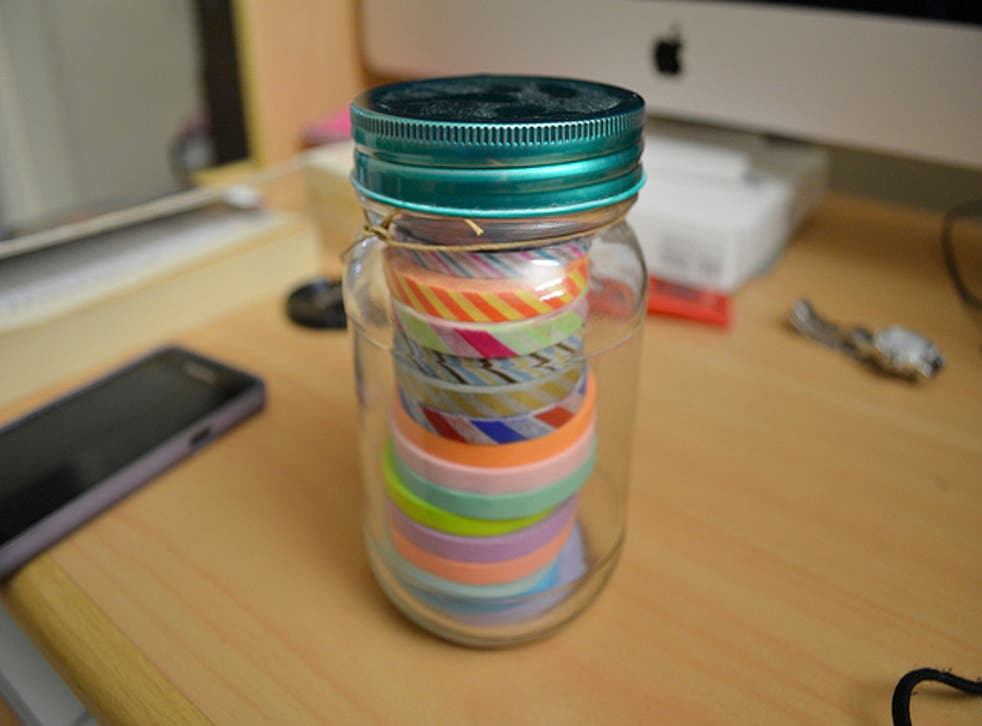 When everyone's room looks like it's been churned out on a factory conveyor belt, one of the best ways to show off your personality is how you decorate your university room.
Yes, you may only be there for a year (or less), but as you'll be studying (a.k.a. sleeping) and spending a lot of time within those four walls, you might as well make them feel as homely as you can.
So, here are ten of the cheapest ways to spruce up your university bedroom:
1) Washi tape
This is the best invention since the Internet (not an overstatement), and this way of wall mounting leaves zero residue – perfect for swerving heavy deposit reductions on your student house.
Not only can the tape be used to 'frame' pictures, posters, and memories, it can also work to jazz up bookshelves, doors, and basically anything that needs a geometric injection of colour.
2) Lights
First of all, guys can have lights too; they're subtle, homely, and great for evenings in watching a film with your flatmates. You can get some cheap, plain fairy lights for less than £5 online, and hanging them up only requires some washi tape or some 3M hooks – both easily removable.
Sadly though, most university halls won't allow candles, so if you want to use those ornate holders you got for your birthday, instead opt for electric tea lights.
3) A DIY door stop
Granted, normal doorstops aren't expensive, but you can easily add another homemade touch to your room. There are plenty of ways to do so, mostly involving sewing a fabric pouch, which is then filled with rice. But why do you need one?
Well, a doorstop leaves your room open for flatmate visits, especially important during those early weeks when you want to be seen as approachable and eager to make new friends.
4) Use old picture frames as whiteboards
Need to be able to quickly map out your thoughts, but don't want to waste paper? Well, a whiteboard of some kind would be perfect, especially when you remember something you need to do, but it's 4.13am.
Yet, whiteboards can be pricey – and bulky. So instead, pick up an old picture frame from a charity shop, throw a sheet of white paper under the glass layer – et voilà!
5) Add a colourful rug
These aren't that expensive, and easy to pick up in charity shops too. However, if you're feeling ambitious (and skint), find out how to make your own vibrant floor piece from old T-shirts.
An injection of colour of this kind will help make your room feel homely, cosy, plus a little nicer on the toes than the usual university cardboard-like carpet.
6) Need a bedside table?
Use an upside down bin! Obviously I don't mean a grubby kitchen bin, but a nice wire waste-paper basket, or something similar – check back at home and see if your family can spare any for your bed-side needs, or the various high street home stores near you will have something cheap and easy to convert into a surface.
7) Hang photos on fairy lights
If you've already bitten the bullet and got some twinkly lights, use them again as a cute way to hang photos. All you need are some pegs, clips, or even just some sticky tape.
8) Cushions and blankets
Head to your local high street home stores for cheap blankets and cushions that will liven up your room with both colour and comfort. If you don't see any designs you like, just use the cheap interior fluff and fashion yourself a cover out of some old fabric/T-shirt material. Not only do they look nice, but they're also practical for when you all decide to crowd into someone's room – no more sitting on the floor and pretending to be comfy.
9) Jazzy storage boxes
If you're anything like me, you'll have brought way too many clothes to uni with you, not to mention shoes, accessories – and more shoes. But who can bear to part with those heels you wore once (at prom), when you can just jazz up some plain storage boxes and save space elsewhere?
Think stickers, washi tape (again), fabric, and spray/poster paint. Once decorated, these boxes can slide under your bed, or be stacked in a corner. More tips here.
10) Decorate your furniture with fab fabric
Finally, switch that uni chair/desk/bedside table from drab to fab (yes, I went there) with some strategically draped fabric. If you've got cushion projects, use them to create a nicely themed room. If not, use an old scarf, pillow case, shirt, or blanket to spruce up your boring and uniform furniture.
Twitter: @LizziYes
Lizzi Hart is a linguistics graduate from the University of Sussex and marketing assistant at the Graduate Recruitment Bureau. She also hates cats
Join our new commenting forum
Join thought-provoking conversations, follow other Independent readers and see their replies