Majority of UK students 'expect a lot more' from universities amid rising tuition fees, says survey
Almost a quarter of students say they are not confident their education will 'pay off' after graduation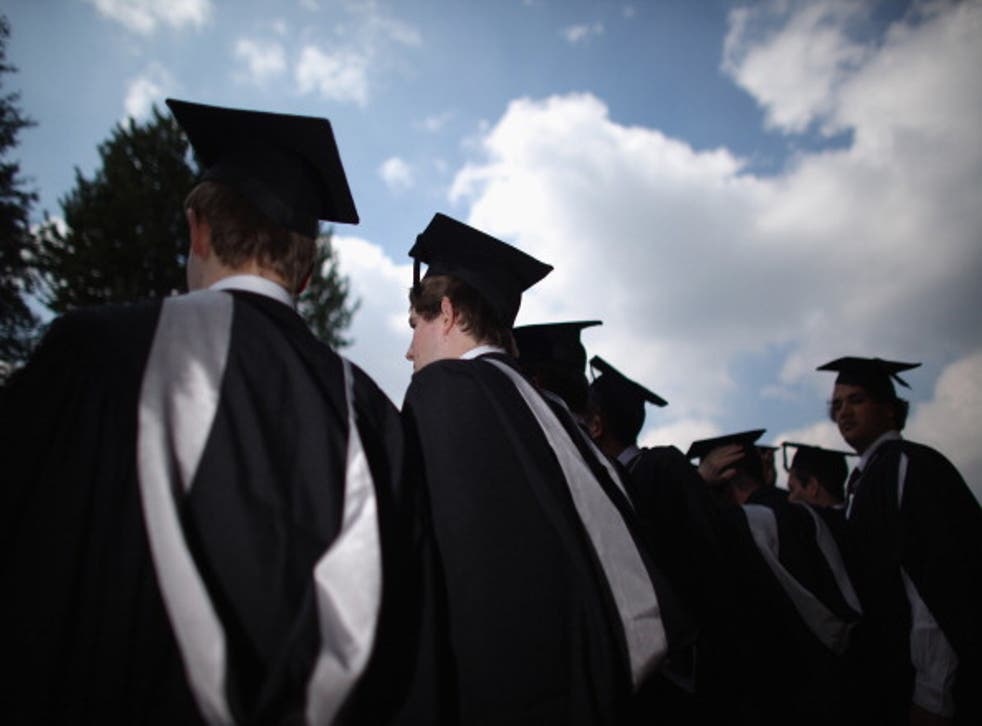 An overwhelming majority of UK students expect a lot more from their universities amid the rising cost of higher education in parts of the country, according to a new survey.
A staggering four in five are intensely scrutinising the quality of teaching and feedback received from tutors, good-quality courses, and institutions' reputations than ever before.
The survey from specialist student loan lender Future Finance has come just weeks after it was revealed England's graduates are in the most debt, compared with graduates from any other English-speaking country in the world, because of tuition fees of up to £9,000 a year.
The findings have also come shortly after Government ministers were seen to be questioning whether the maximum fee costs at some of the UK's top universities could be justified given the "quality and intensity of teaching."
And it seems almost half of Future Finance's 2,050 respondents share the ministers' view, with 46 per cent strongly disagreeing with the view that studying at a more expensive university is worth the extra fees because they are more likely to land a good job.
Graduation photos show harsh reality of student debt

Show all 7
Almost a quarter of students said they are not confident their education will 'pay off' in the future, with students in the North West (29 per cent), Wales (28 per cent), North East (26 per cent), and London (25 per cent) the most worried about finding a suitable job post-graduation.
The West Midlands came out as the most scrupulous with 88 per cent of students from the area expecting a lot more from their universities, followed closely by the North West and South East, both at 86 per cent.
Scotland's students, though, have featured at the bottom of the results, with just over half (56 per cent) expecting a lot more from their universities. Respondents north of the border, again, registered the lowest proportion of students questioning the return on investment of their education at just 19 per cent.
Compared with England and Wales, Scottish students are typically charged just £1,820 a year in tuition fees for an undergraduate course and, even then, the cost is covered by the Student Awards Agency for Scotland (Saas), a possible reason as to why Scots are less likely to scrutinise their HE experience as their English counterparts.
Interestingly, though, a report from social mobility charity the Sutton Trust recently showed that, despite offering free tuition, Scotland has the worst record than anywhere else in the UK when it comes to getting students from poorer backgrounds into university, something a Scottish Tory minister said the SNP must address "urgently."
Future Finance acknowledged how the survey's results have come just as the Government published its White Paper which set out plans to increase transparency and competition among universities, allowing institutions to increase tuition fees beyond the current £9,000 cap, provided they demonstrate quality standards of teaching via a Teaching Excellence Framework.
Student protest turns violent
Commenting on the findings, CEO Brian Norton said students are rightly more value-conscious now since Britain's tuition fees "went into orbit" four years ago.
Highlighting how a university education is "a significant investment," he said: "It's no wonder students are scrutinising their university options more intensely as they seek out the very best education and facilities.
"With this in mind, we're going to see a growing demand for transparency on university standards. I'm delighted to see the new Government proposals from Universities Minister, Jo Johnson, intend to tackle this head-on and, in doing so, make it easier for high-quality, specialist universities to get up-and-running.
"It's this supply side, if we were to view higher education in such terms, that needs to keep pace with student needs and demands."
Join our new commenting forum
Join thought-provoking conversations, follow other Independent readers and see their replies