Parents fear Government's plan to scrap maintenance grants for poorest students will 'discourage them from applying to university'
NUS says Tories are attempting to 'avoid proper scrutiny and sneak legislation through the back door' by officially axing maintenance grants without a full Commons debate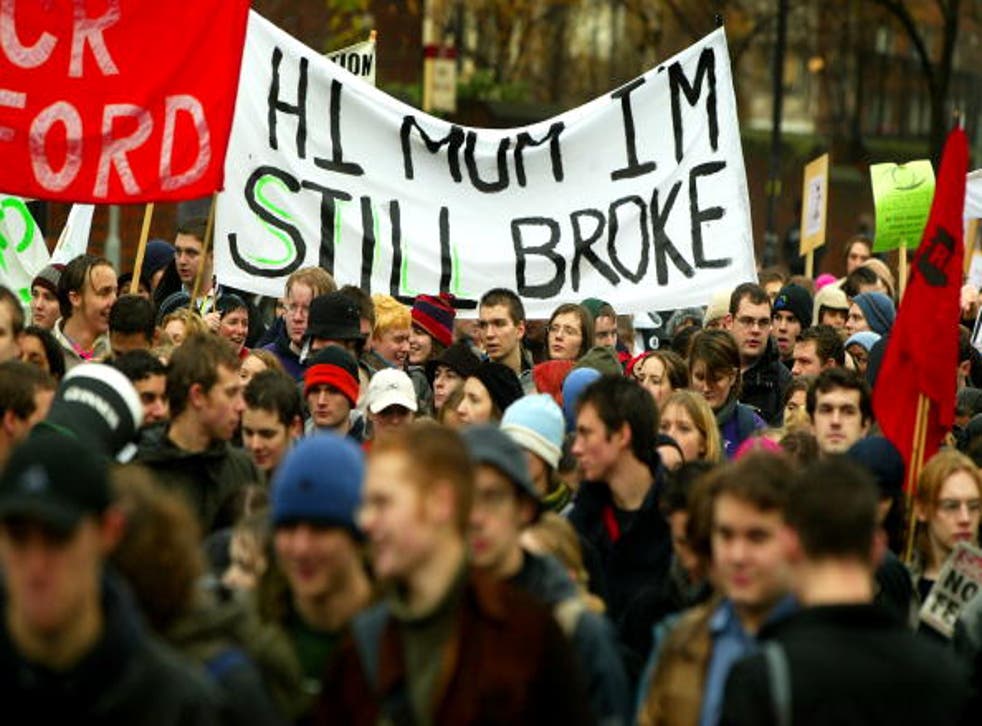 A growing number of parents fear the Government's plan to scrap maintenance grants will discourage their children from applying to university, according to new research released on the same day the Conservatives are set to "undemocratically" axe the grants.
Along with market researcher Populus, the National Union of Students (NUS) surveyed* adults with children aged 18 and under, of which 45 per cent were from low-income backgrounds with a combined income of £25,000 or less.
Students in these families are eligible for the grants which the Conservatives are planning to replace, instead, with loans, meaning more than 500,000 students from the poorest backgrounds in England could take on up to £12,000 more debt than they currently do.
Results showed how 40 per cent of low-income parents believe their children will be discouraged from applying to university if the axe goes ahead, and just over half of all parents surveyed believed the plan to scrap grants undermines the Government's own objective to increase access to university for poorer students.
Other key findings from the research showed how 63 per cent of all parents - and 70 per cent of low-income parents - believed it to be unfair that students from poorer backgrounds may have to take out loans up to £12,000 more than they currently do. As well as this, 51 per cent of all parents - and 56 per cent of those with a combined income of less than £25,000 - believed this would be bad for the long-term prospects of Britain's economy.
The NUS said the findings have come on the same day the Tories are attempting to "avoid proper scrutiny and sneak this legislation through the back door" via a delegated legislation committee, a group the NUS says has "limited powers" to make the Government reconsider and, instead, have a full debate in the House of Commons.
The group added: "[We have] repeatedly criticised the Government's handling of this proposal, including the failure to properly investigate concerns over the impact of scrapping grants. Even under the threat of legal action, the Government has refused to fully release their assessment on how the plan will affect students from widening participation backgrounds."
Student protest turns violent
NUS national president, Megan Dunn, described how students are already facing rising amounts of debt when they graduate, and added: "So piling even bigger debts on the shoulders of the poorest students is extremely unfair. Parents are rightly worried about how this debt will affect their children. The Government's proposals risk putting them off university altogether."
Urging MPs to choose to save maintenance grants today, Dunn highlighted how proposals that attack lower income families must not be allowed to become a reality. She said: "If the Government truly cares about widening access, it must urgently halt its plans to shut out poorer students from their education."
The Conservatives are also planning to replace the NHS bursary with loans, and thousands of student nurses, midwives, and allied health professionals marched against the move across London, Newcastle, and Manchester on 9 January. Regarding this, half of all parents surveyed believed the removal of the bursary will discourage people in their families from studying nursing.
*Populus interviewed a random sample of 1,240 British adults with children aged 18 and under, of which 568 had a combined annual income of £25,000 or less
Join our new commenting forum
Join thought-provoking conversations, follow other Independent readers and see their replies