The Independent's journalism is supported by our readers. When you purchase through links on our site, we may earn commission.
Eco-friendly internet: Microsoft sinks data centre off Scottish coast in 'crazy experiment'
'Data centres are the backbone of the internet'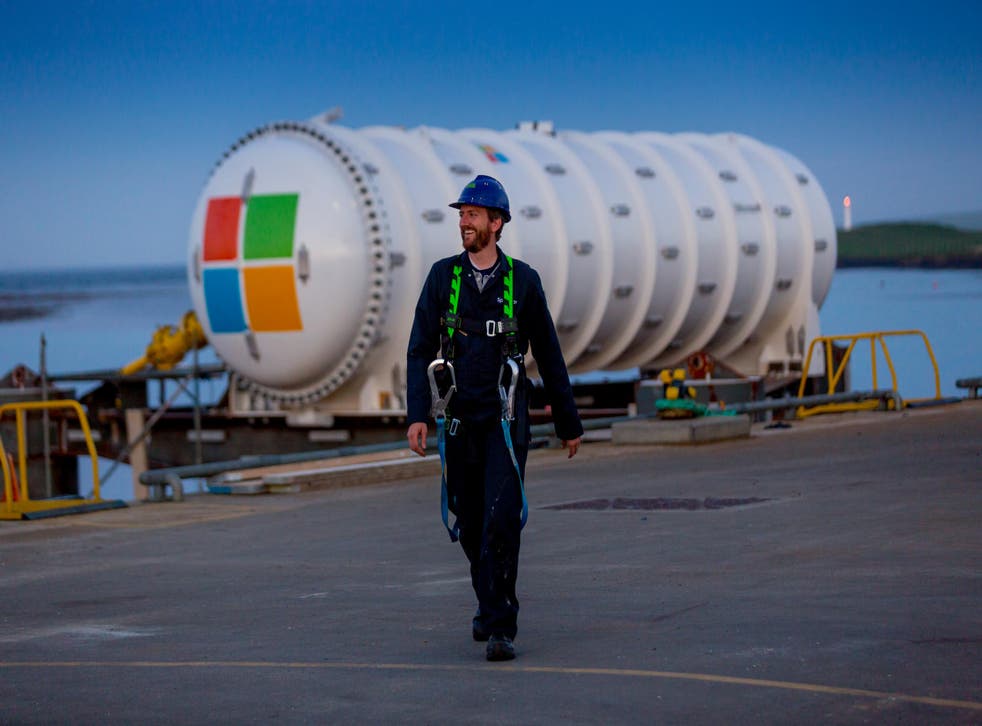 Microsoft has sunk a data centre off the coast of Orkney Island in the North Sea as part of a "moonshot research effort" to make the internet more eco-friendly.
The deployment of the data centre is the second phase of Project Natick, which aims to understand the benefits and feasibility of placing data servers on the seafloor.
"Data centres are the backbone of the internet and as demand for data centre resources across the computing industry grows exponentially, we need a solution to data storage that provides both the speed people expect and solutions that are more environmentally sustainable," a spokesperson for Microsoft told The Independent.
"Microsoft's Project Natick could herald a new wave of data centres that can be deployed rapidly and inexpensively while increasing data speeds along coastal regions."
Gadget and tech news: In pictures

Show all 25
The purpose of placing the data centre underwater is to lower the energy cost it takes to cool the servers, while Orkney Island was chosen as the location because of its relatively low sea temperatures and the fact it is home to pioneering renewable energy research.
Tidal turbines and wave energy converters will generate the electricity for the data centre, which is as powerful as several thousand high-end consumer PCs.
"With our supportive policy environment, skilled supply chain, and our renewable energy resources and expertise, Scotland is the ideal place to invest in projects such as this," Scottish Energy Minister Paul Wheelhouse said, according to a Microsoft blogpost.
"It helps to strengthen Scotland's position as a champion of the new ideas and innovation that will shape the future."
If successful, more data centres will be placed in bodies of water near coastal cities in order to improve web access for people living close to the coast.
"It is kind of a crazy experiment," said Ben Cutler, who heads Project Natick. He adds that future centres could be deployed in as little as 90 days.
One of the biggest challenges for the engineers involved in Project Natick has been building a data centre that needs no maintenance while in operation, as if anything goes wrong it will need to be resurfaced in order to fix.
The Orkney data centre will be monitored for the next 12 months to judge the future feasibility of the project.
"I'm proud that some of the first milestones achieved by Project Natick will occur in UK waters," Cindy Rose, chief executive of Microsoft UK, said in the blogpost.
"[I] hope that the work being done in the Orkney Islands will be replicated in similar data centres in other locations in the future."