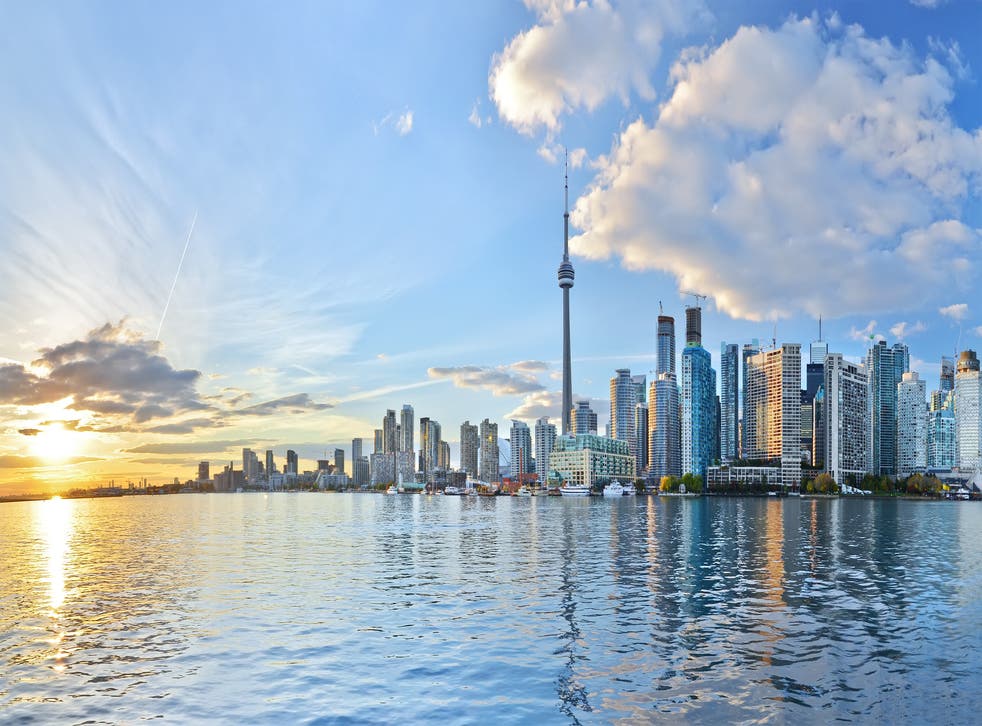 48 Hours in Toronto: hotels, restaurants and places to visit in Canada's largest city
The capital of Ontario is blossoming beautifully as high summer approaches – and a fares war makes it cheap and easy to reach
Travel essentials
Why go now?
Despite a brief flurry of snow in mid-May, the people of Toronto are enjoying the onset of summer. The city wears shirtsleeves from June to September, and celebrates its astonish cultural diversity with events such as Taste of Toronto (23-26 June, tasteoftoronto.com) – in which top chefs conduct cooking classes and demonstrations. For British visitors, reaching Canada's biggest metropolis has never been cheaper nor easier, with intense competition from budget airlines.
Touch down
Air Canada Rouge, the budget offshoot of Air Canada (0871 220 1111; aircanada.com), has just launched flights from Gatwick to Toronto. The airline competes on the route with both Air Transat (020 7616 9187; airtransat.com) and WestJet (00800 5381 5696; westjet.com). Fares as low as £300 return are available in the next few weeks. All three airlines also compete from Glasgow.
Flights from Birmingham (Air Transat), Edinburgh (Air Canada Rouge), Heathrow (Air Canada and British Airways; 0344 493 0787; ba.com) and Manchester (Air Canada Rouge and Air Transat) are more expensive.
Toronto Pearson airport (1) is the busiest in Canada, and has three terminals. Transport links are easiest from Terminal 1. The UP Express runs every 15 minutes to Union Station (2); UP stands for "Union Pearson". The one-way fare is C$12.
A cheaper, slower alternative is to catch the Rocket bus from the airport to Kipling station (3), a journey of around 20 minutes with departures every eight minutes. The fare of C$3.25 includes a transfer to the Subway system, known as TTC. The trip to downtown Toronto takes about half-an-hour more. You can then transfer to a bus or streetcar (tram) if your journey requires it.
Get your bearings
The area of Toronto chiefly of interest to visitors comprises a ragged square about two miles across, between Bloor Street to the north and the waterfront to the south – though downtown is cut off from Lake Ontario by the hideous Gardiner Expressway.
The chief landmarks include Union Station (2); the CN Tower (4), a thin needle piercing the skyline; St Lawrence Market (5); the Ontario Parliament at Queen's Park (6); and the Royal Ontario Museum (7). But the great appeal of Toronto resides in its neighbourhoods. For example, the biggest of several Chinatowns is centred on Spadina Avenue and Dundas Street West. It merges with the faintly hippie Kensington Market area on Baldwin Street and Augusta Avenue, while Little Italy takes over to the north-west along College Street.
Toronto has a Subway (a mostly underground railway), but it is weird. The main line, number 2 (coloured green), runs for many miles east-west through the north of the city, along the line of Bloor Street. It intersects at three stations with line 1 (yellow). This is a very odd line, in the shape of a narrow U, whose base is at Union Station (2).
There are a couple of suburban offshoots to lines 1 and 2 that are unlikely to trouble the visitor. The system runs 6am-1.30am, except on Sundays when things don't get going until 9am.
More appealing to the tourist are the streetcars (trams), of which Toronto has an impressive network. They tend to run either east-west or north-south, and stop every couple of hundred yards.
The payment system is straightforward. You can pay C$3.25 in cash, or buy tokens (minimum three) at C$2.90 each. When you put the money in the slot on a streetcar or into the Subway gates you should pick up a transfer, which is both your proof of purchase and ticket to further travel in the same general direction within a "reasonable" time.
There are also buses, which take part in the same transfer system.
Check in
In summer the budget accommodation stock increases, because many student residences are let out to short-term visitors. I paid C$131 including breakfast for a double room at College Backpackers Inn (8), at 280 Augusta Avenue (001 416 929 4777; collegebackpackers.ca), a fairly basic but friendly and comfortable hostel.
At weekends, when business travel declines, there are plenty of deals at upmarket properties. For example, the Westin Harbour Castle (9) on the waterfront (001 416 869 1600; westinharbourcastletoronto.com) has rooms in June for Saturday and Sunday night for around C$240 per double, excluding breakfast.
The grande dame venue is the Royal York (10), facing Union Station (2) (001 416 368 2511; fairmont.com), where a double room typically costs around C$400 excluding breakfast.
Day One
Take a view
… on, and from, Frank Gehry's first work in Canada: the Art Gallery of Ontario (11) at 317 Dundas Street West (001 416 979 6648; ago.net; open at 10.30am daily except Monday, to 5.30pm at weekends, to 5pm on Tuesday and Thursday, to 9pm on Wednesday and Friday; C$19.50). Inside Gehry's mighty reinvention of the original building, you find two millennia of Canadian culture from early Inuit art to the Thomson Collection – donated by Ken Thomson, part of the Thomson media and travel dynasty. Rubens, Rodin, Monet, Picasso and Van Gogh are represented, along with the world's largest public collection of works by Henry Moore.
Take a hike
From St Patrick Subway station (12), walk south along University Avenue. Almost at once, on the right, the Royal Canadian Military Institute is an officers' club with a difference: the ground floor is a replica of the neo-classical original, topped with a brand-new 42-storey apartment block. Continue south, then turn left at the McMurtry Fountains (13) to head past the Superior Court of Justice, decorated with sculptures celebrating human rights. Then walk across Nathan Phillips Square (14), which includes a Peace Garden and a pool in which a giant, three-dimensional TORONTO sign is reflected.
Across the square, the handsome, red-brick Old City Hall (15) is dwarfed by the surrounding skyscrapers. It faces south down Bay Street, and so should you. In the block between Adelaide and King Street, look for three handsome financial institutions: the Canadian Permanent (16) and the Bank of Montreal, facing the Bank of Nova Scotia. The Design Exchange (17) at 234 Bay Street (001 416 363 6121; designexchange.org; noon-4.30pm at weekends, 9am-5pm Tuesday-Friday; free) celebrates 20th-century Canadian design, including a preponderance of plastic chairs.
Turn right into Wellington Street, and at the Royal Bank Plaza sign climb to the walkway and head south into a swarm of mobiles. Descend the stairs and dip into the Royal York Hotel (10) to gaze at the extravagant Fairmont Imperial Room.
From the hotel's main entrance, admire the heroic facade of Union Station – at present a massive building site.
Window shopping
Just along Front Street East, St Lawrence Market (5) overflows with fresh produce, colour and clamour on two storeys. It also has an exhibition about its history on the lower level on the north side (5am-5pm on Saturday, 8am-6pm from Tuesday to Thursday, 8am-7pm on Fridays; stlawrencemarket.com).
Lunch on the run
The Paddington Pump at St Lawrence Market has all-day breakfasts. Alternatively, Alexandro's (18) at 5 Bay Street East (001 416 367 0633), serves the best pork and chicken gyros (kebabs) in town from a tiny shack for around C$6. Officially open 11am-4pm daily, often closing much later.
Take a ride
The car-free Toronto islands, just offshore, provide a great summer escape from the city, with bikes to rent and trails to explore (as well, at the western end, as an airport). From the Jack Layton Ferry Terminal, in the shadow of the Westin Harbour Castle (9), a C$7.50 return ticket takes you to Centre Island (19), Hanlan's Point (20) and Ward's Island (21), all of which are interconnected (bit.ly/TorontoIs).
An aperitif
When you return, take the lift to the Toulà Restaurant & Bar at the top floor of the Westin Harbour Castle (9). A glass of the local Ontario riesling is C$12, and ideal to sip as you drink in an excellent panorama of the city.
Dining with the locals
You can barely walk 10 yards in Toronto without stumbling upon a good restaurant, and the city has immense diversity in cuisine as well as culture. Templeton's Cafe (22) – also known as "The Temp" – at 319 Augusta Ave (001 416 922 7423) offers Canadian-Asian fusion, with a shabby chic interior enlivened with carvings from Indo-China and everything from burgers to Pad Thai on offer in generous quantities.
Day Two
Sunday morning: go to church
The Church of the Holy Trinity (23), concealed in the middle of downtown, was built by Mary Lambert Swale of Settle in North Yorkshire, on the stipulation that all pews must be free and unreserved. Its interior is austere, but the church is notable for its social activism. The Toronto Homeless Memorial on the south side remembers the many hundreds who have died on the streets since 1987. Visitors are invited to "Stop, Pause, and remember all these people." Open 8am-4pm on Sunday (11am-3pm from Monday to Friday).
Out to brunch
Kensington Market is bustling on Sundays, and Our Spot (24) at 80 Baldwin Street (001 647 349 7767; 8am-3pm on Sundays) has the busiest tables in town for Greek-Canadian dishes: a bumper breakfast of fruit, eggs and salad for just C$4.50, or a Greek feta potato omelette (C$7.95).
A walk in the park
Queen's Park (6) is a well-kept oasis just north of downtown, and home to the Ontario Parliament as well as some impressive Imperial statues. Just west, the original St George campus of the University of Toronto is open to the public and features the Philosophers' Walk (25), which meanders north to Bloor Street – the main east-west axis through the northern part of the city.
Cultural afternoon
From University Avenue, the Royal Ontario Museum (7) looks a prim, formal Victorian venue (001 416 586 8000; rom.on.ca; 10am-5.30pm daily, to 8.30pm on Fridays; C$17). But when you round the corner into Bloor Street, the building erupts in a crystalline series of cubes. The collection is themed on eight "Centres of Discovery" from ancient civilisation to contemporary Canada.
Directly opposite, the Gardiner Museum (001 416 586 8080; gardinermuseum.on.ca; 10am-5pm at weekends, to 6pm other days, C$15) is Canada's ceramics museum, with more than 3,000 pieces and a mission to "inspire and connect people, art and ideas through clay, one of the world's oldest art forms."
Icing on the cake
One of the world's newest art forms is the EdgeWalk from the CN Tower (4). While it is no longer the tallest free-standing structure on the planet, it does offer "the world's highest full-circle hands-free walk." A quarter-mile above the city, a 5ft-wide ledge encircling the visitor centre. You are hooked on via an elaborate and safe harness system, and a guide invites you to lean back over the city. If the weather is inclement, or you prefer not to spend C$195 on the experience, then content yourself with the C$35 visit to the observation platform; the glass floor might be quite enough of a thrill (001 416 868 6937; cntower.ca; open 9am-11pm daily in summer).
At the time of writing, C$1 = £0.55 / US$0.80
Join our new commenting forum
Join thought-provoking conversations, follow other Independent readers and see their replies