48 Hours: Trier

Show all 3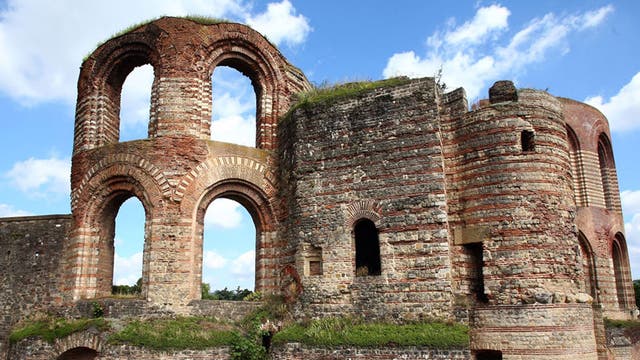 48 Hours: Trier
Germany's oldest city is marking 500 years since the Holy Robe was brought to its cathedral. But this isn't the only relic of note – the Roman capital of northern Europe is awash with architectural wonders.
Click here for 48Hours In...Trier map
Travel essentials
Why go now?
The Roman capital of northern Europe – once the equal of Constantinople – has hardly grown in the past two millennia, leaving it with the most complete classical ruins north of the Alps.
From 13 April to 13 May, Germany's oldest city also becomes a special place of pilgrimage, as Christians flock to Trier's ancient Catholic cathedral (1) to see its most precious relic: the Holy Robe (00 49 651 7105 8012; heilig-rock-wallfahrt.de). Supposedly worn by Jesus Christ and brought here from Jerusalem in the fourth century by St Helena, it was first unveiled in 1512, making this year the 500th anniversary. The robe has been displayed only 17 times since then.
Even if you're not religious, this lively little university town on the Mosel has a youthful buzz and is a fascinating place to spend a couple of days.
Touch down
By rail, the trip from London St Pancras takes seven hours with changes in Brussels and Luxembourg – which is also the location of the nearest airport to Trier. You can fly to Luxembourg's Findel airport with Luxair (00 352 2456 4242; luxair.lu) or CityJet (0871 6633 777; cityjet.com) from London City, or with BA (0844 493 0787; ba.com) from Heathrow.
Bus 117 of Voyages Emile Weber (00 352 356 575 278; emile-weber.lu) departs at 4.11pm, 5.11pm and 6.11pm, Monday-Friday only, from Luxembourg airport, terminating at Trier's central station (2). Singles €4. Otherwise, board a No 9 or 16 bus (every 10 minutes, €1.50) to Luxembourg train station where there are frequent direct trains taking 50 minutes to Trier (€16.80).
Trier is also accessible from Hahn airport, which Ryanair (0871 246 0000; ryanair.com) calls "Frankfurt" and serves from Edinburgh, Manchester and Stansted. From Hahn, board the Flibco Shuttle Bus (00 49 180 150 7570; flibco.com) which terminates outside Nell's Park Hotel (3) in Trier. Singles €22.
Get your bearings
Trier is on the east bank of the River Mosel, surrounded by woods and vineyards. Most of the main sights lie within the outline of its Roman walls. Badly bombed in the Second World War, the old town is a hotchpotch of old and new.
Trier's signature landmark is the Porta Nigra (4), an enormous Roman gatehouse. Right beside it is the tourist office (00 49 651 978 080; trier-info.de; 9am-6pm daily, 10am-3pm Sun). Here you can buy a three-day Trier Card (€9) for unlimited public transport and reduced entry to attractions. Trier's three vast bath houses – Barbarathermen (5), Viehmarktthermen (6) and Kaiserthermen (7) are a quick walk away.
Check in
All rates are for doubles, including breakfast. The most attractive and convenient three-star is Zum Christophel (8), a neo-Gothic pile at An der Porta Nigra (00 49 651 979 4200; zumchristophel.de; from €85).
Four-star Nell's Park Hotel (3), Dasbachstrasse 12 (00 49 6511 4440; nellsparkhotel.de; from €100) is an old mansion in a park. The historic house is charming, the modern extension rather less so.
Pick of the bunch is the Hotel Villa Hugel (9) at Bernhardstrasse 14 (00 49 651 330 66; hotel-villa-huegel.de; from €118). Built in 1914, this family-run hotel has a spa and river valley views.
Day one
Take a view
The best view of Trier is from Petrisberg, a steep wooded hill a short walk from Hotel Villa Hügel (9). Follow the signposts through the vineyards to the Aussichtspunkt (10) (viewpoint) on Sickingenstrasse. The most spectacular sight is of the Roman Amphitheatre (11) below, on Olewiger Strasse (00 49 651 73010; burgen-rlp.de; open 9am-6pm daily, €3).
Take a hike
From the Amphitheatre (11) walk back down the hill, along the footpath through tranquil allotments to the Kaiserthermen (7) (00 49 651 4362 550; daily 9am-6pm; €3). These immense imperial baths give you some idea of the size and splendour of the Roman city. Cut through the backstreets to Viehmarktthermen (6) on Viehmarktplatz (00 49 651 994 1057; 9am-5pm Tues-Sun; €3). Preserved beneath a glass superstructure, the foundations of these colossal Forum Baths are equally impressive. Continue west, along Bruckenstrasse and Karl-Marx Strasse to the Romerbrucke (12), a bridge built by the Romans. Head north along the east bank of the River Mosel, finishing up at the quayside at Zurlaubener Ufer.
Lunch on the run
The quayside is lined with atmospheric bars and restaurants including Gasthaus Alt Zurlauben (13), Zurlaubener Ufer 79 (00 49 651 28 645). Try the Schinkenbrot mit Ei (meatloaf with egg) for €7. A glass of Bitburger is €1.30.
Alternatively, head for the city centre. Buried beneath a bland department store, the Historischer Keller (14), Simeonstrasse 46 (00 49 651 469 496; historischer-keller.de; closed Sundays) is a cavernous cellar. Matjesfilet (pickled herring) served with apple, onions, gherkins and fried potatoes, a Schwarzwalder Kirschbecker (Black Forest cherry sundae) and a beer will cost you €14.25.
Window shopping
Fleischstrasse and Brotstrasse are Trier's main shopping streets. For crafts and fashion, head for Neustrasse (15), where you'll find quirky boutiques. Nearby, the flagship store of prestigious porcelain firm Villeroy & Boch (16) at Simeonstrasse 3 (00 49 651 42091; villeroy-boch.com) sells all the latest lines, plus factory seconds at knockdown prices – as little as €2.
Cultural afternoon
With Roman ruins all around you, you'll find all sorts of treasures from these archaeological sites in the Landesmuseum Trier (17) at Weimarer Allee 1 (00 49 651 97740; landesmuseum-trier.de). This imposing museum gives you a vivid picture of what a powerful and wealthy city this used to be. Open 10am-4.30pm Tues-Sun, €6.
An aperitif
The local tipple is Viez – a deceptively potent sour pear cider. The best place to sample it is in Wirtshaus zur Glocke (18) at Glockenstrasse 12 (00 49 651 73109; closed Mondays) where a large flagon costs just €1.70. You won't need a second.
Dining with the locals
Theo (19) at Simeonstrasse 59 (00 49 651 44 888; theo-trier.de) serves all sorts of hearty Germanic staples in smart, stylish surroundings. Try the Schweinebraten (roast pork) with red cabbage and mash (€9.80) washed down with half a litre of the fruity local white Mosel (€7.20).
Day two
Sunday morning: go to church
Churchgoers are spoilt for choice in Trier, with two huge Roman churches, standing side by side. The ornate Catholic cathedral (1) was founded by Emperor Constantine at the start of the fourth century (00 49 651 979 0790; dominformation.de), making it one of the oldest surviving churches in the world. Expanded and adapted across the intervening centuries, today it's a rich melange of virtually every ecclesiastical architectural style, from Romanesque to Baroque. Nevertheless, much of the Roman structure is still visible, not just the basic outline of the building, but much of the original walls.
The austere Basilica (20) next door was also built by Constantine as an imperial palace. It became a Protestant church in 1856 (00 49 651 42570; konstantin-basilika.de). There are services at both churches at 10am.
Out to brunch
Most cafés and restaurants in Trier are closed on Sunday mornings, but Zur Steipe (21) at Dietrichstrasse 54 (00 49 651 145 5456; zur-steipe.de) is open from 10am. In a prime spot on the medieval market square (you can sit outside when the weather's fine), it serves everything from a continental breakfast for €4.50 to a fancy brunch with Sekt (sparkling wine) and smoked salmon for €9.95. Children will relish the Trier Toy Museum (00 49 651 75850; spielzeugmuseum-trier.de) upstairs. Open 11am-6pm daily except Monday, admission €4.
A walk in the park
The Palastgarten is a pretty, ornamental park, flanked by robust medieval battlements. Laid out in formal French style (Trier was invaded and annexed by Napoleon), its most prominent landmark is the flamboyant Kurfurstliches Palais (22), constructed in the 18th century. The short walk from this cute rococo palace to the monolithic Roman baths at Kaiserthermen (7) takes you back two millennia in a few hundred yards.
Take a ride
Trier is halfway along the River Mosel, with Luxembourg to the west and Koblenz to the east. A one-hour cruise (00 49 651 266 66; moselfahrplan.eu) costs €10. Boats depart from the pier (23) at Zurlaubener Ufer every 75 minutes (frequency from May) from 10am to 5.30pm at weekends, and at 1.45pm and 3pm weekdays.
Icing on the cake
Karl Marx, the son of a local lawyer, was born in Trier in 1818. The handsome townhouse where he spent his early years has been developed as an absorbing museum. The Museum Karl-Marx-Haus (24) at Brückenstrasse 10 (00 49 651 970 680; fes.de/marx) was set up by local socialists between the wars. Ransacked by the Nazis, it reopened after 1945. It chronicles his life and work, and the influence of his writing. Besides original manuscripts, letters and first editions, the kitsch souvenirs in the gift shop are a delight. Open daily 10am-6pm, admission €3.
Join our new commenting forum
Join thought-provoking conversations, follow other Independent readers and see their replies