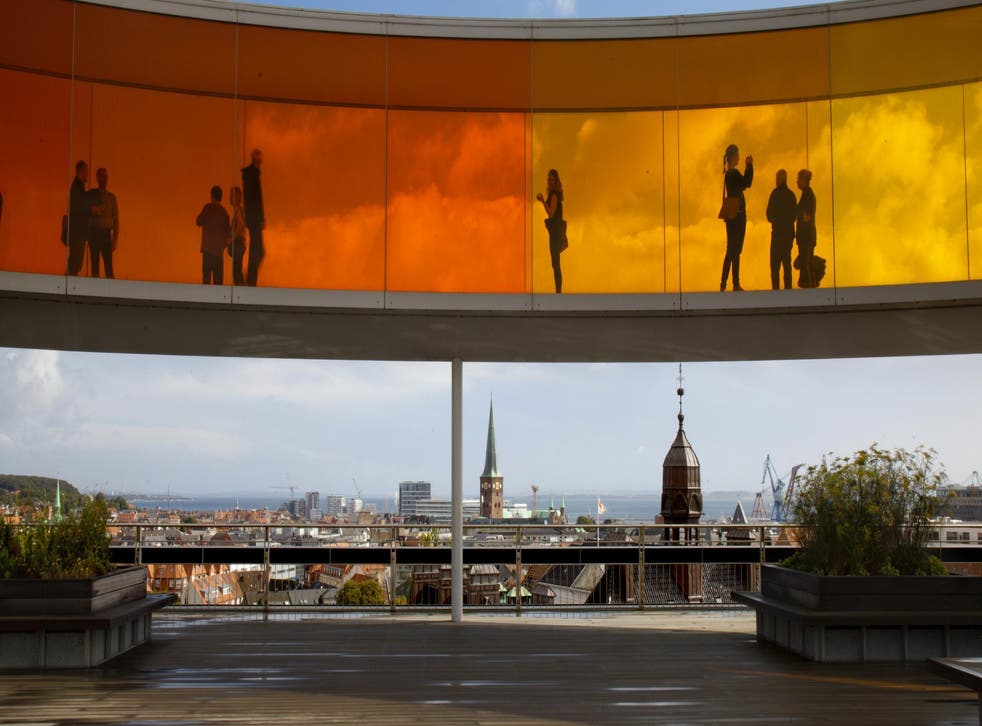 Rainbow walkways and streetfood in shipping containers: Forget Copenhagen, Aarhus is Denmark's new capital of cool
With hip bars, daring design and hygge a plenty, the European Capital of Culture 2017 is ripe for a weekend away
Why go now?
Denmark's second city will officially step out of Copenhagen's shadow in the new year to become European Capital of Culture 2017 (along with Paphos, Cyprus). A stacked calendar of more than 350 events, festivals and projects kicks off on 21 January under the banner "Let's Rethink", reflecting the creative spirit that has long permeated this cool harbour-side sprawl.
The city's docks have been transformed by a host of new cultural venues, such as Dokk1 (1), which, together with a thriving gastronomic scene and clutch of world-class museums, means Aarhus should no longer play second fiddle to the capital.
Get your bearings
Aarhus sits on the eastern coast of Denmark's Jutland peninsula and feels more like a laidback town than a city, with cobbled streets, picturesque canals and charming docks. And with most points of interest accessible on foot or by bike from the compact centre, getting around couldn't be easier.
For longer journeys, a fleet of yellow city buses operate throughout central Aarhus. An AarhusCard gives unlimited travel, plus free or discounted entry to many of the city's headline attractions, and costs Dkr 129 (£14.80) for 24 hours. Cards can be purchased at the bus station and most attractions.
The main tourist centre can be found at Dokk1 (1), where you can use free online touch screens for information and ideas. Open Monday-Saturday 10am-4pm; Sunday 11am-2pm.
Day One
Take a view
Get a colourful overview of Aarhus from Your Rainbow Panorama, a kaleidoscopic circular walkway on the roof of Aros art museum (2). The brainchild of Olafur Eliasson, a Danish-Icelandic artist famed for his bold, conceptual pieces, this 360-degree skywalk offers brilliant technicolour views of Aarhus through rainbow-hued glass panels.
Aros takes its main theme from Dante's "The Divine Comedy" and is designed as a journey from hell to heaven. Hell is The 9 Spaces, a black-walled basement of eerie installations, while heaven is Eliasson's multi-coloured halo hovering high above the streets.
Take a hike
Start in Aarhus' centre point, Domkirkepladsen, where the city's 12th century cathedral (3) looms large. Across the square, under the Nordea Bank, is where the Vikings founded Aarhus in the ninth century (its name comes from "Aros", meaning "place at the river's mouth"); the Viking Museum (4) marks the exact spot.
From here, wander through cobbled lanes, past churches and half-timbered houses in the Latin Quarter, the city's oldest neighbourhood, towards Mollestien (5). It's by far Aarhus' prettiest (and most Instagrammed) street with pastel-coloured facades that have looked the same for centuries.
To witness the city's waterfront regeneration, head east to Dokk1 (1). It's home to Scandinavia's largest library and is part of the city's Urban Mediaspace project, turning former industrial port areas into bright modern spaces. Stroll up the harbour to Aarhus O, the new dockland neighbourhood that's turning architectural heads with photogenic developments like the iconic Iceberg (6).
Lunch on the run
Head back down the harbour, or hop on a bus to Banegardspladsen (7) (central station), for the Aarhus Central Food Market (8). Opened in October, this buzzing indoor market is full of specialist shops, delis and breweries, where you can grab everything from Kahler's seasonal smorrebrod to gourmet porridge at Grod – think oatmeal with organic chicken and peanuts.
Another mark of the city's booming food scene is the nearby Aarhus Street Food (9), which opened last summer in a former car park with stalls in repurposed shipping containers. Feast on melt-in-the-mouth pulled-duck burgers at Duck It, or spicy Vietnamese buns at Banh Mi Bandits.
Window shopping
The Stroget is the backbone of Aarhus' shopping life with an 850-metre long pedestrianised parade of stores. Highlights include Skagen (10), the iconic Danish watch house; department store Salling (11) with big-name brands such as Royal Copenhagen porcelain; and Georg Jensen (12), featuring exquisite silverware and jewellery from the Danish master.
For more independent retailers, head to the so-called "Side Streets Quarter" between Aboulevarden and Norre Alle, where cheaper rents have allowed new designers and artisans to flourish. Check out 1+1 Textil (13) for hygge-enhancing homeware and nearby St Valentin (14) for stylish Scandi menswear.
An aperitif
Pharmacy-turned-bar St Pauls Apothek (15) has a vintage, speakeasy charm, with a hip atmosphere and slick mood lighting. The food menu is limited, following a concept of small Nordic dishes and wine pairings, but it's the killer cocktails that pull in the crowds from pre-dinner into the early hours. It also holds regular rum, whiskey and tequila tastings. Tables fill fast so book ahead or expect a lengthy wait.
Dine with the locals
Aarhus' food revolution has been gathering momentum for some time with Frederikshoj, Gastrome and Substans awarded Denmark's first Michelin stars outside of Copenhagen in 2015. Much of the recent buzz has centred on newcomer Sart (16), where a band of young chefs adhere to a philosophy of producing everything they can from scratch. Expect casual, Danish-style tapas with sharing plates such as charcuterie meats, venison bolognese and apple compote pizza.
For cosier but equally impressive dining, head to Mefisto (17) in the Latin Quarter. It offers a seasonal four-course menu with pairing wines for Dkr 600; dishes currently include pickled monkfish with apples and horseradish.
Day two
Sunday morning: out to brunch
Café Smaglos (18) is reputedly one of Aarhus' oldest cafes, with a charming outdoor area overlooking Monastery Square. Oddly, smaglos in English means "tasteless" but the food and atmosphere is anything but. There's kitschy decor, live music and a decent breakfast buffet for only Dkr 45 (daily, 9-11:30am). For bigger appetites, order the café's cult favourite, the NamNam burger.
Take a ride
Do as the Danes do and get on a bike. With wide cycle lanes, few cars and relatively flat roads, Aarhus is geared for two-wheeled discovery. Cycling Aarhus (19) offers rental bikes for Dkr 110 a day, as well as several themed tours of the city's highlights.
For a taste of the great outdoors, get on the Ringgaden Circular Road and head south for a brisk ride on the Brabrandstien cycle trail. It'll take you along the river Aarhus and around beautiful Brabrand Lake (20), a haven for birdlife with watching towers and nature information dotted along the path.
A walk in the park
Cycle back up the Ringgaden to the Botanical Gardens (21) for a stroll around its immaculate lawns and striking dome-shaped greenhouses. The glorious gardens make up one of the biggest parks in Aarhus, spread over 53 acres, with lakes, streams and exotic plants gathered from all over the world.
Cultural afternoon
For a unique local insight, take a journey through time at Den Gamle By (22). It's an incredibly engaging open-air museum of half-timbered houses, painstakingly reconstructed to form a provincial old market town with supporting costumed guides, horse-drawn wagons and interactive exhibits.
After exploring Aarhus of old, head over to Den Gamle By's more recent historical neighbourhoods, recreating local life in 1927 and 1974. In the latter, you can browse an old hi-fi store with authentic Seventies tech or wander around apartments for an intimate peek into real past lives. Open daily 10am-5pm, but hours vary by season.
The icing on the cake
Aarhus isn't short of fascinating museums or eye-catching architecture, but at Moesgaard Museum (23) you get both. Prehistory exhibits are presented in a spectacular modern space, with the star attraction the 2,000-year-old Grauballe Man – the world's best-preserved bog body. The part-historical, part-forensic display showcases a remarkably intact body – right down to the fingernails – while more than 50,000 other artefacts document everything from the evolution of man to Viking voyages. Moesgard sits 10km south of the city in Hojbjerg. Bus 18 runs here regularly and takes 25 minutes from central station (7).
Travel essentials
Getting there
Ryanair flies from Stansted to Aarhus airport (24), and to the nearby city of Billund. British Airways flies from Heathrow and London City to Billund, as well as from Manchester through partner Sun-Air.
A shuttle bus (number 925X) leaves from outside the arrivals terminal at Aarhus airport to the city's central station (7), and takes 50 minutes. Tickets cost Dkr 115 one-way.
From Billund the 912X bus travels direct to Aarhus and takes just under an hour and a half (tickets cost Dkr 146).
Staying there
The lively Scandic Aarhus City (25) on Ostergade is a stone's throw from the main shopping artery, Stroget, and just a five-minute stroll from the train station (7). Bag a room on the top floor for scenic views of the harbour, woods and beaches. Doubles from £95, including breakfast.
A stylish townhouse in the heart of the Latin Quarter, Aarhus Guldsmeden (26) offers French colonial style rooms with four-poster beds and Persian rugs, plus a charming garden for cocktails. Doubles from €171 (£146) with breakfast.
Cabinn Aarhus (27) has functional but budget-friendly rooms reminiscent of ship cabins that stretch along a vibrant canal front opposite Aarhus Cathedral (3). It offers compact rooms with twin or bunks beds as well as family rooms for four. Rooms from Dkr 495, room only.
Join our new commenting forum
Join thought-provoking conversations, follow other Independent readers and see their replies