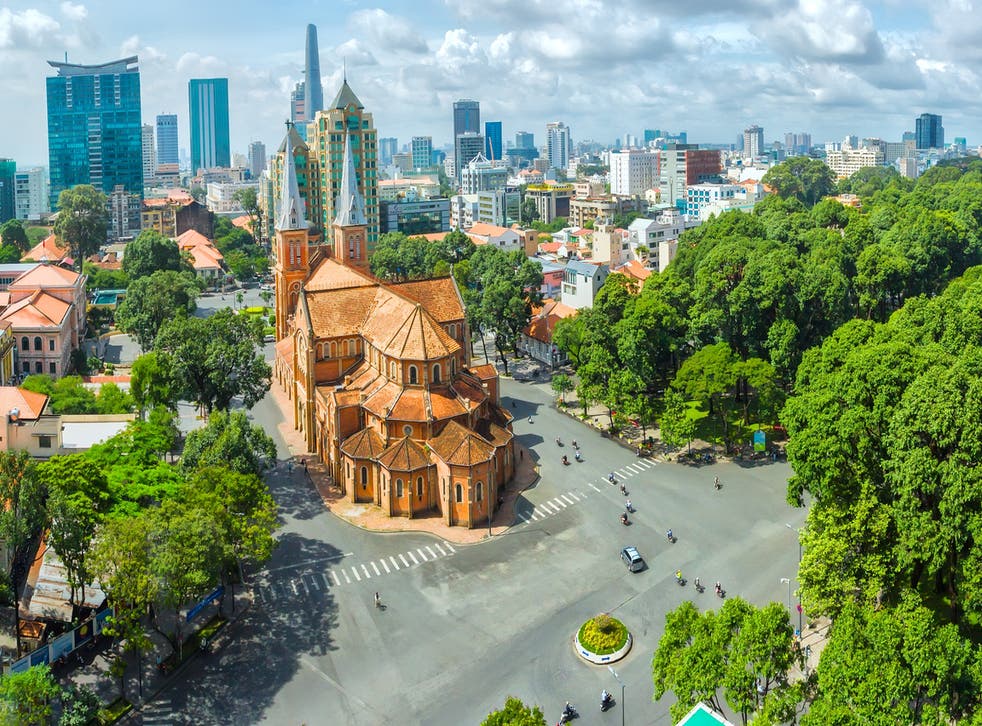 Ho Chi Minh City guide: What to do on a weekend break in Saigon
The ultimate guide to spending 48 hours in the Vietnamese city that rarely sleeps
Why go now?
With the pound being buffeted about by an ever more turbulent political landscape, Brits are fast running out of destinations where they can get bang for their buck. Vietnam is still gratifyingly cheap – even the most luxury five-star hotel in Ho Chi Minh City, formally known as Saigon, can be bagged for around £125, while a private room at a clean, serviceable hostel costs in the region of £20 a night. A three-course meal at a high-end restaurant comes in at under £15; a filling bowl of traditional pho costs no more than £3. All this comes in a hot, noisy, dynamic city that rarely sleeps, with a complex history and plenty of culture to soak up.
Get your bearings
Ho Chi Minh City, on the south coast of Vietnam, is split into 19 districts, with the Saigon River curling its way across the middle. Much of the action takes place in District 1, which boasts most of the trendy restaurants and bars, plus the major market, Ben Thanh (1). North of 1, District 3 also has a buzz about it, while District 5, south of 1, is home to Ho Chi Minh's Chinatown. Don't be surprised (or disappointed) if you spend most of your time in District 1 – it's undeniably where the party's at. The Tourist Information Centre (2) (0084 38226033) is here too, on the northeast corner of the roundabout at the intersection of Le Loi and Nguyen Hue.
Day one
Take a view
Head for the Bitexco Financial Tower, otherwise known as the Saigon Skydeck (3) (0084 83915 6156, bitexcofinancialtower.com), in District 1 for 360-degree views of the city from 230m up. Opt to visit the bar on the 50th floor – it's free, and you can grab a drink for roughly the same price as entry to the Skydeck while enjoying the panoramic views in plusher surroundings. Entry to the Skydeck is 200,000VND (£7); cocktails start from 220,000VND (£7.60) at Eon Heli Bar.
Take a hike
Start at Tao Dan Park (4) in District 1. Take a stroll through this tree-filled wonder, stopping to admire a mini bridge and Buddhist-style temple. Cross over Truong Dinh and carry on walking down the unnamed path opposite (5); you'll quickly reach the grounds of the Independence Palace (6) (0084 838 223 652, dinhdoclap.gov.vn). An instrumental building during the Vietnam War, the Palace is now open to the public daily from 7.30-11am and 1-4pm; 40,000VND (£1.40).
From here, continue in the same direction up Le Duan, which runs through 30-4 Park (7) (the name in honour of the date that Viet Cong and North Vietnamese troops captured Saigon in 1975, signalling the end of the Vietnam War). At the end of the park, take a right onto Cong xa Paris; to your left you'll see the magnificent Notre Dame Cathedral (8) (0084 8 3822 0477, giothanhle.net/gio-le/nha-tho-duc-ba-sai-gon), built by French colonialists in the 1880s. Open daily from 5.30am-5pm.
When you leave the cathedral, turn left up Cong Truong Pari (9), where you'll find another major monument: Saigon post office (10) (0084 283 8221 677). This grand 19th-century building has many charming period features to admire. Open Monday to Friday, 7am-7pm, Saturdays, 7am-6pm, and Sundays, 8am-6pm.
Lunch on the run
Enjoy a spell of air con and grab a sit-down lunch at Nha hang Ngon (11) (0084 8 3827 7131) on Pasteur – the name reassuringly translates as "good restaurant". High ceilings and tall potted plants give the impression of bringing the outside in as you choose from a massive pan-Asian selection – Vietnamese, Korean, Thai and Chinese are all on the menu. Most dishes will set you back around 80,000VND (£2.80).
Window shopping
Ben Thanh (1) (0084 8 3829 9274, chobenthanh.org.vn) is Ho Chi Minh's biggest and best market. Open 24/7, it's the perfect place to pick up traditional Vietnamese souvenirs, such as lanterns, decorative chopsticks, or "lucky" cats that move one arm up and down.
An aperitif
Head to Snuffbox (12) (0084 126 387 2603) if you're in the mood for classic cocktails in Gatsby-esque surroundings. This upmarket speakeasy is suitably hidden away down a back alley and up some stairs in a dingy-looking residential block – the only indication of its existence is a large disco ball visible from the street. Try a Bee's Knees – gin, lime juice and honey syrup – for 150,000VND (£5.20).
If you're in more of a malt mood, East West Brewing Co. (13) (0084 91 306 07 28, eastwestbrewing.vn) is Ho Chi Minh's hippest craft beer joint, channelling the urban cool of Brooklyn with its exposed brick and huge copper stills. Order a set of four tasting beers for 175,000VND (£6).
Dine with the locals
One of Ho Chi Minh's more decadent eateries is Hum Café (14) (0084 28 3930 3819, humvietnam.com) in District 3, a highly-rated vegetarian restaurant so popular that a sibling, Hum Lounge (15), has also opened up in District 1. Dine at the original Hum for an intimate vibe, attentive staff and pretty fairy lights twinkling in the trees outside. The meat-free menu is so extensive that even carnivores should find something they fancy. Start with the fresh spring roll (85,000VND; £3) followed by the pineapple rice (130,000VND; £4.50).
Day two
Out to brunch
Vietnam isn't fully on board with the whole brunch thing yet, but l'Usine (0084 8 3521 0703, lusinespace.com) is all over the concept. This ultra-stylish boutique shop-cum-gallery-cum-café boasts an all-day European-style brunch menu, served to you by suitably hipster waiters. It has two branches now, L'Usine Dong Khoi (16) and L'Usine Le Loi (17), both in District 1. Start the day right with the banana bread and cinnamon mascarpone (95,000VND; £3.30), or plump for a pork, potato and pumpkin hash with a fried egg (140,000VND; £4.85). Don't abandon the East entirely though – do as the locals do and wash it down with a Vietnamese coffee. It's best served cold with condensed milk for a smooth, sweet finish.
A walk in the park
Ho Chi Minh isn't the greenest city – the largest park, without going miles out of the city centre, is Saigon Zoo and Botanical Garden (18) (0084 8 3829 1425, saigonzoo.net). The 50,000VND (£1.75) entry fee gets you into both the gardens and zoo – if animals aren't for you there's plenty of room to simply set up shop on the grass and enjoy the shade. You'll see heaps of locals in there enjoying a picnic under the trees. Open daily from 7am-6.30pm.
Take a ride
Mopeds rule in HCMC, and this is by far the easiest way to get around. While I wouldn't recommend renting one – Vietnamese driving takes some getting used to – you can get a taste of the scooter life by hiring an UberMOTO from your phone. It's much cheaper and quicker than a regular taxi; a 10-minute ride costs around 10,000VND (35p). Don the branded helmet (and potentially the rain poncho in monsoon season), hop aboard and ride it all the way to the War Remnants Museum (19) (0084 8 3930 5587, baotangchungtichchientranh.vn) in District 3. Containing exhibits relating to the Vietnam War and the first Indochina War with the French colonialists, it displays the horrors of battle in stark fashion. While the ground floor documents the anti-war movement, upstairs there are graphic pictures detailing the effects of the USA's chemical weapons – Agent Orange, napalm, and phosphorus bombs. Open daily from 7.30am-6pm; 15,000VND (50p).
Cultural afternoon
Finish the day with a trip to the Golden Dragon Water Puppet Theatre (20) (0084 8 3930 2196) for a traditional Vietnamese show. Enter into a magical world of wooden puppets diving and splashing across the water stage, accompanied by narration, instruments and singing from musicians seated at either side of the action. There are daily 50-minute performances at 5pm and 6.30pm; tickets available on the door for 230,000VND (£8).
Travel essentials
Getting there
Vietnam Airlines (020 3263 2062, vietnamairlines.com) flies direct from London Heathrow to Tan Son Nhat International Airport (21) from £512 return.
Staying there
Cozy House 160 (22) (0084 91 970 08 09) offers funky décor, a relaxed atmosphere and clean, good-sized rooms in District 1, just down the road from Mariamman Hindu Temple. Doubles from £20, B&B.
Opened last year, Fusion Suites Saigon (23) (0084 28 3925 7257, fusionsuitessaigon.com) is a chic yet fun minimalist hotel next to Tao Dan Park. Breakfast is a cut above, while the hotel's wellness philosophy means every guest gets a free spa treatment for every day of their stay. Doubles from £75, B&B.
The five-star boutique Hotel des Arts Saigon (24) (0084 8 3989 8888, hoteldesartssaigon.com) opened in 2015, offering luxe Indochine style, a fitness centre and spa, and two restaurants, an art café and a rooftop bar. It has an enviable location just five minutes from Notre Dame Cathedral. Doubles from £122, room only.
Join our new commenting forum
Join thought-provoking conversations, follow other Independent readers and see their replies