The Independent's journalism is supported by our readers. When you purchase through links on our site, we may earn commission.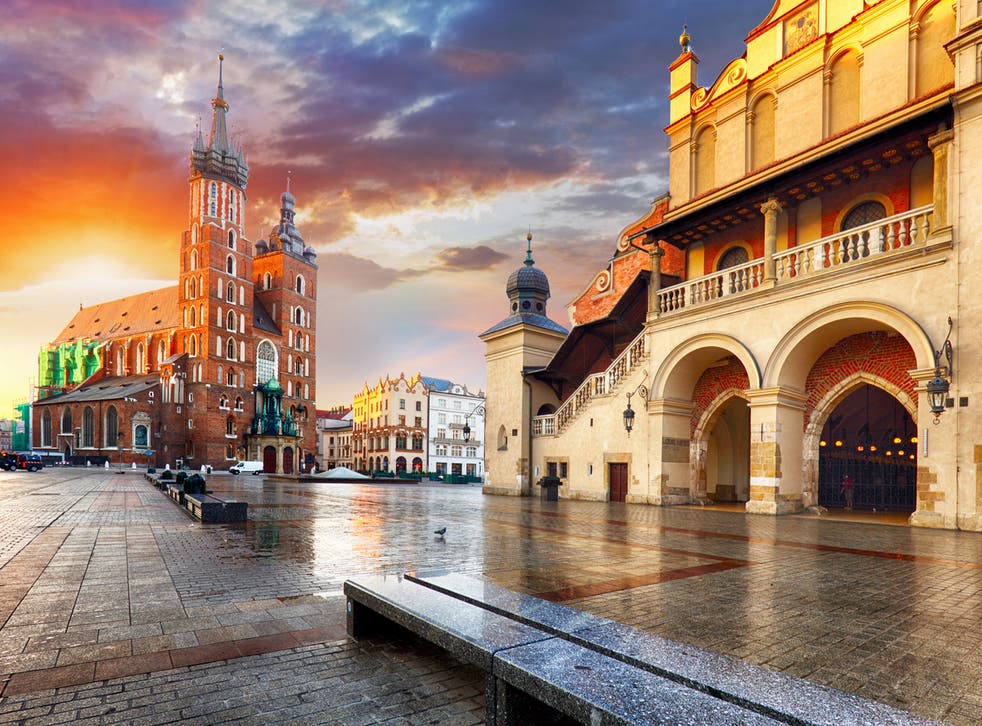 Krakow guide: Where to eat, drink, shop and stay in Poland's second city
How to take the ultimate trip
Poland's second-largest city is very different to its capital. While Warsaw was almost completely destroyed in the Second World War, Krakow emerged unscathed, largely due to its role as a supplies base for the Third Reich. And exploring Krakow's beautiful buildings has become even easier over the past year, thanks to Wizz Air's new flights to the city from both London Luton and Doncaster Sheffield airports.
What to do
Slay dragons at Wawel Royal Castle
Sixteenth-century Wawel Royal Castle is a wonderful mish-mash of architectural styles, divided into five separate sections (each requiring their own ticket): the Crown Treasury and Armoury, State Rooms, Lost Wawel, Exhibition of Oriental Art and the Royal Private Apartments. Put the latter at the top of your list, if only to marvel at the opulent decor, including a huge number of tapestries, some containing 5kg of silver thread. Wawel Cathedral, next door, is also worth checking out.
As you enter, look to your left – above the steps are what locals refer to as the bones of "Smok Wawelski", the Wawel dragon, believed to live under the castle before Krakow was founded (they're actually the bones of a mammoth). Admission varies depending on the section but ranges between 8zł (£1.60) and 27zł (£5.40).
Spend your zlotys in the Cloth Hall
From Wawel Royal Castle, it's a short walk to the city's main square, Rynek Główny (main market), where you'll find the beautiful 13th-century Cloth Hall – a fine example of renaissance architecture, the city's oldest commercial centre and a great place to pick up souvenirs.
Learn about medieval Krakow at Rynek Underground
Rynek Główny is also home to the brilliant Rynek Underground. Some £8m was spent creating this subterranean museum, which allows visitors to explore medieval Kraków by wandering along glass ramps placed above ancient roads, and exploring a former burial ground, market and waterworks. The section explaining the history of the museum, opened in 2010, is fascinating. After excavating the ruins – a process that rendered the square temporarily unusable – the "lid" of the square was simply replaced. Admission is 21zł (£4.20); free on Tuesdays.
Head further afield
The huge Wieliczka Salt Mine, with its underground chapels carved out of salt, is a 30-minute drive from Krakow. During guided tours you'll walk along 2km of tunnels – just one per cent of the entire mine. Tours from 89zł (£17.90) per person.
Where to stay
One of Krakow's newest openings is the stunning Bachleda Luxury Hotel Krakow MGallery By Sofitel (try saying that after a mouthful of obwarzanek), which opened in early 2019 in a gorgeous 19th-century building close to Wawel Royal Castle. The property feels seriously opulent – bedrooms have huge gilt-framed mirrors and sculpted, velvet-covered headboards. Doubles from 800zł (£160), room only.
The Vienna House Andel's Cracow is a colourful, 159-room boutique hotel near the old town. Perks include free bike rental. Doubles from 427zł (£86), room only.
If you're splashing out, the Hotel Copernicus is the A-listers' hotel of choice. The building dates back to the 1500s and rooms are filled with antiques. Doubles from 1,000zł (£200), room only.
Where to eat
One of Krakow's top breakfast spots is Ranny Ptaszek, a retro, pink-hued café run by mother-and-daughter Kasia and Zosia Pilitowska. There's a great selection of hot and cold options, ranging from banana bread to shakshuka (a breakfast dish made with poached eggs) and Hungarian sausage with pickled vegetables.
A delicious, Italian-inspired lunch for two at the chic Spaghetti pizzeria in the main square will set you back around 124zł (£25), including drinks. For something more traditional (but equally cheap), consider the nearby living room-like Pod Baranem, with its wooden beams and antique cabinets. Food is traditionally Polish – there's herring, tripe or barley soup for starters while mains include breaded pork chops and bouillon with savoury dumplings.
For dinner, head to Szara Gęś w Kuchni in the main square for some Polish fine dining. Szara Gęś means grey goose, and it's definitely the star of the show – we recommend the glazed goose leg served with prunes and roasted buckwheat. You'll pay around 280zł (£56) for two, excluding drinks.
Where to drink
It's a common misconception that Krakow is filled with beer halls. But don't despair – the city specialises in quirkiness. You'll find the hip Cybermachina Game Pub in the basement of a city centre apartment block, but don't be put off – this is where locals come to play board games and video games over cocktails or locally brewed beer. The decor is fantastic, with beer pumps resembling the pipes from Super Mario Bros and a colourful, Tetris-inspired bar made from glass blocks.
For something more traditional, try Alchemia in the Jewish Quarter of Kazimierz (where Oskar Schindler had his factory). When night falls, candles light this elegant bar, with its faded photographs and antique furniture, and there's live music in the basement.
Pub Propaganda resembles a communist-era living room, complete with frilly lampshades and photos of Lenin. Fancy a boogie? Hit the dance floor, where locals strut their stuff to 1980s classics, played by a DJ who sits in the amputated cab of a vintage campervan.
Where to shop
Rynek Główny's Cloth Hall is filled with souvenir shops. Items to look out for include fluffy dragons and amber jewellery (brought to Krakow from northern Poland via the Vistula River).
If you're in town on a Sunday, visit the Hala Targowa flea market, near the Jewish Quarter. Be prepared to rummage – there's little you won't find here, whether it's ridiculously kitsch Catholic ornaments, war memorabilia or antique furniture.
Also head to the Jewish Quarter's Galeria Kazimierz shopping centre for international brands such as Benetton alongside Polish ones like W.Kruk for gorgeous jewellery.
Architectural highlight
Nowa Huta (New Town) is a sprawling concrete district on Krakow's outskirts dating back to the 1940s, and was created as the ultimate proletarian city. Its construction was an experiment in social engineering – citizens were informed it was their duty to build this symbol of Poland's prosperous communist future. Every detail was meticulously planned, from the symmetrical boulevards to the clusters of trees, planted to absorb nuclear blasts. The best way to explore it is in a vintage Trabant with Crazy Guides, which owns a fleet of the near-extinct Polish cars. For added authenticity, Crazy Guides rents a flat in Nowa Huta. You'll be welcomed inside the kitsch-filled apartment – restored to its eye-watering 1970s splendour – before being offered a shot of vodka to sip while you watch a documentary about Nowa Huta's construction. Tours from 159zł (£32) per person.
Nuts and bolts
What currency do I need?
Polish złoty (zł).
What language do they speak?
Polish.
Should I tip?
Yes – 10 per cent in restaurants. With taxis, round up to the nearest five złotys (£1).
What's the time difference?
GMT+2.
What's the average flight time from the UK?
Two hours and 25 minutes.
Public transport
Krakow is a walkable city, but there's a good bus and tram network, too. Taxis are incredibly cheap. You'll pay around 25zł (£5) for the 20-minute journey from the airport to Krakow's centre.
Best view
From the top of the 70m-tall Krakow Town Hall tower.
Insider tip
Visit Wawel Cathedral to check out the enormous, one-tonne Royal Sigismund Bell, cast in 1520. Touch it with your left hand and your wishes will (supposedly) come true.
More information
Register for free to continue reading
Registration is a free and easy way to support our truly independent journalism
By registering, you will also enjoy limited access to Premium articles, exclusive newsletters, commenting, and virtual events with our leading journalists
Already have an account? sign in
Register for free to continue reading
Registration is a free and easy way to support our truly independent journalism
By registering, you will also enjoy limited access to Premium articles, exclusive newsletters, commenting, and virtual events with our leading journalists
Already have an account? sign in
Join our new commenting forum
Join thought-provoking conversations, follow other Independent readers and see their replies