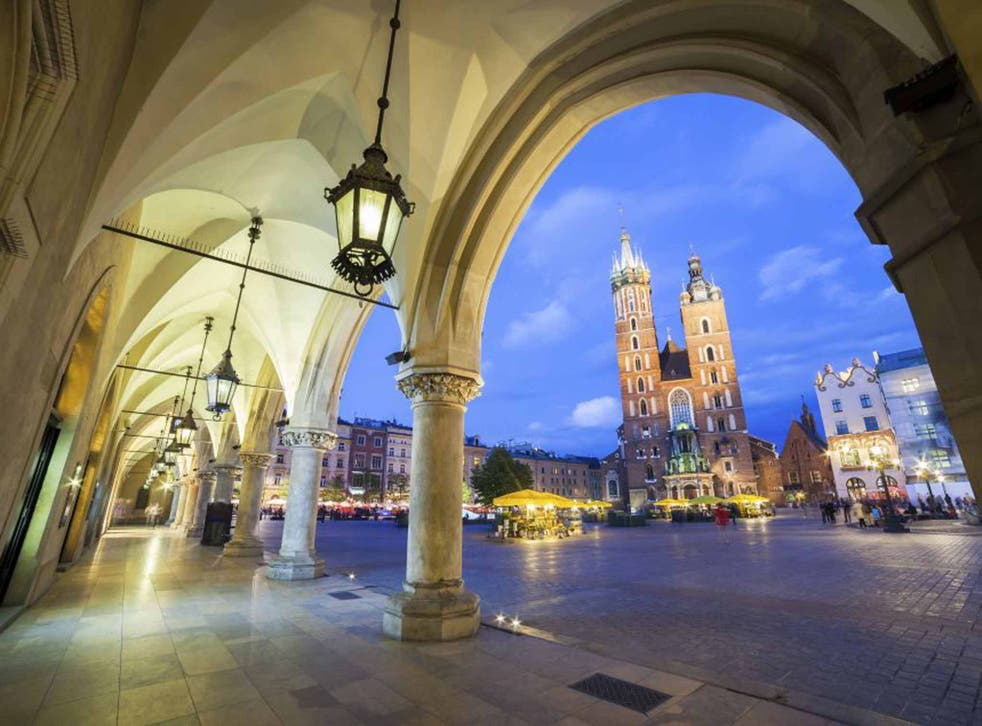 Krakow travel tips: Where to go and what to see in 48 hours
Castles, cathedrals and Copernicus – Poland's second city presents a stellar mix of grand vistas, culture and history, as Mary Lussiana found
Travel essentials
Why go now?
May is the perfect time of year to explore Poland's second city, with summer seeping on to the cobbled squares after the long winter, cafés spilling out on to the pavements and the lilac trees scenting the air. British Airways has this month started flying from Heathrow, increasing the range of travel options
Touch down
British Airways (0344 493 0787; ba.com) flies four times a week from Heathrow to Krakow's John Paul II airport, 12km west of the city centre. BA competes with easyJet (0330 365 5000; easyJet.com) from Gatwick, Bristol, Edinburgh and Liverpool; Ryanair (0871 246 0000; ryanair.com) from Stansted, Manchester, East Midlands, Liverpool, Birmingham, Edinburgh and Leeds/Bradford; and Jet2 (0800 408 1350; jet2.com) from Newcastle.
Bus 208 or 292 (2.80PLN/£0.50), run four times hourly, and take 20 minutes to reach Dworzec Glowny Wschod (1), which is approximately 10 minutes' walk from Market Square.
Get your bearings
Krakow is easy to negotiate. Its centre, comprising the old town and Wawel Hill (2) where the Royal Castle and Cathedral sit, are hemmed in by the Vistula on one side and the Planty – a green belt of parks which replaced the city walls in the early 19th century – on the other. To understand the beating heart, and history, of the city, go first to the magnificent Market Square (Rynek Glowny) in the old town, where you'll find the main tourist office (3) at Rynek Glowny 1-3 (00 48 12 4337310; krakow.pl; 9am to 7pm daily). The square is dominated by the asymmetrical spires of St Mary's Church (4). As you listen to the bugle playing to mark each hour – with its abrupt ending which signifies and commemorates the bugler's death from a Tatar arrow in 1241 – you understand that this is a country whose spirit, despite repeated invasion, has never been broken.
Check in
Hotel Copernicus (5) at ulica Kanonicza 16 (00 48 12 424 34 00; copernicus.hotel.com.pl) stands on Krakow's oldest street. Its Gothic façade is easily spotted among the jumble of Renaissance palaces. Beautifully converted to a 29-room hotel, with swimming pool in the medieval cellars and frescos from the 15th century on the walls, this was where the astronomer Nicolaus Copernicus stayed when in town – doubles from 833 PLN (£152) room only.
The beautifully decorated Hotel Gródek (6) at ulica Na Gródku 4 (00 48 12 431 90 30; donimirski.com) abuts the medieval convent of the Dominican sisters, minutes from Market Square on a tranquil cul-de-sac. It offers roof-top dining with views over Krakow's skyline and doubles from 610 PLN (£109) with breakfast.
The Hotel Polski pod Bialym Orlem (7) at ulica Pijarska 17 (00 48 12 422 11 44; donimirski.com) is in an excellent location by St Florian's Gate. This ancient hotel has recently been renovated to produce adequate, if not design savvy, accommodation – doubles from 350 PLN (£62), with breakfast.
Click here to see a bigger image of the map
Day one
Take a hike
Snack on traditional obwarzanki (Krakow's take on a bagel which is now on the EU's protected food list), sprinkled with poppy seeds and a little salt at any one of the cafés around the Rynek Glowny (3) before heading south, out of the square, along ulica Grodzka to Wawel Hill (2) (00 48 12 422 5155; wawel.krakow.pl; open daily 9am to 7pm), a symbol of national pride which rises above the city and is home to both the Royal Castle and Krakow's 14th-century cathedral (katedra-wawelska.pl). Although the capital of Poland was moved from Krakow to Warsaw at the end of the 16th century, royal coronations and funerals continued to take place here, with many dignitaries buried in the cathedral which houses the relics of Saint Stanislaw, the nation's patron saint.
The Renaissance castle currently houses Leonardo da Vinci's beautiful painting, Lady with an Ermine. Exhibitions within the Royal Castle require separate tickets (from 3PLN/£0.50 to 25PLN/£4.50, depending on which one you visit) and can be reserved at 00 48 12 422 16 97. Be aware that visitor numbers are restricted. The cathedral is open from 9am to 5pm, Monday to Saturday, and 12.30pm to 5pm on Sundays. The castle is open from 9am to 5pm daily; but only to 1pm on Mondays (wawel.krakow.pl).
Window shopping
With many independent boutiques and shops closing around 3pm on Saturdays, make your way back to the main square along ulica Grodzka (8) pausing for lunch (see below) and take the opportunity to browse the amber shops as you go. Pop into Pasaz 13 just off the Market Square (3) at Rynek Glowny 13, an arcade of beautifully elegant shops housed within an old palace, then work your way along the little streets north of it. Baltic amber proliferates and lovers of chunky jewellery will be well served at World of Amber (9) at Floriańska 13 and 22 (00 48 12 422 70 41; worldofamber.pl). Don't miss the typical Boleslawiec pottery at Mila (10), Slawkowska 14 (00 48 12 422 40 82; mila.shop.pl).
Lunch on the run
Dip down into the charming cellars (or if it's sunny take a table on the pavement) of the 13th-century Pod Aniolami (11) at Grodzka 35 (00 48 12 421 39 99; podaniolami.pl). Centuries ago, the restaurant was home to Krakow's goldsmiths. Enjoy typical Polish specialities, from pierogi (similar to ravioli) to suckling pig spit-roasted over the fire (from 28 PLN/£5).
Cultural afternoon
Also underground but this time, under the Market Square (3), is a fascinating branch of the city's Historical Museum (00 48 12 426 50 60; mhk.pl; entry 18PLN/£3.25). This multimedia museum, opened in 2010, recreates Krakow's past with the help of a huge collection of artefacts (10am to 5.30pm Tue to Sun, closed Mondays).
An aperitif
Krakow is said to have more bars per capita than any other European city. Bunkier (12) at plac Szczepanski 3a (00 48 12 481 05 85; bunkiercafe.pl) is attached to a contemporary art gallery and has a terrace in the Planty gardens. Explore the many Polish beers on offer (from 9PLN/£1.60).
Dining with the locals
Just round the corner at Szczepanski 5 is the beautiful Trzy Rybki (13) (00 48 12 384 08 06; stary.hotel.com.pl), in the vaulted cellar of Hotel Stary. Here, Polish food takes on a new elegance – try the duck breast with rhubarb jam (79PLN/£14).
For something more rustic, head to Marmolada (14) at Grodzka 5 (00 48 12 396 49 46; marmoladarestauracja.pl) and indulge in the memorable potato pancakes with lashings of sour cream (13PLN/£2.30).
Day two
Sunday morning: go to church
Visit St Mary's Church (4), plac Mariacki 5 (00 48 12 42205 21; mariacki.com) for the chance to see the world's largest Gothic sculpture – the polyptych high altar carved in the 15th century by Veit Stoss. Don't miss the wonderful stained glass in the nave either. Mass is held at 8am, 9am, 10am, 11.15am, noon and 1pm. Later in the day, the opening hours are 2pm to 6pm (admission 10.5PLN/£1.88).
A walk in the park
Walk through leafy Planty, a park which encircles the old town, and go into Kazimierz. This area was the home for more than 500 years of Krakow's Jewish community, which was destroyed during the Second World War; its renovation only began in the 1990s. Today, it is one of the city's most lively districts having been put on the map by Steven Spielberg's film Schindler's List, much of which was filmed here. Stop at the Old Synagogue (15) on Szeroka 24, built on the cusp of the 15th and 16th centuries and the oldest surviving example of Jewish religious architecture in Poland (9am to 5pm; 00 48 12 422 09 62; mhk.pl; admission 9.7PLN/£1.75).
Out to brunch
If the weather is balmy, wend your way through the old streets to one of Krakow's nicest beer gardens, Mleczarnia (16) at Meiselsa 20 (00 48 12 421 85 32; mle.pl) for a beer or a shot of ice-cold Polish vodka (from 7PLN/£1.25) before walking to Moment (17) at Jozefa 26. It's best to reserve a table here because it is one of the few places that offers brunch dishes and is popular with a hip crowd. Dishes include the typical Polish scrambled eggs with crispy pieces of bacon folded in (00 48 668 03 40 00; momentcafe.pl).
Icing on the cake
Some 15km south-east of Krakow lies the Unesco World Heritage Site of Wieliczka (18), a deep salt mine which has been worked continuously for more than 700 years and incorporates a museum (00 48 12 278 73 02; wieliczka-saltmine.com). Take a train (koleje malopolskie) from Krakow Glowny station (19) – they depart every 30 minutes (3PLN/£0.55) to Wieliczka Rynek- Kopalnia.
Hewn by hand from solid salt, the showpiece in this extraordinary underground museum is the Chapel of St Kinga, complete with salt chandeliers that took two brothers from 1895 to 1927 to complete. Guided tours in English run hourly from 10am to 5pm and cost 64 PLN/£11.50. You can obtain tickets from ebilety.kopalnia.pl.
Click here to view Krakow tours and holidays, with Independent Holidays.
Join our new commenting forum
Join thought-provoking conversations, follow other Independent readers and see their replies