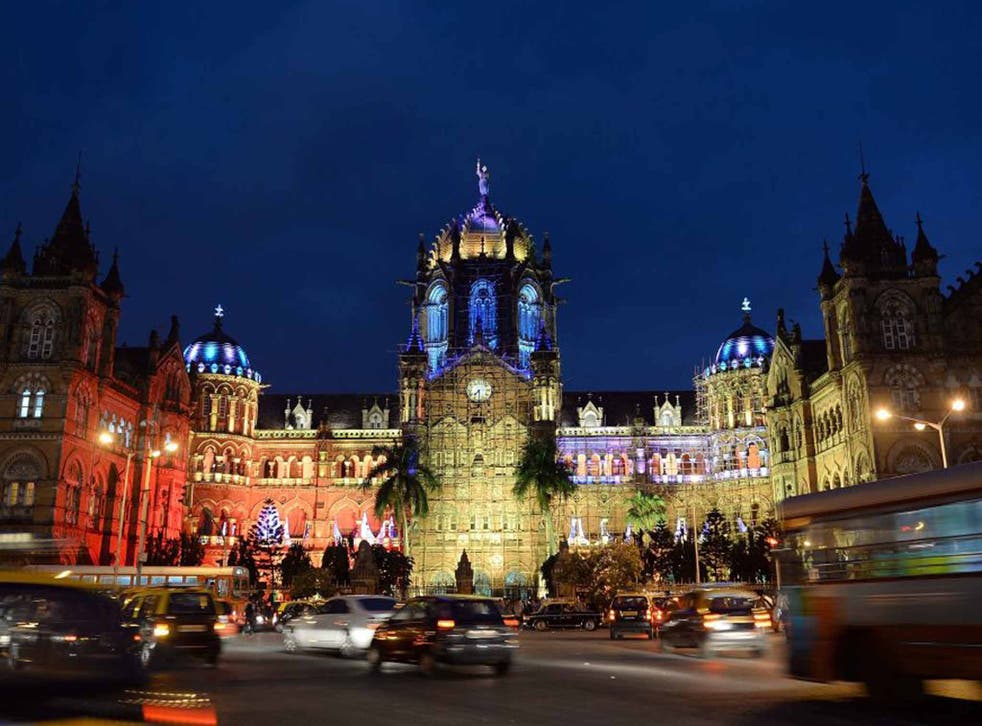 Mumbai travel tips: Where to go and what to see in 48 hours
Make the most of bargain air fares with a visit to this vast and dazzling seaside city, where culture, fashion and history meet, writes Chris Leadbeater
Travel essentials
Why go now?
India's most populous city is a vibrant swirl at any time, but is especially alluring during the British winter. And as Virgin Atlantic prepares to axe its flights from Heathrow at the end of the month, prices are falling – with as little as £550 buying you a week in the city with Expedia.co.uk.
In March, Mumbai will underline its style credentials with the bi-annual Lakme Fashion Week (lakmefashionweek.co.in) – which will pin itself to the Palladium Hotel (1) in the westerly Worli district (462 Senapati Bapat Marg; 00 91 22 6162 8000; palladiumhotel.in) for five fashion-filled days (18-22 March).
Touch down
Chhatrapati Shivaji airport (00 91 22 6685 1010; csia.in) sits 23km north of the city's core. There are four non-stop flight options from the UK, all from Heathrow: British Airways (0844 493 0787; ba.com), Air India (020 7760 3290; airindia.com), Jet Airways (0808 101 1199; jetairways.com) and, until 31 January, Virgin Atlantic (0344 209 7310; virgin-atlantic.com).
Book a taxi via a firm such as Meru Cabs (00 91 22 4422 4422; merucabs.com), at one of the booths in the arrivals area. Expect to pay 700 Indian rupees (£7) for a journey (90 minutes during the day) to downtown Colaba.
On organised tours, transfers tend to be included. I travelled with Cox & Kings (020 7873 5000; coxandkings.co.uk) – with whom three nights at the Taj Mahal Palace (2) cost from £1,295, including flights, transfers and breakfast.
Get your bearings
The state capital of Maharashtra, Mumbai shines on India's western coast, spreading out along a tapering peninsula.
The key districts lurk in the south of the city, each with a distinct character: Colaba (shops and hotels), Kala Ghoda (museums), Fort (colonial landmarks), Dhobitalao (markets and cafes), Girgaon (beaches) and Gamdevi (leafy calm). Bandra, in the northwest, is renowned for its elegant homes of Bollywood stars.
Taxis, charged at R120 (£1.20) a kilometre, are also the best way around this metropolis of 18 million – although visitors can brave the five lines of the crowded Mumbai Suburban Railway (mumbailifeline.com). A one-day first-class "Tourist Ticket" costs R270 (£2.90).
There is a Government of India tourist office (3) at 123 Maharshi Karve Road (00 91 22 2203 3144; tourism.gov.in) in Fort, open daily 8.30am-6pm except Saturday (to 2pm) and Sunday (closed).
You can find more information at maharashtratourism.gov.in and incredibleindia.org.
Check in
Chateau Windsor (4) (00 91 22 6622 4455; chateauwindsor.com) is a simple but comfortable option at 86 Veer Nariman Road in Fort. Doubles from R4,500 (£45), with breakfast.
The Taj Mahal Palace (2), on the Colaba seafront street of PJ Ramchandani Marg, is the city's 1903 grand dame (00 91 22 6665 3366; tajhotels.com) – doubles from R12,916 (£129) with breakfast.
It has a sibling, too – the sumptuous Taj Lands End (5) (00 91 22 6668 1234), located on Bandstand Road in Bandra. Doubles start at R11,477 (£114), room only.
Click here to see a bigger image of the map
Take a hike
Start in Dhobitalao, at the junction of Lokmanya Tilak Marg and Dadabhai Naoroji Road, where Crawford Market (6) stands proud. The name refers to a British Raj official, but the vibe is pure India; a cacophonous hall, dating to 1869, where everything from fruit to cosmetics is sold.
Gaze at the stalls of live poultry and pots and pans, then head south on Dadabhai Naoroji Road into Fort – and to Chhatrapati Shivaji Terminus (7), at the avenue's meeting with Mahapalika Marg. Completed in 1887, and formerly called the Victoria Terminus, it is a temple to both the colonial era and train travel – a Unesco World Heritage site where the huge ticket hall is a wonder of stained glass and giant pillars.
Directly opposite the entrance, the Municipal Corporation Building (8) (City Hall) is another Raj relic that was completed in 1893.
Cultural morning
South of Fort, Kala Ghoda is Mumbai's cultural heart. Chhatrapati Shivaji Maharaj Vastu Sangrahalaya (9) at 159-161 Mahatma Gandhi Road (00 91 22 2284 4484; csmvs.in; daily 10.15am-6pm; R300/£3) holds 50,000 Indian treasures – from Buddhist statues to a 17th-century manuscript of the Hindu epic Ramayana.
Adjacent on the same road, the National Gallery of Modern Art (10) has works by Indian masters Vasudeo S Gaitonde and Akbar Padamsee alongside pieces by Picasso. Open daily 9am-5pm (except Monday; closed), tickets R150 (£1.50) (00 91 22 2288 1969; bit.ly/NatGalMum).
Over in Gamdevi at 19 Laburnum Road, Mani Bhavan (11) (00 91 22 2380 5864; gandhi-manibhavan.org) was Mahatma Gandhi's home from 1917 to 1934 (daily 9.30am-6pm; donation appreciated). His top-floor room, where he perfected his doctrine of non-violent protest, is preserved behind glass, as is a hopeful 1939 letter to Hitler asking for restraint.
Lunch on the run
Britannia & Co (12), at 11 Sprott Road in Fort (00 91 22 2261 5264), is a Mumbai jewel, one of its dying breed of Iranian cafes – where a mutton sali boti stew costs R380 (£3.80).
Window shopping
Colaba is awash with options that sing to your wardrobe. Bombay Electric (13), at Reay House on Best Marg (00 91 22 2287 6276; bombayelectric.in), specialises in Bollywood fashions. You can find good value in the smart shirts of Mangal Cloth Stores (14) (00 91 22 2283 1039), at 26 Rajwadkar Street – and in the bright saris of Neeta Garments (15) (00 91 22 2202 0918) at 55 Shahid Bhagat Singh (SBS) Marg.
If the shopping experience leaves you feeling drained, get a sugar boost at nearby Colaba Sweet Mart (16) (00 91 22 2288 0074), at 37 Ruby Terrace on SBS Marg, where you will find Indian treats such as jalebi – syrupy deep-fried wheat pretzels.
An aperitif
The Harbour Bar at the Taj Mahal Palace (2) is the city's most refined watering hole. Try its Way To Heaven cocktail – a mix of lemon, tequila, ginger and chili – for R850 (£8.50).
Dining with the locals
In Colaba, Indigo (17), at 4 Mandlik Road (00 91 22 6636 8981; foodindigo.com), is one of Mumbai's most respected gastronomic hotspots, serving Asian-European fusion fare under star chef Rahul Akerkar – including lemongrass risotto with ginger and asparagus for R1500 (£15).
Or, for a more informal dinner, wander to iconic pitstop Leopold Cafe (18), at 166 SBS Marg (00 91 22 2282 8185; leopoldcafe.com) – where scores of backpackers eat fish curry with rice for R390 (£3.90).
Day two
Sunday morning: go to church
Perched in Fort on Veer Nariman Road, next to the tranquil Horniman Circle Gardens (19), St Thomas's Cathedral (20) (00 91 22 2283 9783) is another of Mumbai's colonial landmarks. Open daily, 6.30am-6pm.
More in keeping with Mumbai's religious mood, the Mumba Devi Temple (21) sits in Bhuleshwar. The story of this Hindu enclave – dedicated to the city's patron goddess, Mumba – dates to 1675. It is open daily 5am-12pm and 4-8pm (closed Mondays).
Out to brunch
Dash to Babulnath Road in Gamdevi, where Soam (22) opposite the Babulnath Temple (00 91 22 2369 8080) focuses on street food. Try the Rajasthani take on gatte ki subzi – chickpea dumplings in spicy gravy – for R200 (£2).
Take a ride
Return to PJ Ramchandani Marg on the Colaba waterfront, and join the crowds taking photos of the Gateway of India (23) – the dramatic, if somewhat pompous, 85ft basalt arch inaugurated in 1924 to commemorate George V's 1911 visit.
From here, you can visit one of the city's most glorious attractions, the Elephanta Caves – which lurk on the island of the same name, five miles north-east of Colaba in Front Bay. Boats depart from the jetty (24) behind the Gateway of India, daily (except Mondays), every half hour, tickets R120 (£1.20).
Entry to the cave complex (asi.nic.in; daily except Monday, 9am-5pm) – five Hindu temples filled with intricate sculptures and two Buddhist caverns – costs R250 (£2.50).
A walk in the park
For all its image as a city of clutter, Mumbai has a lot of open space. Much of it is found in a north-south line, just west of Fort, where three separate parks once comprised the Raj city's "Esplanade". Azad Maidan, the biggest, flows into the Cross Maidan, before the scene is garnished by the Oval Maidan. All three are devoted to cricket. But there are echoes of the past alongside Oval Maidan (25), where the University of Mumbai (00 91 22 2654 3000; mu.ac.in) rises on the other side of Karmaveer Bhaurao Patil Marg. The campus has been closed to the public since the 2008 terror attacks – but you can't miss Gilbert Scott's dreamy Rajabai Clock Tower (26).
The icing on the cake
Take in the sunset on the broad curve of Chowpatty Beach, the city's prime slice of sand. It may feel as if the whole metropolis is here, so if the crowds are too much, cross Marine Drive to the Bachelorr's stall (27) at 45 Chowpatty Seaface – an institution which has been selling ice cream since 1940. Try the ginger (R47/47p).
Join our new commenting forum
Join thought-provoking conversations, follow other Independent readers and see their replies