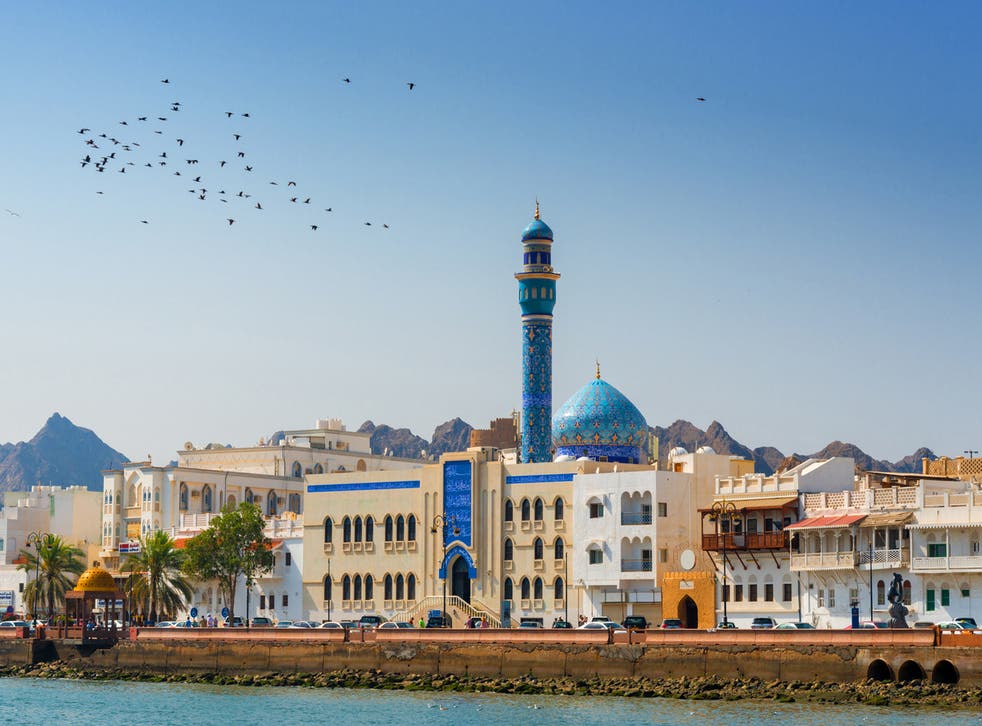 Muscat city guide: Where to eat, drink, shop and stay in Oman's capital
Ultra-modern mosques, hidden bars and secret beaches await
Sarah Reid
Wednesday 11 December 2019 16:18 Comments
With its striking low-rise architecture and dramatic mountain backdrop, Muscat is arguably the Gulf's most characterful capital. Opened in 2018, the city's glitzy international airport hints at Oman's high prices, but with a bit of planning, a wallet-friendly city break is perfectly possible. Returning visitors shouldn't miss the National Museum, while adventure-seekers will find wadis, dunes, peaks and secret beaches all within easy reach of the city.
The Independent's hotel recommendations are unbiased, independent advice you can trust. On some occasions, we earn revenue if you click the links and book, but we never allow this to affect our coverage.
What to do
Stroll the Mutrah corniche
The Mutrah neighbourhood stretches around an attractive crescent bay of latticed buildings backed by a jagged mountain range. Aside from the pleasant views, the main attraction is the Mutrah Souq (open daily), arguably the best spot in town to pick up souvenirs from frankincense to kumma (Omani caps).
Ogle the Sultan's Palace
You can't go in, but the wonderfully retro Al Alam Palace in Old Muscat with its blue and gold mushroom-style pillars is well worth a gander from the outside. Built in 1972, the palace – one of six official residences of Sultan Qaboos – is used for official functions.
Explore the National Museum
Opposite the sultan's palace, this state-of-the-art museum opened in 2016 showcases Omani heritage dating back to the prehistoric era. Along with discovery areas for children, the National Museum (OR5) also houses the "Collection" gallery where visitors can observe museum staff prepping artefacts for display.
Marvel at the Grand Mosque
A gift to the nation from Sultan Qaboos to mark his 30th year of reign, this splendid piece of modern Islamic architecture features a magnificent main prayer hall, with a Persian carpet measuring 70m by 60m that took 600 women four years to weave. Entry is free, but bear in mind it's only open to non-Muslims from 8am to 11am Saturday to Thursday.
Spend a night at the opera
Designed by the same architects who dreamed up the Grand Mosque, the imposing white Royal Opera House Muscat is worth a visit just to admire its stunning fusion of wood, marble and arabesque design. Guided tours run Saturday to Thursday, and cost OMR3 (£6) per person (bookings essential). The performance season runs from September through May.
Go scuba diving
Oman boasts some of the best diving in the Gulf, its vibrant, unspoiled reefs teeming with tropical fish, turtles, giant moray eels, nudibranchs and other colourful critters. Next to the Shangri-La Al Jissah resort in Qantab, 20 minutes' drive east of the city centre, Extra Divers is a highly professional outfit running daily dives to more than 20 nearby sites. If you're lucky, you may even spot a whale shark or two.
Swim in wadis
Arabic for valley, oasis-like wadi with their lush, turquoise pools are dotted all over Oman. If you have a hire car, Wadi Al Shab is an easy day trip. After leaving your car in the parking area, 153km south of Muscat, pay the boatman OMR1 (£2) to ferry you to the trailhead, from where it's a scenic, 40-minute walk to the beginning of the swimming area. En route, don't miss the cerulean Bimmah Sinkhole, just off the highway 125km south of Muscat. Note that other popular wadi, such as Wadi Al Arbiyeen, require a 4WD vehicle.
Where to stay
Set on its own private beach, the sprawling Shangri-La Barr Al Jissah is among Muscat's more affordable luxury escapes. There are three hotels on the property – the family-friendly Al Waha, more adult-oriented Al Bandar, and super-luxe adults-only Al Husn. The immaculate grounds feature several palm-shaded pools, including a lazy river, with a new southeast Asian restaurant recently added to its dining offerings. Doubles from OMR90 (£208), B&B.
It's not easy to find a bargain in Muscat (there are no hostels), but with amenities including a rooftop pool, as well as a complimentary sauna and steam room (separate facilities for men and women) and free parking, the Levatio Hotel in the city centre is a good deal, with regular discounts available via booking websites. Doubles from £81, room only.
If you're visiting for a long weekend, consider spending one night at a desert camp in Sharqiya Sands (also known as Wahiba Sands), a sea of dunes stretching nearly 200km south of Ibrah (156km southeast of Muscat). If you don't have a 4WD, resorts including the sumptuous Arabian Nights-esque Desert Nights Camp can arrange transfers. Doubles from OMR 120 (£248), half board.
Where to eat
Tucked behind Mutrah's renovated fish market, Bait Al Luban is a Muscat must-eat. Housed in a 140-year-old khan (guesthouse), this charming restaurant serves classic Omani dishes such as shuwa, marinated meat roasted in an underground firepit for six hours, with thoughtful touches such as drinking water infused with frankincense, with Arabic coffee and fresh dates offered after your meal.
In the heart of the commercial district, Kargeen is another top choice for Omani cuisine – book a table in the leafy courtyard if it's cool enough to eat outside (ie not in summer).
For some of the best Indian food you'll taste outside the subcontinent, friendly Begum's (Al Khuwait St, just east of The Avenues mall) is terrific value for Muscat – the serving sizes are so generous that one curry is best shared between two.
If you can't afford to stay at The Chedi Muscat, dining at its luxe seaside restaurant, The Beach, is the next best thing. Seafood dominates the innovative menu, with deserts crafted by the hotel's French pastry chef – expect to part with around OMR100 (£207) for a meal for two.
Where to drink
The subject of alcohol is a complex one in Oman, as it is in many Gulf nations – you have to be over 21 to buy a drink legally, and "public intoxication" is against the law, so easy does it.
For a stiff drink, head to Duke's Bar, an English-style pub at the Crowne Plaza Muscat, which has a huge terrace overlooking the hotel pool and Qurum Beach beyond. At the other end of the long beach, the InterContinental Hotel's Polynesian-themed Trader Vic's is another expat favourite (go on, order a Mai Tai). The hotel also has its own pub, Al Ghazal, which has good bar food.
If high tea is more your thing, the Grand Hyatt Muscat's Arabian-styled Sirj Tea Lounge is the place to take it.
Where to shop
For such a modern city, it may surprise you to find Muscat lacking in Dubai-esque malls. But there's still some retail therapy to be had. Beyond Mutrah Souk, don't miss the Omani Heritage Gallery in Shatti Al Qurum for beautifully made (but pricey) handicrafts.
And no trip to Muscat would be complete without a visit to the Amouage perfumery, which sells some of the most exquisite scents on the planet alongside bath and body products. There's a store in the Sabco Centre in Qurum, or you can call into the Amouage Visitor's Centre and Factory, just west of the airport on Nizwa Highway, for a tour of the factory.
Architectural highlight
Oman's coastline is sprinkled with well-preserved Portuguese-era fortifications. Guarding the Old Town's harbour, Al Jalali and Al Mirani, both dating back to the 16th century, are Muscat's most dramatic relics. Neither are open to visitors (unless you gain advance permission from the Ministry of National Heritage and Culture to visit the museum of Omani heritage in Al Jalali Fort) but you can get a good look at them from the harbour front.
Nuts and bolts
What currency do I need?
Omani rial (OMR)
What language do they speak?
Arabic
Should I tip?
A service charge is generally added to bills, so there's usually no need to tip. Otherwise, 10 per cent is adequate.
What's the time difference?
Four hours ahead of the UK.
What's the average flight time from the UK?
Approximately seven hours and 10 minutes.
Getting around
Hiring a car from the airport is the best option, as Muscat's sights are spread out, and taxis (and day tours) aren't cheap. Petrol, however, is a bargain.
Best view
For splendid views of the Mutrah corniche, make the short climb to the giant ornamental incense burner in Riyam Park at the northeast corner of Mutrah's harbour.
Insider tip
Qurum is Muscat's main swimming beach, but more attractive stretches of sand (and clearer water) can be found exploring with a hire car. Forty minutes' drive east of the city centre, Yiti Beach is a local favourite.
Register for free to continue reading
Registration is a free and easy way to support our truly independent journalism
By registering, you will also enjoy limited access to Premium articles, exclusive newsletters, commenting, and virtual events with our leading journalists
Already have an account? sign in
Join our new commenting forum
Join thought-provoking conversations, follow other Independent readers and see their replies