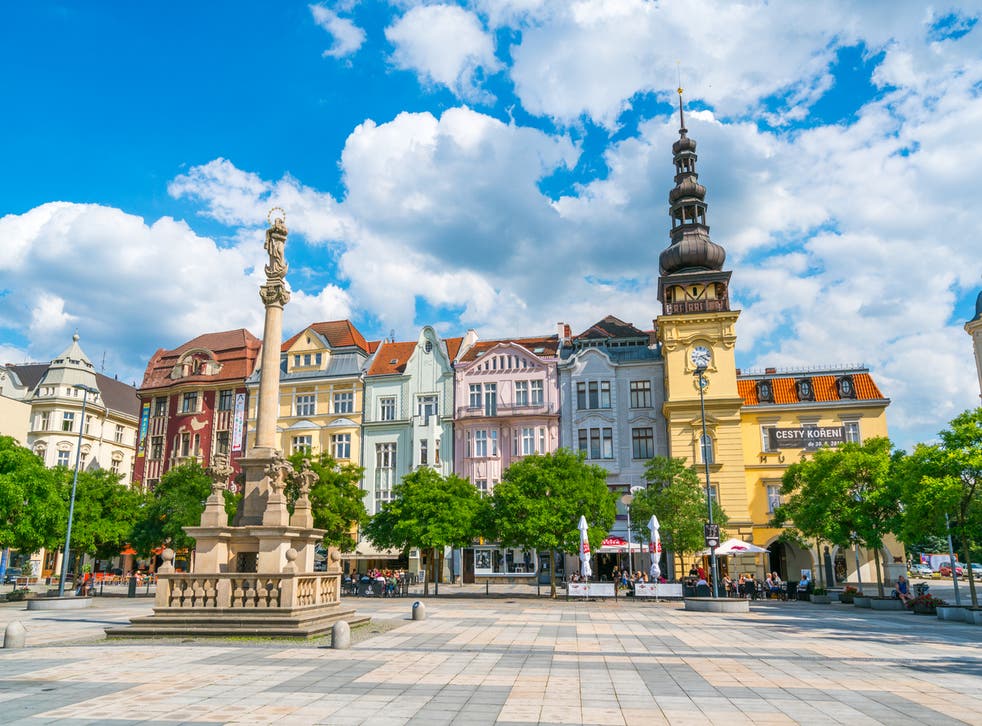 Ostrava city guide: Where to eat, drink, shop and stay in the Czech Republic's far east
How to spend the ultimate weekend
Ostrava, the curious Czech third city that's not quite Prague and not quite Brno, has a hard story to sell. It's more famous as the country's "steel heart", an industrial behemoth smothered by smog and characterised by coalfields, steelworks and steampunk architecture. What's to like?
But – surprisingly – it works. This is the Czech Republic without the global obsession and galling crowds. Without the queues and inflated restaurant and bar prices. The Czech Republic of beer-inclined locals, sublime architecture, seductive restaurants, magical squares and unfamiliar attractions. Over the years, the rise of budget airlines has unwittingly introduced many people to a wider world – and Ostrava is reaping the benefits.
What to do
Get dirty at Lower Vitkovice
A steel factory? Seriously? Oh, just you wait. Dolni Vitkovice – or DOV, as it's better known – is an extraordinary industrial relic. On the surface, it's a 4km squared maze of towering blast furnaces, coke ovens, pig-ironworks, smelters, compressors and gantries, smacking of Chernobyl otherness and the decayed beauty of Mad Max.
Ostrava city guide

Show all 6
And yet after iron production ceased, DOV was turned into an ingenious community hub and nowadays it is used for something far more inspiring. There's an art gallery and creative studio. An observatory tower. A concert hall. A hotel. A climbing wall. A shipping hoist has been turned into an open-air lift. Plus, there's more to come: the next stage of the industrial development will open later this year.
To experience DOV at its mind-bending best, buy a ticket for the annual, multi-genre Colours of Ostrava music festival in July. Over the years, the headliners have included The Cure, Sigur Rós and Robert Plant; amid the ghosts of industry the music takes on a whole new level of visceral beauty.
Head underground
Somewhere deep below ground, the mine cage swings open and the people follow. There is no accompaniment, just the grind and rattle of the lift shaft and the dread of the day ahead. At least, this is how you imagine it would have been for the miners at the Landek Park and Michal Mine, located 8km outside Ostrava. Today, this warren of underground seams and shafts has been turned into a walk-through museum that charts the perils of coal mining – the industry that turned Ostrava from backwater town into one of Europe's most industrious engines. The heavy lifting was done here and no detail is spared at the historic Anselm pit from the machine, lamp and boiler rooms to the gritty changing rooms.
Now get high
Ostrava's New City Hall is hardly the Eiffel Tower. It's the blow-dried stereotype of an Art Deco concrete block, plonked on a geometric square, and not much to look at really. There's a four-faced clock and above that a lift-accessible viewing platform. But this symbol of the city holds a commanding position and an hour spent 85.6m above street level doubles as a brief journey into the geopolitical and economic history of Moravia and Silesia, the two regions the city is split between. Beyond the spires of the Cathedral of the Divine Saviour and socialist panel houses are views of gently smoking slag heaps and the steel bones of the ArcelorMittal plant, the horizon given over to the Marianske Hory and Jeseniky Mountains along the Polish border. The joke goes that 25 years ago, there was just one colour in Ostrava: grey. Today, the amount of green space is overwhelming.
Have a castle to yourself
Absorbed into the core of the city, the 13th-century Silesian Ostrava Castle doesn't fit with present times. Located on a hillock above the confluence of the Ostravice and Lucina rivers, it's out of sync with its surroundings and yet offers an entirely different perspective to all the industry. There are medieval cloisters to discover, a museum telling the stories of witchcraft and torture and – bizarrely – cellars repurposed as an aquarium.
See what's next
Every few blocks reveal a snapshot of what's to come. Comparisons to Prague are unavoidable because it dominates all cultural life in the country, but here there are cold brew coffee shops, arts festivals, restaurants in repurposed buildings and a tangible craft beer boom (a few years late, but still). Such emptiness is enviable because it hints at the promise of what's possible.
Where to stay
If you like your hotel rooms amped-up with boutique touches, prepare to be disappointed. Ostrava's hotels are – for the most part – functional and business-like. One such place is Harmony Club Hotel, a no-frills skyscraper with bar and ground-floor restaurant that's a quick tram stop to all the main sights. Doubles from £42.
For something more eccentric, Chateau Zabreh is a historic castle hotel, restaurant, cultural monument and beer and wine spa rolled into one. Explore its baroque interior, historic vaults, ornate gardens and courtyard, or simply sign up for the obvious – a beer oil scrub in a wooden tub in the medieval cellar. Doubles from £69.
Where to eat
Hogo Fogo is a bistro in what was once a derelict red-brick building. The menu ping pongs between Czech classics (pork in every form) and what passes for culinary fashion in Eastern Europe (fusion noodle salads and fancy burgers). The management have a food truck too. On our midweek visit, several parties were turned away at the door, so book ahead.
Despite the trend for exposed piping, industrial furniture and dangly lightbulbs, many of the most memorable meals in Ostrava can still be had at no-frills, functional pubs that haven't changed since the 1950s. Enter Pivnice u Rady and you are instantly amid a cast of extraordinary characters who come for unpasteurised pilsner straight from the tank and dishes like smoked beef tongue, fallow deer stew and roasted pork knuckle. The air reeks of goulash and you've forgotten what year it is, but you could linger here for hours.
Where to drink
Stodolni street – or Barn street – comprises shoulder-to-shoulder restaurants, absinthe bars and clubs that, seen in daylight, suggest everyone had a very late night the day before. It was once a strip of downbeat slaughterhouses and barns, not that you could tell today from the neon and flashing signs. Places open and shut regularly, so follow your nose, particularly on a Friday and Saturday when students make it one long street party.
The words "craft beer" may be toxic to many drinkers nowadays, but in Ostrava the scene is gaining traction. One brewer responsible for this is Brazilian obsessive Giovani Caruso MacDonald who mans the taps at Hobit Club, a JRR Tolkien-influenced pub that churns out litres of Qasek. Also spearheading the movement is Hoppy Dog, which specialises in IPAs and American Pale Ales that don't mess around with the ABV.
The Czechs love their beer, of course, but coffee just as much. U Cerneho Stromu on Prokesovo Namestí is the rabbit hole to fall into, with wonderful flat whites, cakes, bagels, doughnuts and the most-lauded baristas in the city.
Where to shop
The first concept store in the city, Ty Identity is stocked with clothes, jewellery and quirky souvenirs and presents from the region's up and coming designers. A couple of blocks away you'll find CVRK, a shop in a similar vein and loaded with accessories and clothing.
Architectural highlight
Dolni Vitkovice tops the list. But for something entirely different, check out the Ema Heap, the only state-protected heap in the Ostrava-Karvina region. On paper it sounds like an ecological horror show, but the unlikely fusion of waste rock topped by birch forest is oddly beguiling. Hike to its summit at 315m for a bamboozling view of industrial real estate colliding with nature.
Nuts and bolts
What currency do I need?
Czech koruna.
What language do they speak?
Czech.
Should I tip?
Restaurant staff will be over the moon with 10 per cent.
What's the time difference?
One hour ahead of the UK (Central European Time).
What's the average flight time from the UK?
Around 2hrs 15mins. There are direct flights from London Stansted with Ryanair.
Public transport
Both public bus and the train connect the airport with the city centre. It should take no longer than 30 minutes. Within the city, locals get around by tram and bus, with rides costing no more than £1. Route information and schedules can be found here.
Best view
Few views in the Czech Republic compare to the one from the Bolt Tower, the glass-on-steel cafe at the top of Dolni Vitkovice. If you're curious about its backstory, it's named after all-conquering athlete Usain Bolt who visited the city several times for track meets.
Insider tip
Download the Rekola app, find a bike, unlock it and ride anywhere in the city. It's free for the first 15 minutes and 65p for an hour.
For more information, visit czechtourism.com
Join our new commenting forum
Join thought-provoking conversations, follow other Independent readers and see their replies