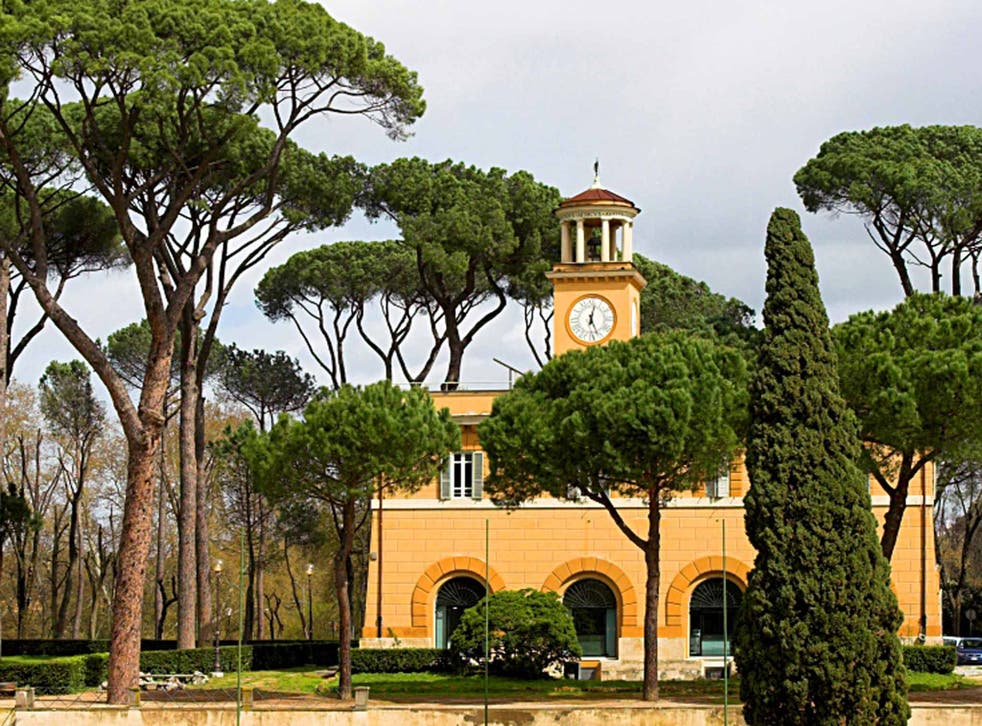 Rome travel tips: Where to go and what to see in 48 hours
The Italian capital is looking rosy, with a special garden opening to mark its birthday, says Aoife O'Riordain
Travel essentials
Why go now?
On 21 April, the tranquil Roseto Comunale (1) on the Aventine Hill reopened to celebrate the anniversary of Rome's foundation in 753BC. Its heady scent from more than 1,100 types of roses and the views of the Circus Maximus and Palatine Hill can be experienced only until 13 June (via di Valle Murcia; 00 39 06 574 6810; turismoroma.it).
From 23 June to 7 August, the Baths of Caracalla (2) will offer an unrivalled backdrop for the Teatro dell'Opera di Roma's (00 39 06 481 601; operaroma.it) summer season with Madama Butterfly and a concert from Elton John on 12 July.
Touch down
Leonardo da Vinci airport, also known as Fiumicino (adr.it) is 36km south-west. A fire earlier this month has reduced flights, but there is still plenty of choice from the UK. Jet2 (0800 408 1350; jet2.com) flies from Belfast, Glasgow, Leeds/Bradford, Manchester and Newcastle; Alitalia (0871 424 1424; alitalia.com) from London City; Monarch (0333 003 0100; monarch.co.uk) from Birmingham and Luton; easyJet (0905 821 9000; easyjet .com) from Bristol and Gatwick; British Airways (0844 493 0758; ba.com) from Heathrow and Gatwick; Norwegian (0843 3780 888; norwegian.com) and Vueling (0906 754 7541; vueling.com) from Gatwick.
The Leonardo Express (trenitalia.com) links the airport with the city's central Termini station (3) – one-way fares are €14. You can also take the FL1 train to Ostiense and Tiburtina to link with Rome's metro network for €8, one-way. A taxi costs a fixed fare of €48.
Ryanair (0871 246 0000; ryanair.com) flies into Rome's second airport, Ciampino (adr.it), 15km south-east. A shuttle bus costing €1 leaves every 30 minutes for Ciampino Citta train station. From there, the 15-minute journey to Termini (3) costs €1.50 one-way. Terravision (terravision.eu) connects it to the Via Marsala next to Termini (3) for a single fare of €4.
Get your bearings
Rome spills over its celebrated seven hills. The Tiber meanders through its centre; on its west bank is the Vatican and the bohemian quarter of Trastevere. The imposing Roman Forum (4) lies at the southern limit of the historic centre and to the north is the verdant expanse of the Borghese Gardens (5). The historic centre with its legendary landmarks such as the Spanish Steps (6), Piazza Navona (7) and the Trevi Fountain (8) can be navigated on foot.
Tourist information points (00 39 060608; turismoroma.it) are dotted over the city, with desks at Fiumicino, Ciampino and near Termini at via Giovanni Giolitti 34 (9), open daily 8am to 7.45pm. A 48-hour Roma Pass (00 39 06 0608; romapass.it) costs €28 and gives unlimited use of transport, free access to two museums or archaeological sites and discounts on further admissions.
Check in
When it opened last year, JK Place Roma (10), via di Monte d'Oro 30 (00 39 06 982 634; jkroma.com), instantly became the hottest place to bed down. It's sleek, discreet and has fabulous decor by Florentine designer Michele Bönan. Doubles from €600, with breakfast.
The stylish G-Rough (11) Piazza di Pasquino 9 (00 39 06 688 01085; g-rough.com), set in a 16th-century palazzo near the Piazza Navona, has introductory rates from €290, with breakfast.
Casa Montani (12) Piazzale Flaminio 9 (00 39 06 326 00421; casa montani.com) is a family-owned luxury B&B near the Piazza del Popolo with five rooms starting from €180, with breakfast.
Click here to see a bigger image of the map
Day one
Cultural morning
Marvel at Michelangelo's frescos in the Vatican Museums (13) at 100 viale Vaticano (00 39 066 988 3145; museivaticani.va) – but plan your visit carefully. The venue opens 9am to 6pm, Monday to Saturday (and on the last Sunday of every month), admission €16. Book online, but early risers will have a place further up the queue when the doors open at 9am. Head straight for the Sistine Chapel to beat the crowds.
Next stop is St Peter's Basilica (14) (00 39 06 698 83 731; vatican.va), the largest church in the world. The interior is just as magnificent as outside, with works by Bernini, Canova and Giotto and Michelangelo's Pieta. It opens daily, 7am to 6.30pm and entry is free, but dress modestly.
Take a view
The summit of the cupola of St Peter's (14) offers sweeping city views. It's a 551-step trudge to the top, but you can pay an extra €2 to take the lift up the first 230. It opens daily, 8am to 6pm. Admission €5.
Lunch on the run
Pass through the Campo dei Fiori (15) and its food and flower market: you'll know you've arrived at Antico Forno Roscioli (16) at via dei Chiavari 34 (00 39 06 686 4045; anticofornoroscioli.it) when you see the crowd. One of Rome's most revered bakeries, it serves pizza by the slice (€2), various pastas, porchetta and delicious parmigiana di melanzane. Order your food, pay at the till and go back to collect it. Then squeeze your way to a counter to find a perch.
Take a hike
The remnants of Ancient Rome are on breathtaking display at the Forum (4) (00 39 06 399 677 00; archaeoroma.benicultruali.it). Start at the Piazza del Campidoglio, designed by Michelangelo in 1539, climb its steps and you are soon immersed in the bewitching vista of the ancient city.
Admire the archaeological wonders including the Arch of Septimius, the Arch of Titus and the Temple of Saturn – emerging at the Palatine Hill, where, according to myth, Romulus and Remus founded the city in 753BC. It opens daily 8.30am to 7.15pm, last admission 6.15pm. Admission €12.
Window shopping
Running from the via del Corso to the base of the Spanish Steps, via Condotti (17) is the centre of ritzy Roman retail with all the flagship stores of famed Italian brands – Dolce & Gabbana, Prada, MaxMara, Salvatore Ferragamo and Gucci – lined along its length. Near Piazza Navona (7), via del Governo Vecchio and nearby via di San Panteleo are also worth a stroll with interesting, small boutiques.
An aperitif
Set on the pedestrianised Piazza San Lorenzo in Lucina with al fresco tables, Ciampini Caffe (18) (00 39 06 687 6606; ciampini.com) is the ideal place to perch and observe the Roman world going by during aperitivo hour.
Dining with the locals
Cross the Tiber for an evening on the cobbled streets of Trastevere. Dar Poeta (19), Vicolo del Bologna 45 (00 39 066 588 0516; darpoeta.com) serves classic, thin-crust Roman pizza singed in a wood-fired oven. It hums most evenings but you cannot book ahead (€15).
Trattoria Monti (20) via San Vito 13a (00 39 066 446 6573) is run by the Camerucci family and an institution so book well in advance. Make sure you order the special tortino from its Le Marche-inspired menu (€35).
Day two
Sunday morning: go to church
It's hard to believe that the Pantheon (21) Piazza della Rotonda (00 39 347 820 5204; pantheonroma.com) was built nearly 2,000 years ago by Emperor Hadrian, on the site of a temple dating from 25-27BC. Originally built to honour Roman gods, it was consecrated in 609. It also contains the tombs of Raphael and former Italian Kings Vittorio Emanuele II and Umberto II. Mass is celebrated at 10.30am on Sundays. Admission free.
Out to brunch
Most Romans have a leisurely, family lunch on Sundays, so nip around the corner from the Pantheon to sample some of the city's best coffee at Tazza d'Oro (22) via degli Orfani 84 (00 39 06 678 9792; tazzadorocoffeeshop.com). Sundays are quiet here, so take time to savour a cappuccino with a pastry and admire the tropical, faux-bamboo interior.
A walk in the park
The Borghese Gardens (5) is a tranquil escape from Rome's crowded thoroughfares, and the views are breathtaking. If you have children, there is a bouncy castle, a carousel and a playground; and if you don't fancy walking, pedal cars can be hired for €12 per hour.
Save time for the Galleria Borghese (00 39 06 841 3979; galleriaborghese.it), with its fine examples of the work of Italian Masters including Bernini, Canova and Caravaggio. Opens 8.30am to 7.30pm daily except Mondays; admission €11. Book online at tosc.it, particularly for weekend visits.
Icing on the cake
Taking its name from a towering statue of the Emperor Nero, the Colosseum (23) at Piazza del Colosseo 1 (00 39 06 399 67700; archeoroma.beniculturali.it) is one of Rome's enduring landmarks. It was built by the Flavian dynasty between AD72 and AD80 and while the cheering, bloodthirsty crowds might be long gone, it's still one of the former Roman Empire's most evocative sights. Open daily, 8.30am to 7.15pm. Entry €12.
Click here to view tours and holidays in Rome, with Independent Holidays.
Join our new commenting forum
Join thought-provoking conversations, follow other Independent readers and see their replies