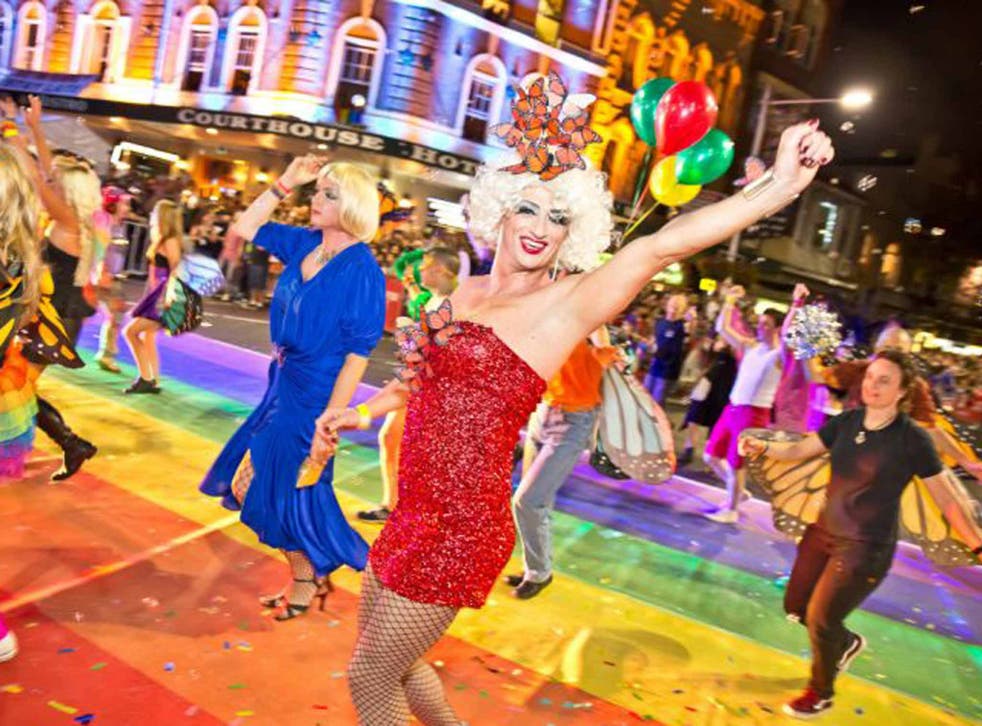 Sydney travel tips: Where to go and what to see in 48 hours
The Cricket World Cup and Mardi Gras give Australia's premier seaside city added sparkle in the summer months, says Sally Newall
Travel essentials
Why go now?
The Australian dollar is at last heading south, with the rate of exchange edging towards A$1.90 to £1. February is still firmly summer in Sydney; you get the balmy temperatures and outdoor buzz, but not the school-holiday crowds. The beaches become a big kids' playground, not least during the Australian Open of Surfing on Manly Beach (7-15 February; australianopenofsurfing.com).
The Cricket World Cup (14 February-28 March) will see several fixtures at the Sydney Cricket Ground (1). Tickets are available for England v Afghanistan on 13 March (bit.ly/ CricketCup).
Later in the month, the bright and brash Mardi Gras, a celebration of the city's LBGT community, starts on 20 February, culminating in the parade on 7 March (mardigras.org.au).
Touch down
The only direct services between the UK and Sydney's Kingsford Smith airport are from Heathrow, on Qantas (0845 774 7767; qantas.com) and British Airways (0844 493 0787; ba.com).
Many other airlines offer one-stop connecting services from a range of UK airports, including Emirates (0844 800 2777; emirates.com) via Dubai, Cathay Pacific (020-8834 8888; cathaypacific.com) via Hong Kong and Etihad (020 3450 7300; etihadairways.com) via Abu Dhabi.
British passport-holders require an eVisitor visa (bit.ly/AusEvisit), valid for three months.
The Airportlink train (airportlink.com.au; 5am-1.15am) covers the 11km into the city centre for A$17.80 (£9). Circular Quay station (2) is a good stepping-off point. A taxi to the city and harbour costs around $50 (£26).
Get your bearings
Australia's largest city sits around one of the world's biggest natural harbours on the country's east coast. Its most-photographed features, the Harbour Bridge (3) and the Opera House (4) are good landmarks. The Bridge links the north and south sides of the city, while the Opera House presides over the harbour, with the Botanic Gardens (5) behind it.
To the west are Sydney Cove and The Rocks district, the founding point of the city, and the ferry wharves of Circular Quay (2). South of Circular Quay is the Central Business District or "CBD": skyscrapers, shops, bars and restaurants.
The Rocks Visitor Centre (6) is on the corner of Argyle and Playfair Streets (00 61 2 8273 000; sydney.com); open 9.30am-5.30pm daily.
On the southern fringes of the harbour is Bondi beach, with Manly beach on the other side in the northern suburbs.
Check in
The Langham Sydney (7), 89-113 Kent Street (00 61 2 9256 2222, langhamhotels.com), reopened in December after an expensive refurbishment. It has 97 plush, spacious rooms, an elegant Palm Court Bar and a pool voted the best in the city. Doubles from A$635 (£335), room only.
The 110-year-old building at 140-142 Cumberland Street in the historic Rocks district that houses the Sydney Harbour Bed and Breakfast (8) has retained lots of its original character. With just nine comfortable rooms, you get attentive service. Nothing is too much trouble for the owners, James and Linda – don't miss their delicious breakfasts. Doubles from A$165 (£87), B&B (00 61 2 9247 1130; bbsydneyharbour.com.au).
The award-winning hostel, Bounce Sydney (9) at 28 Chalmers Street in trendy Surry Hills regularly hosts sunset barbecues and has spectacular views from its rooftop terrace. Doubles from A$139 (£73), dorm beds from $42 (£22), room only (00 61 2 9281 2222; bouncehostel.com.au).
Click here to see a bigger image of the map
Day one
Window shopping
The Queen Victoria Building (QVB) (10) on George Street was built in 1898 as a monument to the monarch, and has been impressively restored. Amid the four tiers decorated with wrought iron balustrades, intricate tiling and Romanesque arches are the shops, ranging from Australian high-street staples and international designer mainstays such as Calvin Klein and Ralph Lauren to home-grown luxury offerings, such as precious stone specialists Mondial Pink Diamond Atelier.
There are gourmet treats, too. If you're in town on a Wednesday, take the chocolate tour at 2.30pm to sample creations by the building's numerous award-winning brands for A$65/£35 (00 61 02 9264 9209; qvb.com.au).
Take a hike
From George Street, head east, making a beeline for the Sydney Tower Eye (11). On the corner of Pitt and Market Streets, the 309m-tall tower is hard to miss. Take the lift to the top for 360-degree panoramic views (adult tickets from A$18.20/£9; 00 61 1800 258 693; sydneytowereye.com.au).
Carry on into Hyde Park, criss-crossing the Archibald Fountain and heading north-east into the sprawling Botanic Gardens (5). It's worth the walk to Mrs Macquarie's Chair (12) in the east of the park to get a view of the Opera House (4). From there, head across to Circular Quay (2).
Take a view
Sydney Harbour Bridge (3) is best appreciated from the water and handily, you get a great view en route to one of the city's best beaches, Manly. Take the 30-minute Manly ferry from Circular Quay (2), and as you head towards Manly beach, you'll get your postcard-worthy snap of the Bridge. Ferries run about every 20 minutes (from 6.20am-12.20am weekends; 5.30am on weekdays). Single fares from A$7.60/ £4 (00 61 13 1500; transportnsw.info).
Lunch on the run
Manly is lined with laid-back seafront cafes. Hemingway's (13) (00 61 02 9976 30 30; hemingwaysmanly.com.au), a popular spot on North Steyne, opposite the beach, has a small lunch menu using organic, free-range and local ingredients. Try the crispy pork belly with green papaya salad (A$18/£9).
At the south end of the same road is Ouzeria (14), a family-run outfit serving Greek food. Make a beeline for the souvlaki and the super-fresh seafood. Mains A$9.50-A$25.50/£5-13 (00 61 02 9976 5688; ouzeria.com.au).
Make a splash
After lunch, find a plot on the beach and settle in for the afternoon; the sunbathing-phobic could try their hand at stand-up paddle-boarding. Hire gear from Manly Kayak Centre (15) on Manly Wharf, from A$25 (£13) per hour (manlykayakcentre.com.au; 8am-6pm at weekends).
An aperitif
For a pre-dinner drink with a view, head to the Opera Bar on the lower concourse of the Sydney Opera House (4) (00 61 02 9247 1666; operabar.com.au). Try the Sydney Sling (gin, pomegranate, fresh lime, mint, bitters and soda) for A$18 (£9). There's also a charcuterie room, raw bar and oyster counter for a pre-dinner bite; dishes from A$8 (£4).
Dining with the locals
The Butler's Balcony bar (16) on Victoria Street in Potts Point (00 61 2 8354 0742; butlersydney.com.au) offers breathtaking panoramic views as well as good food. Imaginative Australian fare is served on sharing plates; lamb brains with artichoke, peas and caramelised butter is on offer for A$20 (£10).
For dessert, try a late-night ice cream. Gelato Messina (17), at 241 Victoria Street serves 40 flavours including salted caramel and white chocolate, and you can create your own sundae at the dessert bar (00 51 2 8354 1223; gelatomessina.com).
Day two
Sunday morning: go to church
Founded in 1819 and consecrated in 1868, St Andrews (18), in Sydney Square, is the oldest cathedral in Australia. Take in the striking gothic-revival architecture, original organ and stained glass windows during the Sunday morning services that start at 10.30am. Arrive by 10 to hear the bell-ringers (00 61 2 9265 1661; sydneycathedral.com).
Take a ride
Bike Buffs (19), based at Millers Point (00 61 414 960 332; bikebuffs.com.au) delivers bicycles to your hotel with all the necessary gear; rental starts at A$35 (£18) for half a day. Alternatively, it offers four-hour Sydney Icons Spin tours starting at the shop for A$95 (£50) per person. This will give you another chance to see the main sites, as well as the likes of the Observatory (20) and the fish markets.
Out to brunch
Brunch isn't all about eggs and avocado; Cantonese brunch staple, yum cha (dim sum) is big here too – steamed dumplings and buns and the like. Zilver (21), at 477 Pitt Street in Chinatown, serves a superlative version, particularly the har gau (shrimp dumpling). Service is traditional – the food comes in bamboo baskets on trolleys and the default manner is brusque. Dishes from A$10/£5 (00 61 9211 2232; zilver.com.au).
Cultural afternoon
Walk off brunch by walking to Queen Square's Hyde Park Barracks (22). Much of the original colony of Sydney was built by convicts from the British Empire and 50,000 passed through this building in the 19th century. The museum tells their stories and gives a taste of convict life, including the chance to swing in a hammock in the restored dormitory. Adults A$10 (£5), open daily 10am-5pm (00 61 2 8239 2288; sydneyliving museums.com.au).
For an art fix, just north of the Barracks in the Botanical Gardens is the Art Gallery of New South Wales (23). Catch the Pop to Popism exhibition – showcasing Pop Art heavyweights Warhol and Lichtenstein alongside their lesser-known Australian peers – before it closes on 1 March. Admission A$20/£10 (00 61 2 9225 1700; artgallery.nsw.gov.au).
Icing on the cake
The best way to take in Sydney's vistas is by sea plane. Board at Rose Bay (24) in Sydney Harbour then soar over to Palm Beach on the 20-minute flight to Pittwater, for a chance to explore Sydney's northern beaches. Sydney By Seaplane offers flights for A$365 /£190 (00 61 2 99 74 1455; sydneybyseaplane.com); minimum two people per flight.
Join our new commenting forum
Join thought-provoking conversations, follow other Independent readers and see their replies