The 50 Best spas

Show all 50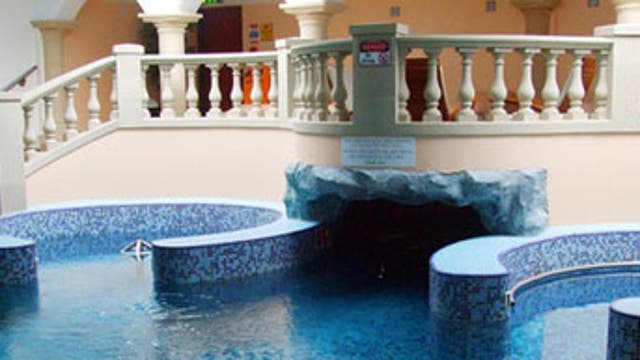 The 50 Best spas
From sublime day breaks to wonderful weekend escapes, Sophie Morris finds luxury retreats for every budget
This week's panel:
Anna McGrail is the managing editor of The Good Spa Guide, goodspaguide.co.uk;
Emma Smith is the beauty director at ELLE UK;
Katie Reich-Storer is editor of Spa Secrets magazine, spasecretsmagazine.com;
Tamara Heber-Percy is the founder of boutique hotel guide Mr & Mrs Smith, mrandmrssmith.com
NORTH
1. The Devonshire Arms
A unique hideaway in stunning North Yorkshire. This traditional and stylish former coaching inn is known for a warm welcome and Michelin-star food – its recent inaugural Devonshire Food Festival was a huge success. The adjacent spa is in a refurbished stone barn with a pool, a sauna and steam room. Relax on a lounger gazing at the Dales.
Where: Bolton Abbey, Skipton, North Yorks, BD23 6AJ (01756 710441; thedevonshirearms.co.uk)
How much: Doubles from £124; £56 for a one hour massage; spa days from £51
2. The Spa Hotel at Ribby Hall
"Ribby Hall Village, a luxury self-catering holiday park near Blackpool, is now home to an ultra-modern spa hotel," says Anna. "This adult-only spa offers a two-hour Aqua Thermal Journey which includes seven different heat experiences. There's great space and natural light throughout, with clear views of the Lancashire countryside. A good value spa that doesn't compromise on quality."
Where: Ribby Road, Lancashire, PR4 2PR (0800 0851717; ribbyhall.co.uk)
How much: From £17 for a manicure; from £30 for a facial
3. Rookery Hall Hotel & Spa
"Rookery Hall has a relaxed country feel: there are wellies in the hall for walks and windows look over gardens and terraces," says Anna. "You'll find your own spa hostess, attention to detail and Elemis treatments to revive and refresh. A spa gem in Cheshire's crown."
Where: Main Road, Worleston, Nantwich, Cheshire, CW5 6DQ (0845 458 0905; handpickedhotels.co.uk)
How much: 55-minute treatments from £62
4. Rockliffe Hall
"Rockliffe Hall offers both olde-worlde charm and cutting-edge facilities," says Anna. "In the traditional Old Hall, the history and grandeur of this 18th-century estate are married with modern luxury accommodation. In the New Hall, you'll find the 50,000 sqft dual-level spa. The signature sweet pea and rose facial is a perfect summary: classically English, yet contemporary."
Where: Hurworth Place, Darlington, Co. Durham, DL2 2DU (01325 729999; rockliffehall.com)
How much: an hour's treatment from £75
5. Vu Spa at the Swan Hotel
"One of the nice things about the Vu Spa in Cumbria is its unexpectedness," says Tamara. "The Swan Hotel is like a family-friendly pub, making the Espa treatments and Leighton Denny nail bar feel extraordinarily indulgent. They're also eminently affordable. Colourful deckchairs flank the indoor large pool – a nice touch of British eccentricity."
Where: Newby Bridge, Cumbria, LA12 8NB (01539 531681; swanhotel.com)
How much: Doubles from £119; from £35 for a 30-minute express facial
6. Verbena Spa at the Feversham Arms
Laid out in the space once reserved for stables at the hotel, the Verbena Spa is the perfect place to keep the cold at bay. The cosy stone rooms overlook the pool and are the ideal spot to enjoy a G&T before making your way to the Elemis treatment rooms for a full-body massage or a blast in the salt treatment space.
Where: Helmsley, North Yorkshire, Y062 5AG (01439 770766; fevershamarmshotel.com; )
How much: From £179 per person for dinner, bed & breakfast, a treatment and full use of the Verbena Spa.
7. Turkish Baths, Harrogate
Discover the traditional Turkish bathing ritual in this elegant Yorkshire town. Moving between a steam room and chambers of different temperatures is designed to cleanse and relax mind and body. The décor has been restored to its Victorian grandeur, so you're transported to another world visually as well.
Where: Royal Baths, Harrogate, North Yorkshire, HG1 2WH (01423 556746; harrogate.gov.uk)
How much: From £13.50 for one session; £47 for a 75 minute facial
8. Clarins Spa
The skincare brand Clarins has 63 spas in department stores around the country, in John Lewis, Selfridges, House of Fraser and Debenhams. If you're time-poor but reluctant to skimp on quality, fit a treatment into your January sales shopping schedule. Four Triactive body treatments were launched last autumn.
Where: Select department stores (0808 2340704; clarins.co.uk)
How much: From £35 for a 40-minute Body Polisher treatment
9. Lush
Cosmetics brand Lush has four spas, in Leeds, London, Poole and Kingston-Upon-Thames, which bring the company's bespoke ingredients to specially designed treatments. The Synaesthesia massage uses touch, scent, sound and taste to bring about the mood you choose before the session.
Where: lush.co.uk
How much: From £40 for a 30 minute massage; Synaesthesia massage, £125 for 80 minutes
MIDLANDS & EAST
10. Calcot Spa at Calcot Manor
"Calcot is the acme of luxury family escapes," says Tamara, "with child-friendly facilities at every turn and a parent-pampering spa with special children's time slots for together-time. The Guinot and Spiezia facials deliver fantastic results, and the slate-surrounded outdoor spa pool – with its own al fresco fireplace – cries out for champagne-supping soaks under the stars."
Where: Near Tetbury, Gloucestershire, GL8 8YJ (01666 891 232; calcotmanor.co.uk)
How much: Doubles from £275; scalp or back massages from £35; day spa packages from £140.
11. The Spa at Ellenborough Park
"This thoroughbred just outside Cheltenham is the ideal crash-pad for the country-sports set," says Tamara. "Traditional treatments are relaxing and well-executed – I'd plump for an algae wrap. Afterwards, you can get your five-a-day in one go at the spa's juice bar."
Where: Southam Road, Cheltenham Spa, Gloucestershire, GL52 3NH (01242 808918; ellenboroughpark.com)
How much: Doubles from £210; from £50 for a 25-minute facial; day spa packages, from £195
12. The C-Side at Cowley Manor
"In line with the hotel's funked-up stately aesthetic, C-Side is a good-looking, laid-back wellness space with slate-lined pools and Cotswolds stone walls," says Tamara. "The in-house Green & Spring product range draws on Britain's indigenous herbs and plants to create refreshing, reviving treatments."
Where: Cowley, Near Cheltenham, Gloucestershire, GL53 9NL (01242 870900; cowleymanor.com)
How much: Doubles from £175; from £45 for a 30-minute massage; day spa packages from £125
13. Ragdale Hall Health Hydro
"This retreat is still one of my all-time favourites," says Anna. "Unintimidating and charming, sincere and obliging, what's not to like? Whether you're looking to lose weight, lounge or have fun with friends, there's plenty to entertain. You can be as healthy or as pampered as you like and with varying room prices, Ragdale accommodates most budgets."
Where: Ragdale Village, Leicestershire, LE14 3PB (01664 433043; ragdalehall.co.uk)
How much: 60-minute treatments from £60
14. Maison Talbooth
"Maison Talbooth's boutique space offers expert treatments by therapists with some of the best hands in the business," says Katie. "Dermalogica facials, fantastic deep-tissue massage and a stunning outdoor pool and hot tub by a roaring log fire make this a perfect weekend treat."
Where: Stratford Rd, Dedham, Colchester, CO7 6HN (01206 322367; milsomhotels.com/maisontalbooth)
How much: £45 for a 55-minute Jessica manicure; £65 for a 55-minute Dermalogica facial
15. Centre Parcs Aqua Sana, Sherwood Forest
With 12 different heat-experience rooms, an outdoor pool, relaxation space and plush treatment rooms, there's no need to be snooty about Centre Parcs. Yes, the site is (sometimes) full of excitable children, but the accommodation is modern (for the most part) and the package (one night, two full spa days, meals and bike hire) is recession-proof value for money.
Where: Sherwood Forest, Newark, Nottinghamshire, NG22 9DN (08448 267 723; centreparcs.co.uk)
How much: From £199 per person
16. Barnsley House
"This house doesn't have the grandeur of some of its Cotswolds neighbours, but the treatment rooms are cosy, with Aromatherapy Associate treatments aplenty and a real intimacy," says Emma. "The spa is hidden among the trees, the food is wholesome and you can nip to sister property the Village Pub for some more hearty grub if you feel the need for a change of scene."
Where: Barnsley House, Barnsley, Cirencester GL7 5EE (01285 740000; barnsleyhouse.com)
How much: from £75 for 55 minutes
SOUTH
17. The Pig Hotel
The cutesy spa at this New Forest "restaurant with rooms" (both worth a visit – comfortable, zero stuffiness and seasonal food) is a potting shed at the end of a charming walkway, kitted out with Bamford and VOYA oils. The massage might well have been the best I have ever had.
Where: Beaulieu Rd, Brockenhurst, Hampshire, S042 7QL (01590 622394; thepighotel.co.uk)
How much: Doubles from £125; 60-minute massage for £60
18. Coworth Park
Emma, Anna and Tamara all recommend Coworth Park, which won The Good Spa Guide's 2011 Sparkling New Spa award. "A manor house with more than a dash of glamour and eco-spa luxury," says Anna. "Serious science combined with cutting-edge architecture in a soothing natural setting," says Tamara.
Where: London Road, Ascot, Berkshire, SL5 7SE (01344 756756; coworthpark.com)
How much: From £55 for a 40-minute foot massage or manicure;
19. Sequoia at The Grove Hotel
"This spa has always been one of my favourites," says Katie. "Yummy ESPA treatments, a gorgeous black-tiled ozone treated swimming pool and a great healthy menu, you just can't beat it. Try the Chakra Balancing with Hot Stones massage for nearly two hours of bliss."
Where: Chandler's Cross, Hertfordshire, WD3 4TG (01923 807807; thegrove.co.uk)
How much: 55-minute treatments from £95; chakra hot stones £165
20. The Treatment Rooms
"There are no pools or heat facilities inside this modest Brighton townhouse," explains Anna, "but if muted, soft atmospheres, woody fragrances, and slow, deep, soothing massages are your cup of tea, then The Treatment Rooms is next door to heaven. You'll be reluctant to leave the cloud of bliss created here."
Where: 21 New Road, Brighton, East Sussex, BN1 1UF (01273 818444; thetreatmentrooms.co.uk)
How much: 55-minute treatments from £53
21. Chewton Glen
"The old-world charm of this fantastic spa hotel delivers every time," says Katie. "Service is excellent and the treatments on offer are extensive and always delivered with professionalism and expertise. I had a particularly good Linda Meredith Oxygen Facial here which left my skin glowing for days." Tamara calls Chewton Glen "one of the grandes dames of country hotel spas".
Where: New Milton, New Forest, Hampshire, BH25 6QS (01425 282212; chewtonglen.com)
How much: From £25 for a 25-minute Express Facial; day packages from £138
22. Herb House at Limewood
"Set among the luscious New Forest, Herb House embraces its rustic natural surroundings," says Emma. "Treatments use herbs from the gardens and there are hydrotherapy pools and a rooftop sundeck to meditate on. Tamara describes the spa as "a relaxing Scandi-style space that eschews the dark womb-like feel of spas past." Products include Bamford, Nude and Voya.
Where: Beaulieu Rd, Lyndhurst, Hampshire, SO43 7FZ (023 8028 7177; limewoodhotel.co.uk)
How much: from £75 for 60 minutes
23. The Spa at Lucknam Park
"Horse riders can set about a hack of the grounds of this grand estate," says Emma, "then unknot any shoulder tension in the spa's bubbling hydrotherapy pools overlooking the orchards." "Detox after a Michelin-star meal in the distinctly French-feel spa, with treatments using products by skincare expert Anne Sémonin and Carita," says Tamara.
Where: Lucknam Park Hotel & Spa, Bath, Colerne, Chippenham, Wiltshire, SN14 8AZ (lucknampark.co.uk)
How much: Treatments from £60 for 45-minute Stress Relieving Massage
24. Babington House
"An oldie but a goodie," says Emma. "With rustic country chic everywhere, this is one of the rare spas from which you can actually see the great outdoors. Cowshed treatments are fabulous, but the Ultimate Pedicure takes the crown. Sit back in the squashy sofas, and get the most indulgent, pampering pedi while you sip camomile tea and look out over the walled garden. Bliss."
Where: Babington House, Babington near Frome, Somerset, BA11 3RW (01373 812266; babingtonhouse.co.uk)
How much: Treatments start at £55
25. Syon Park
"The rooms are sparkling with big comfy beds and every amenity you can think of. The expansive spa (11 treatment rooms) is tucked underground and the massage was second to none, administered with firm, soothing strokes. Do some serious anti-ageing with the Hydra Facial and have a full set of eyelash extensions done in the meantime, expertly applied, so you're not only leaving relaxed but fully primped for an evening in the Capability restaurant."
Where: London Syon Park, Middlesex, TW8 8JF (0207 8707777; syonpark.co.uk)
How much: Spa treatments from £48
26. The Scarlet
"Eco-chic on the Cornish coastline," says Emma. "The spa specialises in ayurvedic treatments and has hanging hammock pods to cocoon yourself in." "The Scarlet retains its eco credentials without scrimping on pampering," says Tamara. "There are log-fired hot tubs, the cliff-top pool is reed-filtered and therapies take place in lantern-lit, tented rooms."
Where: Tredragon Road, Mawgan Porth, Cornwall, TR8 4DJ (01637 861800; scarlethotel.co.uk)
How much: Treatments from £95 for 75 minutes
27. The Four Seasons
"In true Four Seasons style they have thought of everything," says Emma. "The ESPA spa is huge and beautifully lit with tea lights and relaxing music. Treatments are created to suit your temperament including oils and even lighting. The herbal garden provides the ingredients for the superb relaxing and rejuvenating Lavender Rosemary and Mint Back Treatment."
Where: Dogmersfield Park, Chalky Lane, Dogmersfield, Hampshire, RG27 8TD (01252 853000; fourseasons.com/hampshire)
How much: From £75 for a 45-minute Lavender Rosemary and Mint massage
28. Stoke Park Spa by SPC
"The renowned spa on a 1,000-year-old estate is deservingly name-dropped by beauty editors and industry insiders," says Tamara. "Using ingredients grown on site SPC has created a skincare range that is the signature in its trusted spa treatments. I love the Kiwi Complexion Scrub, which smells delicious and multitasks as a mask."
Where: Park Road, Stoke Poges, Buckinghamshire, SL2 4PG (01753 757171; stokepark.com)
How much: doubles from £265, from £50 for a 25-minute massage; day spa packages from £135
LONDON
29. Cowshed
It's not just tired trotters that get treated in this posh pedicure. Along with a fabulous foot rub, foot mask and a paint job (mine lasted more than three weeks), you'll receive a relaxing head massage with dry oils. Ask for Barbara if you visit the Clarendon Cross branch – I guarantee she'll give you happy feet.
Where: Cowshed, 119 Portland Road, London W11 4LN (0207 078 944; cowshedonline.com)
How much: £50 for 60-minute pedicure
30. The Spa in Dolphin Square
"A pocket of Morocco in Pimlico," says Anna. "Large double Moroccan doors lead you into a candlelit atmosphere where traditional heat experiences are the spa's core: a hammam (steamy), a rhassoul (mud chamber), and a salt-infused steam room. Expect excellent treatments, a personalised programme and mint tea."
Where: Dolphin Square, Chichester Street, London SW1V 3LX (0207 798 6767; dolphinsquare.co.uk)
How much: 55-minute treatments from £69
31. Antara Spa at the Chelsea Club
"Antara Spa is within Chelsea Football Club's Stamford Bridge complex," says Anna. "There's no hint of football, just first-class facilities and terrific treatments. It offers authentic ayurvedic massages: each practitioner has trained for a year or more in India. The Elakizhi herbal poultice was most marvellous massage at the Good Spa Awards 2011."
Where: Stamford Bridge, Fulham Road, London SW6 1HS (0207 9152215; thechelseaclub.com/antara-spa)
How much: 60 minutes from £70
32. Chuan Spa
Is your yin a little out of line with your yang? Then head to Europe's first Chuan Spa at the 5-star Langham hotel, which offers traditional Chinese massages based around the acupressure technique. Afterwards enjoy the hotel's swimming pool and steam room.
Where: 1c Portland Place, Regent Street, London W1B 1JA
(020 7973 7550; chuanspa.com)
How much: Chuan Body Element, £155 for 1 hour 50 minutes
33. St Pancras Spa
"A cavernous retreat at the new St Pancras Renaissance Hotel," says Emma. "Programmes are inspired by journeys around the world using indigenous rituals. For winter-beaten skin, try the Journey to Africa – the argan oil will replenish lost moisture. The French Cinq Mondes products are fabulous."
Where: Euston Road, London NW1 2AR (0207 841 3578; stpancrasspa.co.uk)
How much: From £75 for a 30-minute body massage
34. Thai Square
"It offers authentic Thai and oriental treatments and the two-hour Thai Herbal Healer massage was good – it undid knots in my shoulders that had been there for years," says Katie.
Where: 25 Shelton St, London WC2H 9HW(0207 240 6490; thaisquarespa.com)
How much: Thai Herbal Healer massage from £150 for two hours
35. Spa NK
"In the basement of the Space NK shop is an oasis of calm," says Katie. "This mini spa offers some of the best facials around, from Eve Lom to Aromatherapy Associates and Darphin, or try the Spa NK Signature massage."
Where: 40 Hans Crescent, London SW1X 0LZ (020 7727 8002; spacenk.co.uk/category/spa)
How much: Eve Lom Signature Facial, £120 for 90 minutes; Spa NK Signature Massage, £130 for 1 hour 45 minutes
36. Aveda
A central London retreat where you can enjoy a massage in the treatment rooms downstairs while your other half has a haircut upstairs, before brunch at the on-site Le Pain Quotidien restaurant. The Chakra Balancing Massage left me alert and energetic for several days – magical.
Where: 174 High Holborn, London WC1V 7AA (020 7759 7355; aveda.co.uk)
How much: Treatments from £49 for a 30-minute facial or £120 for a day retreat
37. The Third Space
The new gym is hitched up to The Marylebone Hotel and has a compact nest of treatment rooms in its underbelly. The Payot products are top notch and you can spoil a loved one with a treatment package such as Total Detox, Yummy Mummy or Gentleman's Treat.
Where: Bulstrode Place, London W1U 2HU (020 7042 6444; thethirdspace.com)
How much: Facials from £50 for 45min; massages from £45 for 30mins
38. The Sanctuary
City women in the know unwind at the tried and tested Sanctuary. The size means it can offer a very wide range of treatments but the day will slip by just as blissfully on a day bed in the low-lit koi carp lounge, or on the over-pool swing.
Where: 12 Floral Street, London WC2E 9DH (0844 875 8443; thesanctuary.co.uk)
How much: Weekday spa from £75
39. The Metropolitan Hotel
The COMO Shambhala travel and spa brand has opened this "Urban Escape". The approach is holistic-in-the-city and the products are top notch. The Dr Perricone facial uses organic olive oil and a firming and cleansing massage.
Where: Old Park Lane, London W1K 1LB (0207 447 1000; metropolitan.london.como.bz)
How much: £100 for a 60 minute facial; accommodation from £209
40. Africology Spa at Bloww
"Hidden underneath the Bloww salon, this is the first UK outpost for Africology," says Katie. "Traditional African therapies are the mainstay of the menu and I can highly recommend the Intonga Amasatchi where the therapist uses warm sticks to undo knots and tension."
Where: 4 Regent Place, London W1B 5EA (0207 292 0300; bloww.com)
How much: Intonga Amasatchi massage, 90 mins from £95
41. Agua Spa
As well as massages ranging from aromatherapy to deep tissue it does superb facials for men and women. Brands include Eve Lom and Aromatherapy Associates. Agua mixes the cool and the luxe – if Marie Antoinette had done spas, this would be her flagship space.
Where: 50 Berners Street, London W1T 3NG (sandersonlondon.com)
How much: Swedish Deep Tissue
Massage, £90 for 1 hour
42. Gentleman's Tonic
Plenty of men like to be pampered. They can do without the fluffy robes though, so the decidedly masculine Gentleman's Tonic salons with barbershop and massage and grooming treatments plug the middle ground. Home visits can be arranged too.
Where: Selfridges, 400 Oxford Street, London W1A 1AB (0207 318 3709; gentlemenstonic.com)
How much: Express massage from £40
SCOTLAND
43. Spa at Blythswood Square
"The thermal experiences provide a stimulating treat and you can try treatments involving Hebridean seaweed," says Anna. "Fun touches such as the Harris Tweed chairs remind you that you are in a top-quality Scottish spa."
Where: 11 Blythswood Square, Glasgow, G2 4AD (0141 240 1622; townhousecompany.com)
How much: 55 minutes from £80
44. One Spa at Sheraton Edinburgh
"One Spa is an institution," says Katie. "Its biggest draw is the rooftop jacuzzi with views over the city, but the treatments are also great, using the ESPA products and therapies. The choice is fantastic and you can try anything from a Balinese massage to mud treatment."
Where: 8 Conference Square, Edinburgh, EH3 8AN (0131 221 7777; onespa.com)
How much: £70 for a three-hour visit; £215 for three hours of treatments
45. Gleneagles
"This is the ultimate country retreat," says Emma, "with bracing walks, golf courses, horse riding, falconry and archery. Ayurvedic massages are available with a naturopath. Stressed city folk opt for the Ama releasing Abhyanga treatment which will revive you."
Where: The Gleneagles Hotel, Auchterarder, Perthshire, PH3 1NF (01764 662231; gleneagles.com/spa)
How much: From £90 for a 55-minute facial
46. Kohler Waters Spa at the Old Course Hotel and Golf Resort
"The hotel offers comfort, elegance and service," says Anna. "Its unusual spa reflects the tradition of taking the waters," says Anna, "with a selection of water-based therapies that will delight". Swim by the cascade waterfall, relax in the rooftop hot tub, then indulge in its signature "Highland Fling", a treatment that combines a cascading Vichy shower and the "fling" of warm water buckets.
Where: St Andrews, Fife, KY16 9SP (oldcoursehotel.kohler.com)
How much: 50-minute treatments from £80
WALES & NORTHERN IRELAND
47. Bluestone
"If you've got a family but still want a luxury retreat, head for the Pembrokeshire Coast National Park," says Katie. "Luxury lodges and stunning vistas are the perfect setting for the Well Spa, where you can choose from ESPA and Decleor treatments."
Where: Bluestone, The Grange, Carnaston Wood, Narbeth, SA67 8DE (01834 888 394; bluestonewales.com)
How much: From £85 for a day package, or £165 with accommodation
48. Galgorm Resort & Spa
Book into Galgorm, a 30-minute drive from Belfast set in 163 acres of parkland. Families can stay in self-catering cottages and log cabins. The spa is hidden in the woodland by the River Maine, and constructed from local stone and wood.
Where: Galgorm, Co. Antrim, BT42 1EA (028 2588 1001; galgorm.com)
How much: From £100 for a day package
49. The Marine Spa at the St David's Hotel
Cardiff is a popular mini break destination. Do it in style at the five-star St David's Hotel, where the spa offers Thalgo and ESPA treatments and nutritionists and fitness experts. The ideal blend of pampering and informed healthy living.
Where: Havannah Street, Cardiff, Wales, CF10 5SD (02920 454045; thestdavidshotel.com)
How much: From £89 for bed & breakfast and use of the spa this January
50. Thai Spa, Lough Erne Golf & Spa Resort
Lough Erne sits on the border of Ireland and Northern Ireland and is equally accessible from Dublin or Belfast. The spa is the only one to offer a completely Thai experience in the UK, with traditional therapies and Thai-produced Ytsara products.
Where: Lough Erne Resort, Belleek Road, Enniskillen, Fermanagh, BT93 7ED (lougherneresort.com)
How much: Two-night from £170
Join our new commenting forum
Join thought-provoking conversations, follow other Independent readers and see their replies