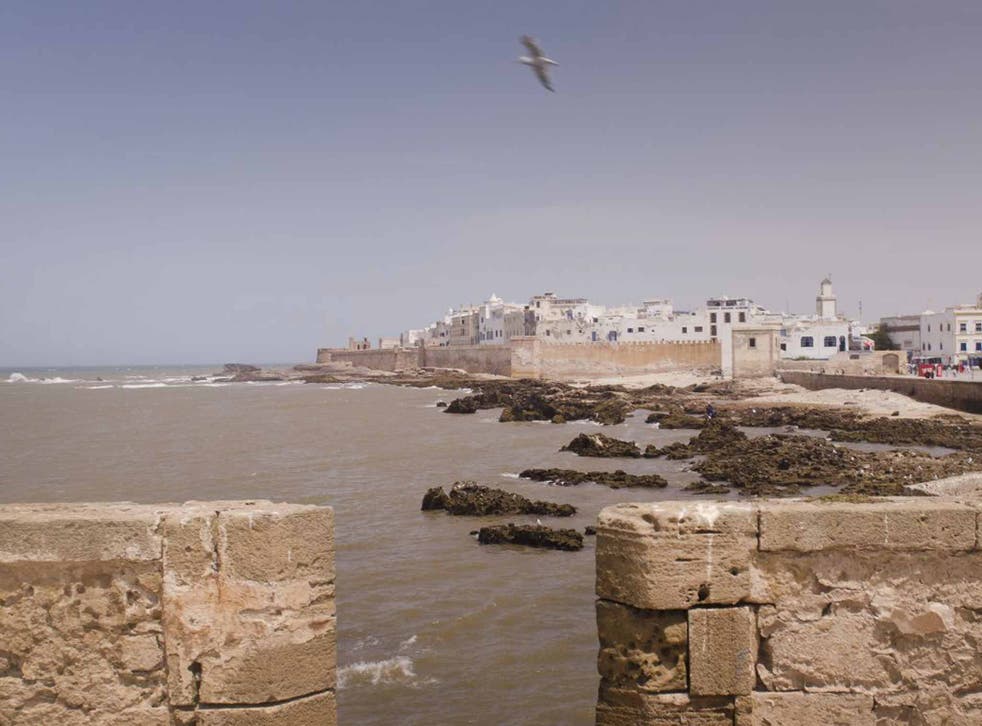 Essaouira: a mini-break in Morocco
The unhurried charm, historic souks and windswept beaches of this Atlantic port can now be accessed by a direct flight, as Amy Jenkins discovered
Essaouira is pronounced es-Sweera in Arabic. Say it long and slow and it sounds like the tangy sea breeze that whistles through the araucaria trees, narrow alleys, and historic seafront fortifications of this Moroccan coastal town.
Until Essaouira, my abiding memory of Morocco was of a surreal encounter I had many years ago, as a novice shopper in the Marrakech souk. I had made the mistake of idly picking up a small mirror encased in studded brown leather. I quickly replaced it, I didn't even like the thing, but the stall-holder wrapped it in newspaper and followed me around for the rest of the morning. I should have just bought the mirror of course, but I had already bought under pressure and had a confused sense of needing to draw the line. Guiltily, I didn't feel able to ignore my pursuer completely but, clearly, my apologies and rising hilarity at his persistence were not the right approach. Occasionally I'd think I'd lost him, only to have him leap out again from a side alley. I was in turn embarrassed, infuriated, bewildered – and somehow completely unable to get on top of the situation. After a couple of hours, the man and I had established a strange kind of intimacy.
Of course, I eventually bought the mirror, but it wasn't a happy ending. He slunk away, shaking his head and muttering disconsolately; about daylight robbery perhaps? I went home with my unwanted purchase and a confused sense of humiliation.
So, it was with some trepidation that I pondered a return to the land of haggle and bargain. (My husband, by the way, is even more British-ly awkward about all this than I am.) On doing some research, however, Essaouira seemed to be quite a different proposition to Marrakech. Once a popular hippy hang out, the town was reportedly laid back, off the beaten track, and a prestigious Unesco World Heritage Site which many Moroccans visit as tourists.
Well positioned on the Atlantic coast, the town has been a trading post since the 5th century BC. The current fortifications were built by Sultan Mohammed III in the 18th century and, lined with beautifully carved Dutch cannons, the honey coloured ramparts rise from the sea to contain an ancient walled town of great beauty – a warren of whitewashed houses and elegant squares. Think Game of Thrones and a white-haired Khaleesi sailing in to liberate the oppressed (Essaouira was a GoT location).
Over the years, the town has been subject to Portugese, Berber, Jewish, French and Dutch influence, to name but a few. All in all, looking to Europe as this town does, it is quite a different kind of Morocco to the one you find in Marrakech. It's all about the sea, you see. Essaouira is known as the "Wind City of Africa" partly, I think, to attract the surfer crowd – but also due to the vents alizés, the trade winds – that come in off the Atlantic and whip up the sand on the beach, depositing it into your mouth, your nose, your hair. It drives people mad, they say. But, to look at it another way, the breezes ensure a nice temperate climate all year round.
Until earlier this month, access was by road from Marrakech, around three hours' drive; but now easyJet has launched the first direct flights from the UK, making Essaouira far more accessible. It's even a possibility for a mini-break.
We woke on our first morning to calm spring sunshine and no wind at all. Villa Maroc is a riad hotel just inside the walls of Essaouira's old town. Made up of four houses, the property is a delightful honeycomb of verdant interior courtyards, pretty winding staircases, and a multitude of small and charming salons – ideal places to curl up among the kilim cushions and read a book. Breakfast is served on the pretty roof terrace where you can take in a wonderful view of the beach, which is surprisingly vast. We chose a table by the topmost fronds of the monkey puzzle that grows, straight as a rod, up through the hotel's central courtyard and ate quite the best breakfast I've had in a long time: fruit salad, kefir (like yoghurt), eggs, Moroccan flatbreads and homemade jam.
Amply fed, we set off to spend the morning wandering around the medina. There are no cars to disturb you, only young boys zipping around on bikes as if from the pages of Tintin, or a stall holder trotting along in the shafts of a well laden cart shouting ballak, ballak – "make way!" We passed a tiny movie house like something from the Wild West – La Maison du Cinema – with pretty fan lights above shuttered doors and an elaborate frescoed balcony. Next to the window of a patisserie, piled high with croissants, there was a fresh orange juice stand, a white wooden cart decorated with long, curling peels that hung down like bunting. In a small lop-sided residential square, we came across an old eucalyptus tree, keeling sideways, festooned with colourful rugs for sale. In another, a rough-hewn wall was peppered with multi-coloured woollen fez hats.
We had lunch at one of the fish stalls down by the marina. This strip of casual eateries is an unmissable Essaouira experience. You pick your fish (or still waving lobster) from the ice cart and take a seat while it's cooked up in front of you. The stalls line a tiny little sea-front park and sitting there, waiting to eat, with the call of the seagulls overhead and the blue and white striped awnings – you could be forgiven for thinking that you were in France. Afterwards, you can wander down to the fishing port to get a powerful sense of being in Africa again. The place is a teeming, pungent mass of ropes and nets and vessels and fishermen, rotting hulls of boats in dry dock and the day's catch writhing in a basket.
Early evening we walked along the beach to have a look at the serious local football matches that take place there, before we returned to our hotel for dinner. Fires had been lit in all the salons and we had our own candle-lit alcove where we enjoyed fish stuffed with raisins and nuts. Afterwards we ventured out to hear a band on the roof terrace at Bar Taros, a lively nightspot down by the beach.
If it is windy, there is always the option of taking a trip inland to one of the many restaurants that come with a pool attached. You go for the whole day and the package usually includes your transport as well as lunch and swimming. We took the Villa Maroc option and lay gratefully under argan trees by the pool before being served a spectacular lunch of barbecued duck and Ottolenghi-type salads.
Then it was back into town to buy presents in the souk. My husband lasted about 10 minutes before breaking into a retail sweat. For a moment, I thought we'd have to retreat to the hotel but then he saw a barber shop. The next thing I knew he was sweating it out under a cut-throat razor. The best shave he'd ever had apparently.
As for the hassle factor – well, it's non existent. Only occasionally will a street vendor call after you, "later, you come back later", in gentle and rather touching parody of what you find yourself saying to them.
Getting there
Amy Jenkins travelled with Lawrence of Morocco, which offers a three-night stay at Villa Maroc from £439pp, including direct flights from Luton, breakfast and transfers (01672 500 555; lawrenceofmorocco.com).
More information
Click here to view Moroccan tours and cruises, with Independent Holidays.
Join our new commenting forum
Join thought-provoking conversations, follow other Independent readers and see their replies