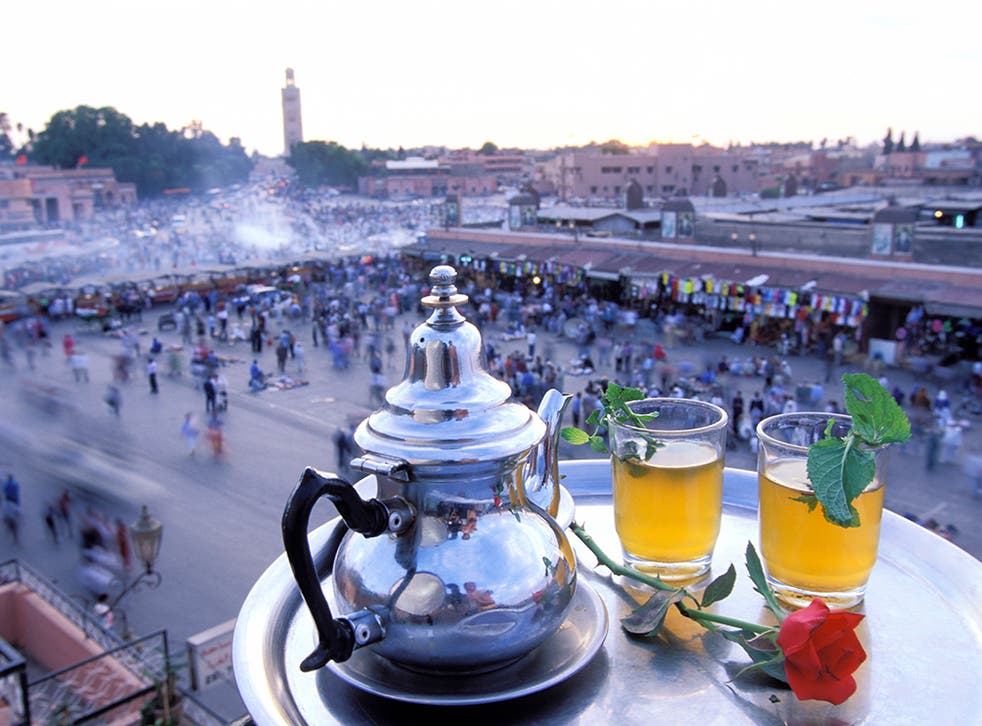 Amal Alamudding and George Clooney wedding: why Marrakech charms as honeymoon destination
From markets to the Medina, tagine to the Atlas mountains, it's not hard to see why couples would escape to this Moroccan destination
Marrakech, reflecting French Colonial charm and splendorous Arabic culture, is fast becoming a celebrity wedding and honeymoon hotspot. It welcomed the likes of Poppy Delevigne, who opted for a mystical Moroccan backdrop for her wedding earlier this summer, and AFP reports that George Clooney and Amal Alamuddin are set to honeymoon in the North-West African paradise.
Intoxicating, exuberant and steeped in culture, here are a few suggestions that will take you from the muezzin's early morning call to prayer to the enigmatic promise of an Arabian night as the sun sets on the architecturally stunning city.
Where to Eat
Marrakech has endless international cuisine options but it would seem a betrayal to the palate not to embark on a degustation of traditional, local delicacies.
Le Comptoir Darna, a restaurant and bar which attracts celebrities and travellers alike to bask in the glory of Marcel Chiche's Parisian vision, is certain to bewitch with its sophisticated mélange of Eastern and Western cuisine. Engage all your senses with a traditional Moroccan Tagine, as you experience the sensuous beauty of Moroccan belly dancers, local musicians playing the lute - Marrakech's traditional instrument - and internationally renowned DJ sets as night falls. www.comptoirmarrakech.com
For a taste of opulence, head to Le Marocain at La Mamounia Hotel, voted Best Urban Hotel in the World 2013 by Condé Nast Traveller. Located in a riad in the centre of a 20 acre park, the backdrop to one of Hitchcock's films, Le Marocain is, put simply, a fine dining experience boasting rich, traditional Moroccan cuisine in an ambiance of pure decadence. www.mamounia.com
For something affordable, Pepe Nero, which is slightly out of the way of the main area, is delightful. Ranked in the top ten places to eat in Marrakech from TripAdviser, the service, food, and Riad setting leaves diners enamoured.
Marrakech: in pictures

Show all 17
Romantic Spots
Designed by painter Jacques Majorelle and restored and managed by the late French designer, Yves Saint-Laurent, Jardin Majorelle is a tranquil oasis in a bustling city. The gardens, rich in lapis lazuli and sunflower yellow hues, are home to the most peculiar and fascinating cacti. Perfect for a romantic stroll, this mirage combines nature and culture as it houses the Islamic Art Museum showcasing collections of North African textiles as well as Saint-Laurent's personal collections. www.jardinmajorelle.com/
Glamorous couples will definitely be in their element at Nicki Beach, a pool oasis located in the West Palmeraie. Lounge by the palm-lined pool which offers several bar and restaurant options followed by a sunset horse-drawn carriage ride through the West Palmeraie desert. www.nikkibeach.com/marrakech/
For the more adventurous couple looking to spend a day away from the hustle and bustle of the city, a short journey along the snaking roads and past the Berber villages of Imlil and Asni will lead you to Toubkal, the highest peak of the Atlas Mountains, home of the most impressive views that Marrakech has to offer. www.hipmarrakech.com
Discover the Independent Travel Offers: Our favourite Marrakech holiday
Explore the sights and sounds
A break in Marrakech would be incomplete without braving a trip to the city's bustling Medina. A World Heritage Site, the Medina is a sensory overload with the exotic perfume of spices filling the air, human, animal and vehicular traffic passing through and the cacophony of musicians, snake charmers and hagglers wheeling-and-dealing their way to a bargain.
The Palmeraie, full of palm groves and villas, is the ideal location for a picturesque afternoon camel ride. Prepare yourself for the ride of your life as you travel across the dunes in authentic Moroccan style.
At the pulsating heart of the city lies the bustling Medina of Jemaa el-Fnaa, the central square. Become enlightened as a fortune-teller delves into your history and your destiny or simply sit back, sip mint tea and watch the world go by- you'll never tire of the bejewelled spectacle that unfolds before your eyes. After the non-stop activity of the medina, pamper yourself with a luxurious Hammam Moroccan Bath at the Beldi Country Club on the outskirts of the city. www.beldicountryclub.com/
Join our new commenting forum
Join thought-provoking conversations, follow other Independent readers and see their replies